Who is Abbi Jacobson? Get to know the comedy queen behind 'A League of Their Own'
She's the star and co-creator of 'A League of Their Own' but you've no doubt seen Abbi Jacobson before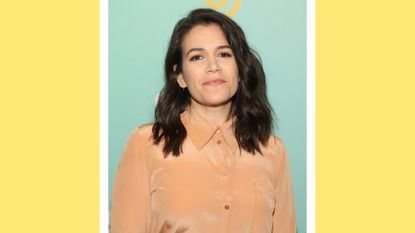 (Image credit: Jesse Grant/Getty)
Abbi Jacobson is having a good month.
On Friday, August 12, the A League of Their Own reboot—which the Emmy Award nominee co-created, writes for and acts in—is set to hit Prime Video. And beyond that major professional success, she also confirmed at the reboot's premiere in August that she is engaged to her girlfriend, Jodi Balfour. Talk about a grand-slam month!
Inspired by the real women of the All-American Girls Professional Baseball League, A League of Their Own is Amazon's TV adaptation of the beloved 1992 film of the same name (the movie A League of Their Own is streaming on Prime Video as well, FYI) and in creating the new series, Jacobson got the blessings of both the director and star of the iconic film.
"[Co-creator Will Graham] and I got a chance to talk to Penny Marshall on the phone," Jacobson told People magazine. "It was really close to when she passed away, and we told her our whole idea and asked her a lot of questions about the film and she was just like, 'Well, go do it already. Do it.' She was excited about us doing it."
Geena Davis, who starred as Dottie Hinson in the original, also told the outlet: "[Abbi] more or less wanted my blessing, which I was happy to give."
"We wanted to make sure they knew how much we loved the original and how much we were not trying to remake the original. That this is none of the same characters," Jacobson said of the Prime Video series.
"We are really...re-shifting focus and trying to tell the story of a generation of women who played baseball, and just get a chance to talk to them about what we loved about it and why we're excited to do what we're doing now," Jacobson added.
Ahead of the show's premiere on August 12, let's get to know the multi-hyphenated comedy queen.
Who is Abbi Jacobson?
Abbi Jacobson is an American comedian, actress, writer, illustrator and producer hailing from Wayne, Pennsylvania. She is best known for co-creating and co-starring in the brilliant series Broad City, which ran for five seasons on Comedy Central, opposite BFF and frequent collaborator Ilana Glazer.
Along with voice work in animated films like The Mitchells vs. the Machines and The Lego Ninjago Movie, she has appeared in movies like 6 Balloons and Person to Person.
Abbi Jacobson age: how old is she?
Born on February 1, 1984, Jacobson is 38 years old. Her zodiac sign is Aquarius.
Abbi Jacobson 'A League of Their Own' role: who does she play?
As Jacobson mentioned, the A League of Their Own TV series is not a direct lift of the movie, meaning that, though like Davis, she does play the catcher of the Rockford Peaches, she is not playing Dottie Hinson.
Instead, it's a brand-new character named Carson Shaw, who travels from her native Chicago to try out for the All-American Girls Professional Baseball League in 1943.
Is Abbi Jacobson gay?
Jacobson came out as bisexual back in 2018, telling Vanity Fair: "I kind of go both ways; I date men and women." She stipulated: "They have to be funny, doing something they love."
The A League of Their Own co-creator has noted that delving into the IRL queer history of the All-American Girls Professional Baseball League was important to her for the series. A real-deal player from the league and the inspiration behind the film's "All The Way Mae" character, 95-year-old Maybelle Blair, acted as a consultant on the series and publicly came out for the first time during the show's panel at the Tribeca Film Festival back in June.
"I think it's a great opportunity for these young girl ball players to come [to] realize that they're not alone, and you don't have to hide," Blair shared. "I hid for 75, 85 years and this is actually basically the first time I've ever come out."
"So much research went into it," Jacobson said. "But Maybelle's point of view, specifically on the All-American Girls Professional Baseball League experience, what that was like to play baseball at the time, what it was like to be a queer woman in the league, was pretty important for some of the stories we were telling."
Abbi Jacobson and Jodi Balfour's engagement
Jacobson announced her engagement to partner Jodi Balfour in August 2022. The couple has been together since October 2020, and they made their red-carpet debut at the Los Angeles premiere of A League of Their Own.
South Africa-born Balfour is also an actress. The 35-year-old is known for her roles in the Canadian drama series Bomb Girls and the Apple TV show For All Mankind. She will next be seen in the third season of Ted Lasso. Along with acting, Balfour is the co-owner of Nelson the Seagull, a coffee shop in Vancouver, British Columbia.
Abbi Jacobson illustrations
Aside from creating, writing and starring in hit TV shows, Jacobson is also an avid illustrator and author. She has penned and illustrated titles including I Might Regret This: Essays, Drawings, Vulnerabilities, and Other Stuff and the New York Times best seller Carry This Book, as well as two coloring books, Color This Book: New York City and Color This Book: San Francisco.
The daughter of an artist and a graphic designer, Jacobson hosted a 10-episode art-focused podcast called A Piece of Work back in 2017, co-produced by The Museum of Modern Art. "If you didn't grow up with art or you didn't go to art school, you feel like an idiot going in to look at something you don't understand. I love that I got the opportunity to pull all that apart," Jacobson told Cultured Magazine.
Abbi and Ilana: are the 'Broad City' BFFs still friends?
While we're excited to see Jacobson onscreen with a new gaggle of gal pals, we must admit we're nostalgic for the days when Abbi and Ilana were taking on New York City, both onscreen and off, during their Broad City run. Jacobson and Glazer—who adapted the Emmy-nominated sitcom from their web series of the same name—were best friends in the show and in real life. So will the twosome ever perform together again?
"It's like your first love. You're like, I'm going to be with this person forever! And then it's like, no, I'm not. But I'm going to learn from this forever," Glazer told The New York Times back in 2019. "We both need some space from this universe that we've lived in. We started the web series in 2009. At 31, that's like a third of my life. It's the longest relationship either one of us has ever had."
Jacobson agreed but added: "I can't imagine a world in which we don't ever act together again...that's the saddest part for me of ending the show, not getting to act opposite Ilana. It's so fun."
"I can't wait to be real friends that aren't working all the time," Glazer told the outlet, and luckily for the two women, that looks to have come true, with Jacobson posting on Instagram her sweet Facetime sessions with Glazer and her baby.
Catch Abbi Jacobson and the rest of the Rockford Peaches when A League of Their Own drops on Prime Video on Friday, August 12.
Christina Izzo is the Deputy Editor of My Imperfect Life.
More generally, she is a writer-editor covering food and drink, travel, lifestyle and culture in New York City. She was previously the Features Editor at Rachael Ray In Season and Reveal, as well as the Food & Drink Editor and chief restaurant critic at Time Out New York.
When she's not doing all that, she can probably be found eating cheese somewhere.