Alicia Keys skincare: Everything you need to know about the star's new lifestyle brand Keys Soulcare
Alicia Keys skincare is here and she wants to nurture your spirit as well as your skin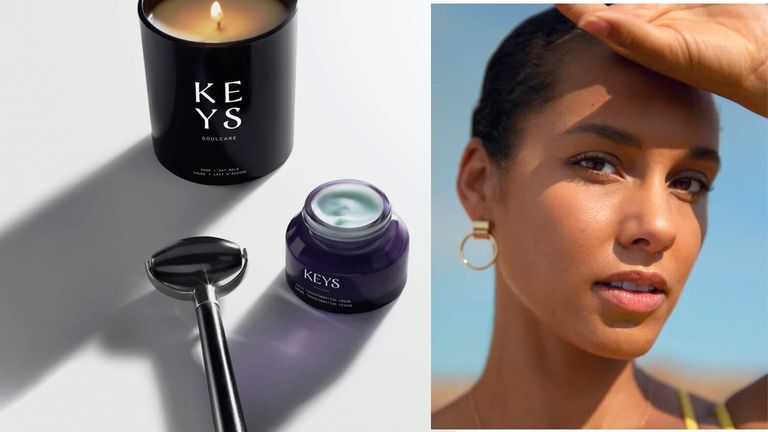 (Image credit: Keys Soulcare)
After weeks of speculation - will she, won't she - Alicia Keys skincare is finally here with the launch of Keys Soulcare.
Nearly a year in the making, Keys has partnered with drugstore favourite E.l.f Beauty to create a lifestyle beauty brand that embodies the current zeitgeist for self-care.
"I created @keyssoulcare because I've always had real challenges with my skin. (I know I'm not the only one). I realized so much of it was based on energy around me and how anxious or stressed I was feeling," Alicia wrote in an Instagram post. "We've worked with LOVE to offer you clean formulas and rituals that help you create space for yourself! So we can be good to ourselves EVERYDAY! "
Alicia Keys skincare: what can you expect?
In keeping with the Zen brand ethos, Keys chose not to overwhelm shoppers with a vast range of products. Instead the first 'ritual' is a stylish edit of face cream, facial roller and candle to meet the needs of DIY at-home facials everywhere.
"Now more than ever we need these rituals," says Keys.
The chic black and white packaging screams luxury but quietly whispers purse-friendly prices starting from $25.
Right now you can buy the Sage + Oat Milk Candle, Skin Transformation Cream and Obsidian Facial Roller.
The $25 roller his made from obsidian stone, its coolness reducing blood flow to help de-puff and soothe away inflammation.
The $38 scented candle is a fireside blend of smoky sage and sweat oak milk - perfect for cozying up on winter nights. In an Instagram post, Keys says, "I love it in every room in my house to create those GOOD vibes - the sage exudes a calming warmth while the oat milk soothes and adds a bit of nutty sweetness. "
She also recommends that "you light this candle repeat the mantra written on it 'I shine at full wattage.' Because you do! And we betta never stop!"
Finally, the piece de resistance: the $30 cream, which was developed in partnership with dermatologist Dr Renee Snyder, who also co-founded clean beauty brand W3LL PEOPLE.
Cruelty free, it boasts science-led actives like hydrating hyaluronic acid molecules; ceramides to lock said moisture into the skin and bakuchiol, a natural and less irritating alternative to retinol for improving the look of wrinkles and hyper pigmentation. Prepare for it to top your list of best moisturizers for dry skin this winter.
Healthy skin, in particular, is important to Keys, who decided to stop wearing makeup on the red carpet, choosing instead to sport a natural glow.
Now we know the secret to that glow and we are HERE for it. More launches are expected to follow in 2021 so watch this space...
The complete Keys Soulcare line-up