BB cream vs CC cream: which one should you go for?
BB cream vs CC Cream: Here's everything you need to know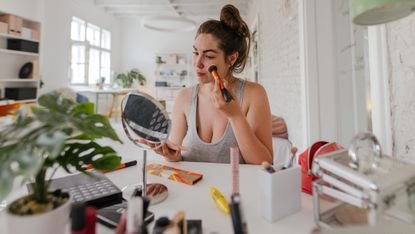 (Image credit: Getty Images)
BB cream vs CC cream: what exactly is the difference between these products? At first glance, CC creams and BB creams might look like one and the same. They are both hybrid beauty buys that fuse skincare and make-up together to target skin concerns so that you can sport a natural looking radiant and even toned complexion. But, there are some distinct differences that set them apart and understanding these will help you decide which one is best for you.
BB cream v CC cream
What is BB cream?
'Beauty' or 'blemish' balms aka BB creams are often mistaken for tinted moisturisers, but when you delve a little deeper you'll find they are distinctly different. Containing serum-worthy actives and antioxidants like ceramides, hyaluronic acid and vitamin C, they can have a lasting effect on the condition of your skin. Most contain an SPF, concealing pigments, and targeted ingredients to offer instant skin perfecting results. You can also expect to find hydrating, moisturising, and mattifying ingredients, sun protection, concealing pigments and so much more.
"BB creams address a plethora of skin concerns from lines and wrinkles, and redness, to acne and dehydration. They offer matte or dewy finishes depending on your needs, and even out the skin in a sheer undetectable manner, leaving the skin looking naturally radiant," shares make-up artist Elaine Lynskey.
Generally, shades are designed to adapt to your skin tone, but with most brands only offering one or two light hues, those with warm and dark skin may not be able to find a BB cream that addresses their skin concerns and matches their skin tone too.
What is CC cream?
CC creams, short for 'complexion' or 'colour' corrector, tend to be thick and creamy in nature, with a medium coverage - making them more akin to foundation. "Their 'smart, self-transforming' pigments are formulated to adapt to a range of skin tones, and are designed for those that need more coverage than a BB cream can provide," shares Diego dalla Palma, international beauty ambassador, Gianluca Oddi.
Just like with BB creams, shade options are limited but if you can find one that suits your skin tone you'll notice how "they expertly marry the neutralising abilities of traditional purple, orange and green colour correctors, with concealer and foundation, to camouflage grey, dull skin, redness, pigmentation, acne, and sun damage," adds Oddi.
What sets multi-purpose CC creams apart from foundations is the skincare benefits they possess. But depending on which one you buy, your skin may still need a moisturiser or lotion pre application. Generally, CC creams can contain anything from anti-ageing actives like collagen, peptides, and hyaluronic acid to visibly smooth the appearance of lines and wrinkles – to targeted ingredients like fruit enzymes, vitamin E, and clay to reduce redness, excess oil, and acne. And it doesn't end there, as you'll also find that most CC creams on the market also offer broad spectrum SPF protection too.
BB cream vs CC cream: which one should you go for?
If the condition of your skin is a key concern and you'd rather not be on a 10 step skincare regime every morning, then a BB cream that treats your skin and offers a sheer veil of colour and a hefty dose of blurring pigments is your best bet. However, if skin tone irregularities are where you need help most and you're happy to not skip out on your moisturiser, then a CC is for you.
Amerley is an award-winning beauty & lifestyle journalist who has been writing for the UK's most well-known glossies, websites and newspapers for over a decade. Known for her ability to predict the next big trend, there is really very little she won't try for a story. From microblading and injectables, to10 step skincare plans and breathing her way to better skin, Amerley loves to share her experiences and write relatable, informative and trend-led copy for beauty novices and junkies alike.