Best BB creams: the top picks for every skin type and tone
More than just a tinted moisturiser, the best BB creams repair, protect, hydrate, and conceal in seconds.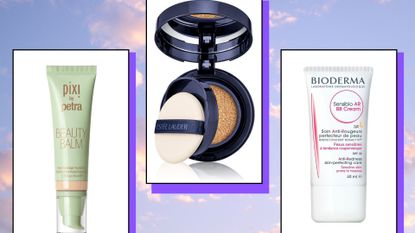 (Image credit: Future)
The best BB creams (aka blemish balm) flood the skin with restorative actives, blur for a smoother appearance, even skin tone and protect against harmful UV rays—so what's not to love? Well, you'll be please to heat that we've tried and tested a selection of the best on the market, to help you choose the right option for your skin type and tone.
You may think that BB creams hail from South Korea, a country that has been setting beauty trends here in the West for some time now. But in fact, the first BB cream was developed by a German dermatologist in the 1960s. Dr. Christine Schrammek wanted a single cream that could protect her patients' skin post laser treatments, as well as provide some coverage to hide redness and even out skin tone. Since then, skin specialists in South Korea have been perfecting BB formulas—and the iterations on the market here in the West are equal parts skincare and make-up.
In order to find the very best BB creams available, we put several popular products through a rigorous testing process. We unearthed some gems on our search, and one of the best, for us, is Pixi Beauty Balm, which we loved for its long-wear formula (which rivaled some of the best foundations for acne prone skin) and skincare benefits. Our expert tester, Amerley Ollennu, found plenty of other fantastic options too—below, you'll find a range of coverage options, and formulations tailored to a variety of skin concerns.
The best BB creams as chosen by our expert
(opens in new tab)
The best BB cream for all skin types and shade availability
Specifications
RRP: $22/£22
Coverage: Medium to full
SPF: 0
Benefits: Ceramides help restore the protective outermost layer of the skin aiding water and moisture retention
Reasons to buy
+
Wide shade range
+
Longwear formula
+
Last for a long time
+
Brilliant coverage
Pixi has become well known for its skincare solutions, marrying affordability with efficacy. A favorite of beauty editors and influencers, this BB cream is the perfect example of how multitasking is done. Great for all skin types, it smooths the skin, lasts all day, and doesn't scrimp on skincare benefits either. Ceramides protect the skin barrier by helping to retain moisture, hyaluronic acid hydrates, antioxidant-rich chamomile extract repairs and soothes, and adenosine plumps to smooth lines and wrinkles. While there is no SPF, it does come in an impressive range of colors when compared with other BB creams on the market and coverage resembles that of a foundation. However, you can mix with a moisturizer, lotion, or SPF if a more sheer look is desired. One of the best BB creams available right now.
Read our full Pixi Beauty Balm review to find out just how good this pigment-packed BB cream is
2. Garnier BB Cream Anti-Ageing Medium Tinted Moisturiser
The best BB cream for those on a budget, with brilliant anti-aging properties
Specifications
RRP: £9.99 (not available in US)
Coverage: Light
SPF: 15
Benefits: Sugar molecule proxylane defends the skin barrier and reduces the appearance of lines and wrinkles
Reasons to buy
+
Contains breathable mineral make-up
+
Gave us a healthy glow
+
Anti-aging formula
+
Lasts for 12 hours
Reasons to avoid
-
Shade range is not great
-
Not for oily skin types
Boasting 12 hours wear, 24 hours of hydration, SPF protection, wrinkle reduction, and an enviable glow—this formula promises real bang for your buck. The texture is creamy in nature and while coverage is light, it did a good job at blurring the complexion and imparting a healthy glow. The shade range is limited with only two mineral pigment colours available—a light, and a medium that some skin tones might find a little too orange.
However, the anti-aging ingredients are quite impressive for a budget buy. Grapefruit extract is rich in potent antioxidant vitamin C, a gold standard skin perfector beloved by beauty experts the world over. It's also packed full of skin sloughing acids, reducing the build-up of dullness-inducing dead skin cells. Plus, it contains sugars that keep the microbiome of your skin healthy too.
(opens in new tab)
3. Estee Lauder Double Wear Cushion BB All Day Wear Liquid Compact SPF 50 / PA ++++
The best long-lasting luxury BB cream
Specifications
RRP: $53.49/£26
Coverage: Light to medium
SPF: 50
Benefits: Fruit extracts and red algae hydrate and smooth
Reasons to buy
+
Lasts for eight hours
+
Hydrating formula
+
Great SPF coverage
Reasons to avoid
-
Lack of shades for brown and black skin tones
-
Oily skin types might find this too dewy
Estee Lauder's Double Wear Foundation is the number one prestige foundation in the UK. So how does the BB version fare in comparison?
Just like the foundation, it is formulated to last, guaranteeing eight hours of wear, but the finish is much more natural and sheer. It primes, moisturizes, and evens out skin tone, all while feeling totally weightless. It's hydrating without being oily, and the applicator provided makes life easier—although you may prefer to use a foundation brush for superior blending capacity. Either way, be sure to wash your chosen applicator once a week, and see our guide to how to apply BB cream if you're unsure about any part of the process. Formula-wise, the SPF is impressively high, coming in at 50, to offer major protection against UV. Fruit extracts and red algae smooth hydrate and plump out lines and wrinkles, tourmaline adds a glow to the complexion, and silk powders help to blur the skin for a soft-focus finish.
Unfortunately, unlike its namesake, it's not available in 55 shades, but only five light to medium hues, meaning it only caters to those who fall within three of Estee Lauder's eight shade categories—definite room for improvement from otherwise one of the best BB creams out there.
4. Bioderma SENSIBIO AR BB CREAM
The best BB cream for sensitive and redness prone skin
Specifications
RRP: $20.28/£16.50
Coverage: Light
SPF: 30
Benefits: patented technology Rosactiv reduces redness & skin inflammation
Reasons to buy
+
Reduces redness long term
+
Works on sensitive skin prone to rosacea
+
Full of skin-soothing ingredients
Reasons to avoid
-
Only available in one shade
-
Coverage is not buildable
Targeted anti-redness skincare and a veil of color are combined within this powdery scented BB cream. The creamy lightweight formula contains the patented ingredient Rosactiv that prevents the dilation of small blood vessels and calms redness instantly. Plus, ginkgo biloba, green tea, and soy are used to inhibit the factors that cause persistent redness. Allantoin and canola soothe, glycerine hydrates, and a cocktail of active ingredients are used to reduce inflammation which is all-important when it comes to quelling redness. SPF 30 and PA +++ is a much-needed addition to the anti-redness formula as it helps protect the skin from UVA and UVB rays that can aggravate redness.
However, what lets it down is the lack of shades. Only available in one light shade, those will olive and warmer skin tones who can also experience redness aren't catered for.
How to choose the best BB cream for you
The first thing you should do before choosing a BB cream is to identify your skin type. Dry skin tends to feel tight, and rough and can look flaky and dull, so you'll need an injection of moisture. If you have an oily T-zone—from your forehead down towards your chin—but your cheeks are normal to dry with no visible pores, then your skin type is combination. This means hydrating ingredients should be your priority. Oily skin looks shiny all over due to excess oil, has large pores, and will regularly breakout. So, you guessed it, mattifying formulas that blur are the ones for you.
---
---
Once you've figured out what skin type you are, you need to think about what your skin concerns are. Are you after something that will help to control acne, or calm rosacea, or perhaps it's your lines and wrinkles that are a concern? Homing in on your skin's 'identity' and what it really needs will make it easier to find the best BB cream for you.
But there is one area you may find a challenge—and that's shade matching. Unlike foundations, BB creams tend to be made with more sheer coverage that adapts to your skin tone. However, on our search for the best, we found that shade-inclusivity is seriously lacking—and, there's only so much adapting fair to medium shades can do. So, it is worth noting that while some brands like Garnier only offer a light and a medium option, there are others like Pixi who offer six shades ranging from a fair creamy hue to a deep espresso. And until brand producing BB creams step up and improve shade ranges, they may not be the best option for some skin tones.
Amerley is an award-winning beauty & lifestyle journalist who has been writing for the UK's most well-known glossies, websites and newspapers for over a decade. Known for her ability to predict the next big trend, there is really very little she won't try for a story. From microblading and injectables, to10 step skincare plans and breathing her way to better skin, Amerley loves to share her experiences and write relatable, informative and trend-led copy for beauty novices and junkies alike.