What does coconut oil do for your skin? Experts explain the dos and don'ts
We asked skincare experts if it's safe to put coconut oil on your face—ever—to give you professionals' take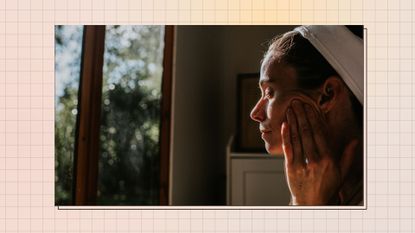 (Image credit: Getty)
There was a time when everybody seemed super keen to slather almost everything in coconut oil, from tofu stir-fries to sun-fried hair. But when it comes to using coconut oil on your face you may want to rethink this approach—especially if you're prone to acne.
Rewind five or so years and coconut oil was reaching peak saturation, being touted as one of the best moisturizers and loved for its natural credentials. As such, some though it was good for oily skin on account of its lauric acid content. In theory, lauric acid, with its antimicrobial properties, should be good at fighting spot-causing bacteria.
The reality is somewhat different, however, as coconut oil acts more like a wax than an oil on the skin, which can lead to myriad issues. So, is it ever OK to put coconut oil on your face, or is it a no-go for all skin types? To get to the bottom of this beauty conundrum, we asked two skin experts for their insights.
Meet the experts on coconut oil for skin
Dr Anjali Mahto is a consultant dermatologist and founder of Self London. Here she has explained to My Imperfect Life readers when coconut oil might be appropriate for use as a skincare product, and for whom it isn't suitable.
Dr Ifeoma Ejikeme is an advanced cosmetic doctor and founder of the Adonia Medical Clinic in London. She's also shared some of the benefits and downsides of using coconut oil as skincare.
Can you put coconut oil on your face? What the experts have to say
Can coconut oil be applied to the face?
The first thing to know about applying pure coconut oil to your skin is that it is extremely likely to clog your pores. "Coconut oil is highly comedogenic, meaning it can clog pores, so if you have oily or acne prone skin, my advice would to be avoid it on the areas that are prone to break out, for example, the face, the chest and the back," says Dr. Ifeoma Ejikeme, advanced cosmetic doctor and founder of London's Adonia Medical Clinic. "Additionally, coconut oil may not be the best choice for those with sensitive skin, as it can be irritating and cause allergic reactions in some people."
"It's occlusive by nature and very comedogenic, which means it can't penetrate your pores. Instead, it sits on top of the skin and can lead to congestion and blocked pores."
Another reason coconut oil was considered a go-to for oily skin was the theory of "like attracts like". Surely an oil cleanser would be better at breaking up oil on the skin, right? Wrong.
"As for oil cleansers, they're a beauty fad best avoided if you don't want spots," says Dr Anjali Mahto, consultant dermatologist and founder of Self London. "They leave behind residue, which can block pores." Gentle cleansers spiked with salicylic acid are your best bet for dissolving the paste-like mixture of oil and dead skin cells in pores.
"Those with extremely dry skin may benefit from using it," says Mahto. "The one time I will recommend it is when I'm treating acne patients who are on isotretinoin as the skin becomes incredibly dry when on this medication. Normally we would advise acne patients to stay well clear of coconut oil, but as the skin is so dry and dehydrated due to treatment, it's one of the few times I will advocate its use."
If you still like the idea of an oil and want one that invariably loves you back, consider a hemp seed oil concoction, like the Kiehl's Cannabis Sativa Seed Oil Herbal Concentrate. This formula is 60 percent Cannabis Sativa seed oil, derived from cold-pressed hemp seeds, which tackles redness and inflammation while the green oregano oil kicks in with its antiseptic properties to keep blemishes at bay.
What about using coconut oil on the body?
"Coconut oil can be a great natural moisturizer for dry skin on your arms, legs, and other areas of your body," says Dr. Ejikeme. "I recommend using a formulation that is kept clean and secure, for example, I suggest using bottles with a pump rather than a tub as this will stop bacteria getting into it."
Fiona Embleton is a multi-award-winning beauty editor who has tested over 10,000 products in her 10 years + of writing and shooting beauty stories. For the past four years, she was the Senior Beauty Editor at Marie Claire, having previously worked in the role of Beauty Editor at both Stylist and Cosmopolitan. She has recently gone freelance and alongside My Imperfect Life, she has written for titles including ELLE UK, ELLE Canada, Buro 247, Harper's Bazaar Arabia, Vogue Scandinavia, and ES Magazine. Beauty journalism allowed her to marry up her first-class degree in English Literature and Language (she's a stickler for grammar and a self-confessed ingredients geek) with a passion for make-up and skincare, photography, and catwalk trends. She loves jumping on the latest internet-breaking beauty news, dissecting the best red carpet looks, and having the crème de la crème of dermatologists, make-up artists, and hairstylists on speed dial so she can tap them for the best advice. She's a discerning beauty shopper and knows it can be confusing trying to navigate what's hype and what really works. So if she really likes something, you can trust that she has reached that opinion by vetting it against everything else she's ever tried. Her career highs? Interviewing Cate Blanchett and winning a Jasmine Award for the deeply personal feature Cancer Stole My Mother's Scent.
With contributions from