This is what happened when I accidentally walked onto Florence Pugh and Andrew Garfield's new movie set
Andrew and Miss Flo were in south London filming their new movie, 'We live in time'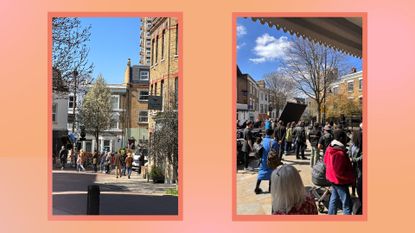 (Image credit: Mariana Cerqueira)
It's not every day that you run into a movie set on your lunch break but that's exactly what happened to me on Monday, when I left the house on a sunny working-from-home day. And it wasn't just any movie set—it was none other than the much-anticipated new Florence Pugh and Andrew Garfield movie.
Their new project was announced just a few weeks ago, not long after they got fans swooning over a potential romance when they presented the Oscar award for Best Original Screenplay (following another moment between Andrew and Amelia Dimoldenberg). The chemistry was noticeable but rather than being due to an off-screen romance, it was due to an onscreen one instead.
While making an appearance on the Jimmy Fallon Show, Florence confirmed their upcoming project: "We are doing a movie together. Don't worry that's not a lie. We are doing a movie together.
"I met him the day before in rehearsals and we instantly got along and I was taking the p*ss out of him and he loved it and he was taking the p*ss out of me and I loved it. It was great!'
So what can we expect from the upcoming movie? Here's what I saw on set...
Florence Pugh and Andrew Garfield's movie first look
While we know next to nothing about the movie's plot, these two were getting pretty cozy on set so I'm betting we're in for a rom-com.
Florence and Andrew were filming in Herne Hill, a very cute (disclaimer: as a resident, I'm very biased) village-like suburb in south London, sandwiched between the better-known Brixton and Peckham neighborhoods.
I obliviously walked onto the set as I went to get my usual from one of my favorite coffee shops in Herne Hill, right inside the train station. But unlike any other quiet day, there was a camera crew and plenty of bystanders waiting for something.
It's not the first time I've seen a set on the very same street, so I thought it was probably another commercial being shot. But when I asked one of the station's security guards, he casually responded: "They're shooting a movie... Andrew Garfield's new one." Say what now?!
I proceed to get my oat latte, acting super casual, where the barista tells me he's seen Andrew around that morning and that Florence had been walking around Brockwell Park, which is a minute away.
When I leave the coffee shop, the crew is still setting up and I hear 'rehearsal' a few times, but I have no luck spotting the A-listers.
Instead of waiting around, I go for my usual walk around the park on what was a gloriously sunny spring day and most park walkers seem oblivious to what is happening just a few minutes from there.
But of course, on my way back home, I couldn't resist taking another peek. I walk via the set again and lo and behold—someone shouts 'action' and Andrew and Miss Flo start walking towards us, giggling and looking very in love.
---
We Live In Time filming locations:
Brockwell Park
Railton Road (towards Herne Hill)
Outside Lulu's
---
They stop by a vegetable stand and pick fruit, smell lemons, smile longingly at each other (you know, things couples in love do), and then walk inside (presumably to pay for the aforementioned veggies).
But if you've already started planning a cute romantic date to shop for produce with your love interest at the same spot, you may be disappointed to hear the cute produce shop is indeed Lulu's—a recently opened wine bar that is the sister site to Llewelyn's (more like Siamese twins, they're located next to each other). In fact, the tote bag Andrew carries during their walk in the park is indeed a Lulu's tote bag (both restaurants are worth a trip to South London, I promise).
I stuck around for about three takes of Andrew and Florence doing the same cutesy scene. And while a very busy afternoon of meetings meant I had to leave the buzzy set behind, the feeling of sending a Slack message to my equally pop-culture-obsessed co-workers here at My Imperfect Life—informing them of my eventful lunch break, in all caps—was enough to get me through the afternoon slump.
Mariana is Editor of My Imperfect Life. She has previously worked for titles including woman&home and Goodto, covering all aspects of women's lifestyle — from beauty and fashion to wellness and travel. She was nominated for AOP Digital Journalist of the Year in 2020, and for New Digital Talent of the Year at the 2016 PPA Digital Awards. She's mildly obsessed with reality TV (Love Island memes included) and spends far too much time checking her horoscope and figuring out the perfect curly hair routine.