10 good movies on Disney Plus to watch right now
From the classics to new releases, here are some good movies on Disney Plus to add to your watch list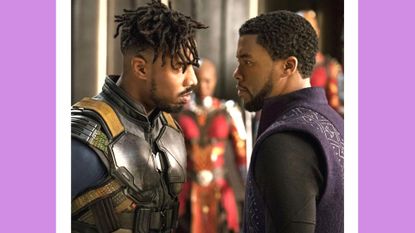 (Image credit: Matt Kennedy/Marvel Entertainment)
Looking for something to binge? You might be wondering what good movies you can watch on Disney Plus.
The streaming service has our back with thousands of movies, from old classics to new releases—so we'll never get bored. So grab a snack and maybe even a glass of your favorite tipple and we'll run down some of the best films on Disney Plus.
10 good movies on Disney Plus to watch right now:
1. 'Toy Story'
If you've never seen the Toy Story films (four in total), then you are in for a treat. The films follow Woody (a cowboy) and Buzz Lightyear (an astronaut) and the other toys in a little boy's bedroom as they attempt to save themselves from being thrown away.
2. 'THE JUNGLE BOOK'
The remake of the cartoon classic is now available on Disney Plus. The Jungle Book (2016) film follows an orphaned boy Mowgli who grows up in the jungle, befriending all the animals, including a bear named Baloo.
3. 'MARY POPPINS RETURNS'
Spit spot! Disney released this follow-up to the classic four years ago, starring British actress Emily Blunt playing the lead role. The musical fantasy captures the same joyful narrative as the original, with great songs and even some laughs along the way.
4. 'HAMILTON'
If you've not had the pleasure of seeing Hamilton on Broadway, then you'll be pleased to know that the stage version is now available on Disney Plus. The hit musical tells the story of Alexander Hamilton, showing his journey from poverty to power, during the American War of Independence. Trust us, you'll be addicted to the soundtrack afterward...
5. 'MULAN'
The year 2020 saw the release of the highly anticipated Mulan remake starring Liu Yifei. The film, which was originally released on the streaming platform in September, missed a cinema release because of the COVID-19 pandemic. However, the adaptation of the animated flick, which follows Mulan trying to save her father, was a big hit.
6. 'ALADDIN'
If you remember this 1992 classic animation, then you're probably a '90s baby! However, the Disney film is timeless and you'll be enthralled by the three wishes that Aladdin gets to make, along with the movie's characters, which include his sidekick Abu, his love interest Jasmine and, of course, the Genie.
7. 'EDWARD SCISSORHANDS'
This '90s classic is definitely worth a watch if you've never seen it. Johnny Depp stars as Edward, a boy who has scissors instead of hands, while actress Winona Ryder attempts to befriend him—much to the horror of her family and small close-knit town.
8. 'Rogue One: A Star Wars Story'
The first standalone film in the Star Wars universe, Rogue One stars British actor, Felicity Jones and slots in (chronologically) just between Episode III (Revenge of the Sith) and Episode IV (A New Hope). The 2016 space adventure is definitely one for your list if you love a fast-paced, action-packed, sci-fi movie.
9. 'BLACK PANTHER'
This one needs no introduction—starring the late Chadwick Boseman, it was a Marvel film that broke all box office records, making a cool $1.3bn. The film follows Black Panther as he attempts to defeat his enemy, in order to inherit the throne.
10 .'GUARDIANS OF THE GALAXY'
Another Marvel film, this one follows a band of intergalactic criminals who eventually form a superhero team to save the universe. The film, starring Zoe Saldana, Bradley Cooper and Chris Pratt, was so successful that it spawned a sequel.
Freelance lifestyle journalist for @BBCBusiness @Womanandhome @ESlifeandStyle @TheIndyBest / co-host of @getajobpodcast and founder of PR secrets. I specialise in health and wellbeing, travel, business, human interest, beauty, and in-depth features.