How to watch The Handmaid's Tale season 4: everything you need to know
Blessed be the fruit! The Handmaid's Tale season 4 is here—here's how to watch in the US and abroad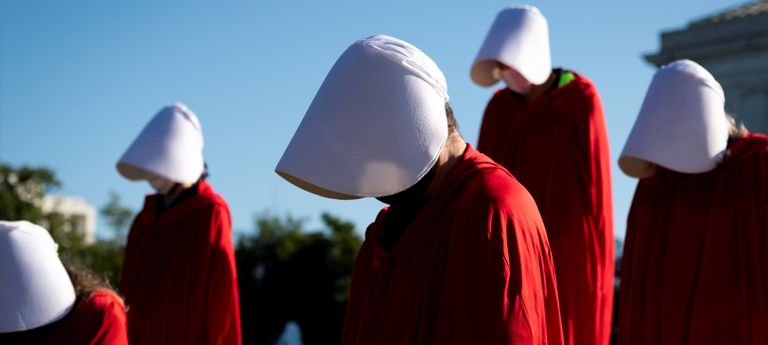 (Image credit: Caroline Brehman/Getty)
Praise be: Handmaid's Tale season 4 is back and it's bringing all of its heart-pumping dystopian drama with it.

The action-packed finale of season three of the Hulu hit, which is based on the acclaimed 1985 novel of the same name by Margaret Atwood, aired all the way back in August 2019—yes, in the B.C. or Before COVID times—and fans have been waiting with Offred-like fury for the show's return ever since.

Like most TV productions, filming was delayed due to pandemic restrictions last year, but now Handmaid's Tale season 4 is finally here to answer all of our burning questions, like 'How will Mayday strike next?' and 'What will happen with June and Nick's baby?' and 'Will Gilead and Canada go to war?'

And from the looks of things, the cast and crew are gunning full-speed through all of the twists and turns this new batch of episodes will be throwing at us. Here's everything you need to know about Handmaid's Tale season 4, including how to watch in the US and UK.
How to watch Handmaid's Tale season 4?
In the US, Handmaid's Tale season 4 is currently streaming on Hulu, as are the previous three seasons of the show. The first three episodes of the fourth season dropped on the platform on April 28th; each subsequent episode will be aired individually every Wednesday until the season 4 finale on June 16th.

Unlike the previous two seasons, which were 13 episodes each, Handmaid's Tale season 4 will only run for 10 episodes.

For UK viewers, there isn't an on-air date set yet across the pond, but like the previous three seasons, Handmaid's Tale season 4 will be broadcast on Channel 4.
Check out how to watch other hit Hulu shows, like The Great.
Watch the Handmaid's tale season 4 trailer
Who is in the Handmaid's Tale season 4 cast?
The central character of June/Offred is played by Elisabeth Moss on the series, who also serves as an executive producer and director of three episodes on Handmaid's Tale season 4.
Also returning to the cast for the fourth season is Joseph Fiennes as Commander Waterford, Yvonne Strahovski as Serena Joy, Ann Dowd as Aunt Lydia, Max Minghella as Nick, Samira Wiley as Moira, Alexis Bledel as Emily, Madeline Brewer as Janine, O. T. Fagbenle as Luke, and Amanda Brugel as Rita.

Bradley Whitford has been upgraded to the main cast in season 4, playing Commander Joseph Lawrence, as has Sam Jaeger as operative Mark Tuello.
Fresh faces in the Handmaid's Tale season 4 cast include McKenna Grace as Esther Keyes, a teenage girl married to a much older Commander, and Zawe Ashton as Moira's new girlfriend in Canada.
What is Handmaid's Tale about?
Like Atwood's seminal book, the TV series centers on Offred (Elisabeth Moss), née June, a strong-willed American woman who has been captured as a "handmaid" in a near-future New England that's been taken over by a totalitarian, patriarchal state known as Gilead, in the aftermath of a civil war with the United States.

The series follows June's struggles while serving as a handmaid for a powerful couple, Commander Fred Waterford and his wife Serena Joy—both of whom were instrumental in Gilead's founding—as well as traversing new social classes, stomaching the everyday violence of the ruling elite, and plotting her escape from this oppressive world. And yes, some of the show does hit a little too close to home these days.
What is a handmaid on The Handmaid's Tale?
In Gilead, a handmaid is a fertile woman who has been forcibly assigned to produce children for the ruling class of men, known as the Commanders. The role of these handmaids is to raise birth rates, which have dropped in this "near future" due to factors like environmental pollution, radiation, and sexually transmitted diseases.

Not every woman in Gilead becomes a handmaid, though all women have their rights and independence severely limited in this world—even the most powerful, like Serena Joy, are not legally allowed to read or write. However, the religious Gilead elite choose what they consider to be "fallen women"—single mothers, non-Christians, queer women, and so on—to perform as handmaids.
The handmaids are then designated to a specific household, where they will bear children for their Commanders and their wives through a ceremony of ritualized rape. They will also take up the name of their assigned master, using the prefix "Of"—therefore, June becomes Offred, after Commander Fred Waterford.
Who are Marthas on Handmaid's Tale?
Along with handmaids, Marthas are one of the lower levels of society that women occupy in Gilead. Exemplified by Rita on the show, the Marthas are women who are infertile or too old to serve as handmaids; instead, they usually perform as cooks, housekeepers, or other domestic workers in a commander's home. Whereas the handmaids infamously wear long red cloaks and white-winged head coverings, the Marthas are signified by all-green ensembles and more casual headwraps.

Above the Marthas on the societal ranks are the Aunts, like the chilling Aunt Lydia. They make up the highest level of working women in Gilead, taking on the role of teachers, enforcers, and chaperones of the handmaids. They routinely wear no-funny-business brown.
Above all are the highest class, the Wives, who are elegantly dressed in teal blue and live to serve their Commander husbands and run their homes—that is, unless you're a cunning, conniving spouse like Serena Joy.
On the outskirts are the Jezebels, women forced to work at brothels and sex clubs around Gilead, like Samira Wiley's character Moira; and "unwomen," the lowest status of infertile women, who have been sent to work the fields in the colonies.
Handmaid's Tale sayings: what do they mean?
In the series, you hear several specific phrases and sayings being uttered by the handmaids, Commanders, and other folks in the Gilead-verse. Here are just a few:
"Under His Eye" - Used as "hello" or "goodbye," with the connotation that Gilead's chosen god is always watching
"Blessed be the fruit" - The customary greeting to a handmaid, to encourage fertility and the birth of a child
"May the Lord open" - The usual response to "blessed be the fruit," in hopes to "open" the womb
"Praise be" - Commonly said in thanks
"Nolite te bastardes carborundorum" - A Latin phrase meaning "Don't let the bastards grind you down," which was carved in June's closet by a previous handmaid. June uses it as almost a rally cry in her resistance against Gilead.
How many seasons of Handmaid's Tale are there?
There are currently four seasons of The Handmaid's Tale. The first season kept to the plot of Margaret Atwood's book, however, subsequent seasons of the show have deviated from and fleshed out storylines far beyond her original tale.

Atwood published a sequel to The Handmaid's Tale, titled The Testaments, in September 2019, but it remains to be seen if any of those plot developments will make their way from page to screen.
Will there be a Handmaid's Tale season 5?
Yes! In December 2020, even before season 4 dropped, it was announced that The Handmaid's Tale was picked up for a fifth season. But whether that fifth season will be the last is still up for debate.
In an interview with The Hollywood Reporter (opens in new tab), showrunner and executive producer Bruce Miller said: "I certainly don't [have a number of seasons in mind]. I always thought I did and that, I think, is a pandemic change. I thought I had a beginning, a middle, and an end—and I still feel like I very much have an end—it's just that I'm finding more interesting paths along the way and more interesting things to do as we move towards more fascinating parts of the story."
Miller did clarify that he's down for more Handmaid's Tale so long as series star Elisabeth Moss is. "She deserves to have me there writing for her as long as she wants. She earned that this year," Miller said. "I will write beautiful words for her to say for as long as she wants to say them."
You'll hear no complaints from us!
Christina Izzo is the Deputy Editor of My Imperfect Life.
More generally, she is a writer-editor covering food and drink, travel, lifestyle and culture in New York City. She was previously the Features Editor at Rachael Ray In Season and Reveal, as well as the Food & Drink Editor and chief restaurant critic at Time Out New York.
When she's not doing all that, she can probably be found eating cheese somewhere.