How to watch Wonder Woman 1984
Wondering how to watch the newest instalment of the DC Universe?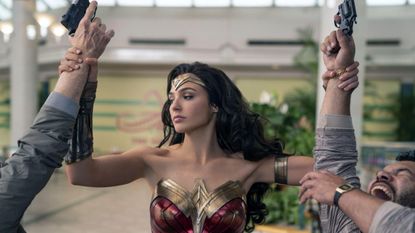 (Image credit: Warner Bros/Alamy)
Wondering how to watch Wonder Woman 1984 at home? Following the success of the first film in 2017, comes the latest instalment set in the day-glo-bright 1980s.
The release of this movie was supposed to take place in December 2019 but this plan was axed due to scheduling issues with the director, Patty Jenkins. The film was then set to premiere in June 2020 and postponed again—due to the pandemic. So the Wonder Woman sequel has been a long time coming!
The sequel finds Diana Prince in 1980s America—40 years on from her adventures in Europe with Steve Trevor—saving the human race during the Second World War.
Both Gal Gadot (Diana Prince, aka Wonder Woman) and Chris Pine (Steve Trevor) return in the lead roles. Steve Trevor's reappearance may be confusing for many of the fans of the last movie (*no spoilers here*)—not least as he doesn't appear to have aged at all in the last 40 years. Kristen Wiig (Bridesmaids, SNL) pops up as the classic, comic book villain: Cheetah.
The costumes alone in this film are reason enough to watch. The cast is bedecked in full 80s glamour—head-to-toe in bright colours, wearing outfits like parachute pants that (thankfully) haven't seen the light of day in decades.
How to watch Wonder Woman 1984 in the US
Wonder Woman 1984 premiered on HBO Max on Christmas Day 2020, free to HBO Max subscribers for 31 days. It's now left the streamer but you can still watch the movie at home. It's available on premium rental services—Amazon, Google Play Movies—from $19.99 US
How to stream Wonder Woman 1984 in the UK
In the UK you can rent the Wonder Woman sequel—and get your fill of Diana Prince and her golden lasso—from a variety of streaming services from £15.99 GBP
Laura Harman is a journalist who has written for Woman & Home, Grazia and Good to Know and regularly contributes to My Imperfect Life.