Is after-sex glow actually a thing?
Has anyone ever complimented your 'after-sex glow'? They could be on to something real...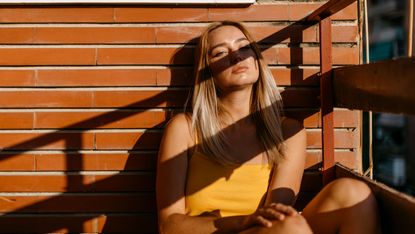 (Image credit: Getty Images)
If you've ever had mind-blowing sex, then you'll know all about the after-sex glow. It's the extra spring in your step, the brighter smile on your face and according to research, the actual glow on your skin, following one (or a few) orgasms.
For many of us, the term 'after-sex glow' has been more metaphorical than literal, but a 2019 study suggests that it is a real thing. But is it only the result of intercourse with a partner, or could you achieve it through the magic powers of the best app-controlled vibrators?
Does sex actually make you glow?
According to a study as part of a research journal titled 'Quantifying the Sexual Afterglow: The Lingering Benefits of Sex and Their Implications for Pair-Bonded Relationships', a group of scientists put after-sex glow it to the test, using a group of newlyweds to prove that you can in fact experience a sexual 'afterglow'.
The researchers asked 200 couples, who had recently tied the knot, to record their sexual activity every day for two full weeks. They were also asked to report how satisfied they were with their partner and their relationship each day, regardless of whether they had sex on the day or not. The researchers concluded that having sex one day was associated with increased sexual satisfaction up to two full days later, which means that the after-sex glow is in fact a radiance that comes from an increase of sexual and relationship satisfaction that can last for up to 48 hours.
"Our research shows that sexual satisfaction remains elevated 48 hours after sex," says psychological scientist Andrea Meltzer of Florida State University, lead author on the study. "And people with a stronger sexual afterglow—that is, people who report a higher level of sexual satisfaction 48 hours after sex—report higher levels of relationship satisfaction several months later."
Can you get after-sex glow from masturbation?
Meltzer and the team of researchers established that sex plays a crucial role in pair bonding. This means that the physical act of sex might provide a short-term boost to overall sexual satisfaction by sustaining the couple bond in between sexual experiences (which is when after sex glow appears) and enhancing partners' relationship satisfaction over the long term.
Similarly, Maya Mendoza, Spiritual Psychologist and Founder of PeeSting agrees that orgasmic sex, meaning whether you have intercourse with a partner or orgasm through masturbation (with or without the best-reviewed sex toys), gives your complexion a boost.
"This is because when you orgasm your body releases nitric acid, which increases blood flow," she explains. "In addition to increasing oxygen, you get a boost of dopamine, the pleasure hormone, and a rush of adrenaline which contributes to feelings of excitement, faster breathing, panting, and increased circulation. All of that gives you greater blood flow, not just to your face, which gets a lovely pinkish flush, but all over your body."
She continues: "Although post-sex afterglow is a short-term thing, having regular sex, both going solo or with a partner, can make you look younger, slow down the formation of wrinkles, and even help reduce acne breakouts."
So there you have it—after sex glow is a real thing, and you can get it from masturbation too!
Mariana is Editor of My Imperfect Life. She has previously worked for titles including woman&home and Goodto, covering all aspects of women's lifestyle — from beauty and fashion to wellness and travel. She was nominated for AOP Digital Journalist of the Year in 2020, and for New Digital Talent of the Year at the 2016 PPA Digital Awards. She's mildly obsessed with reality TV (Love Island memes included) and spends far too much time checking her horoscope and figuring out the perfect curly hair routine.