Is Meghan Markle a Princess? All of your questions about Meghan and Harry's titles answered
Is Meghan Markle a Princess? Is Harry still a Prince? Royal titles can be a little confusing so we're here to clear things up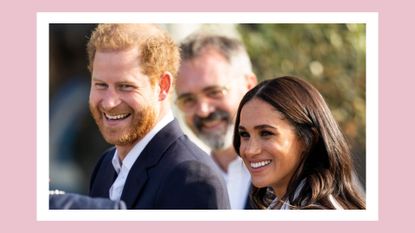 (Image credit: Future/Mark Cuthbert/UK Press via Getty Images)
Is Meghan Markle a Princess? Over the last few years, she's taken on many roles—an actress, a philanthropist, a feminist, a wife, a mother and, of course, most famously, a royal. But when it comes to her official royal title, is Meghan Markle officially considered a Princess? Has her title changed since she and Prince Harry stepped back as senior members of the Royal Family?
The reality of Harry and Meghan's titles nowadays is a little bit fuzzier than it was a few years ago. Despite the fact that they no longer officially work for the institution, they are still members of the Royal Family. Harry was born a royal and the couple has two children who are the grandchildren of the current King, making it difficult for the pair to shed their royal status entirely.
While the newly-launched Harry and Meghan Netflix series lifts the lid on their early romance and their decision to depart as working royals, it hasn't yet shed much light on Meghan's—or Harry's—official titles. So what are they both formally known as and do they still use their royal titles now?
Is Meghan Markle a Princess? What is her title?
Meghan Markle does not go by the title of "Princess," although due to her marriage to a Prince, she is—on official records—named a "Princess of the United Kingdom."
However, upon her marriage to Prince Harry, Meghan Markle instantly became the Duchess of Sussex. This is because Harry himself, upon marriage, was given the title of the Duke of Sussex. Previously to marrying Meghan, he was simply referred to as Prince Harry, with no extra titles to speak of.
So, during her time as an official working royal, Meghan was officially known as Her Royal Highness the Duchess of Sussex.
Unlike Kate Middleton's new title (Princess of Wales), Meghan was never a "Princess" in the formal sense.
Instead, she was a Duchess; traditionally, female royals cannot simultaneously be Duchesses and Princesses. For example, Kate was the Duchess of Cambridge from the date of her marriage until the passing of Queen Elizabeth II. Now, she is no longer formally referred to in that way and has instead taken on the title of Princess of Wales, a title that the late Princess Diana previously held.
But what about the fact that Harry and Meghan are no longer working royals? Now that Meghan and Harry have stepped away from traditional roles within the family, Meghan does still retain the title of Duchess of Sussex.
However, neither she nor Harry can use the HRH (His or Her Royal Highness) styling in any capacity, as agreed by the Royal Family.
Is Harry still a Prince? What is his title?
Prince Harry was born into the Royal Family—his father is the King of England (King Charles III's coronation will be on Saturday, May 6, 2023), his brother is the Prince of Wales and his grandmother is the late Queen of England.
Because of this, it's likely that Prince Harry will always be regarded as a Prince, whether he officially goes by the title or not. And technically, he is still a Prince by birthright.
Like Meghan, upon stepping back from the Royal Family, Harry gave up the "His Royal Highness" signifier. But, he has retained his "Prince" title, even if he doesn't tend to use it as much (as evidenced by the use of just "Harry" in his new Netflix documentary).
He, again like Meghan, is also still known as the Duke of Sussex, a title that was given to him by Queen Elizabeth II upon his marriage. His other titles are Earl of Dumbarton and Baron Kilkeel.
As mentioned, whether Harry and Meghan use their titles formally or not, it's unlikely that either of them will either fully shake off their royal status—Harry, in particular.
Is Prince Harry still in line to the throne?
Yes—despite stepping back as a senior working member of the Royal Family, Harry is still in the line of succession to the crown.
He is fifth in line, behind William and his children Prince George, Princess Charlotte, and Prince Louis. It's unlikely, though, that he will ever become called upon to be King, particularly if George, Charlotte and Louis have their own children in the future.
This also means that Harry and Meghan's children, Archie and Lilibet, are in the royal line of succession, too. As the elder child, Archie comes first, making him sixth in line to the British throne, and Lilibet (or Lili) is seventh in line.
As and when the Prince and Princess of Wales' family expands, however, (e.g. their children start having children), Archie, Lilibet and Harry will move further down the list, just as Prince Andrew's children—Princess Beatrice and Princess Eugenie—have as Harry and William added to their families over the years.
Are Archie and Lilibet now a Prince and Princess?
Prior to the death of Queen Elizabeth II, Harry and Meghan's son Archie Harrison Mountbatten-Windsor, aged 3, and daughter Lilibet Diana Mountbatten-Windsor, aged 1, were not considered to be Prince or Princesses.
Though the decision appears to be complicated (we all remember that Harry and Meghan Oprah interview), it was decided that they would not have royal titles, and instead would simply be referred to as "Master Archie" and "Miss Lilibet" in formal settings.
This isn't all that unusual—Zara Tindall's children, for example, do not have royal titles, despite being Princess Anne's grandchildren. In a formal setting, Zara and Mike Tindall's two daughters and son are simply referred to as "Miss" and "Master."
However, things changed following the death of the Queen on September 8, 2022. When Prince Charles ascended to the throne, Archie and Lili both automatically became Prince and Princess, due to a centuries-old ruling about the grandchildren of the monarch.
At the moment, it's not clear whether the two littles will ever actually use the titles. But just like their dad, they are royal by their birthright, whether or not they end up working as part of the monarchy.
Only time will tell!
The first three-episode volume of Harry & Meghan is now streaming on Netflix.
Amy Hunt is a lifestyle writer and editor, and was previously Lifestyle Channel Editor at womanandhome.com, having been with the brand since 2015. She is passionate about everything from entertainment to books, to homes, food and wellness. When she isn't editing, researching or writing articles, he's busy burying her nose in a gripping thriller, practising yoga, or buying new homeware.