All of the best Jennifer Lawrence movies ranked
Which Jennifer Lawrence movies do you *need* to add to your list? Here's what to watch before 'No Hard Feelings'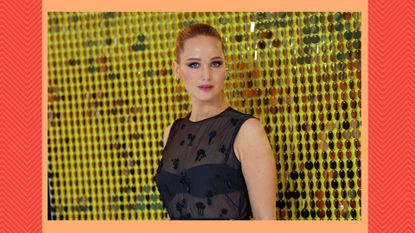 (Image credit: Future/Mike Marsland/WireImage/Getty Images)
J.Law is one of the biggest stars of a generation—in fact, Jennifer Lawrence movies have become some of the biggest box office hits of the last decade, firmly cementing her as an actress very much in demand.
Outside of her professional achievements, which include an Academy Award, Lawrence is widely known as one of the funniest, most sarcastic—and therefore, relatable—ladies in the biz. And the 32-year-old isn't only talented in the acting department; she also nails it in the style stakes almost every time she steps out, favoring sleek, minimalistic looks for the most part. (And of course, the Jennifer Lawrence workout routine helps to ensure she looks good in pretty much everything!)
But back to her acting chops—if you're not all that familiar with her entire body of work (what rock have you been hiding under?), it's time to revisit the best Jennifer Lawrence movies out there, since the star is back onscreen in the raunchy rom-com No Hard Feelings. Here's where her most famous flicks stack up according to My Imperfect Life's rankings, from her breakthrough role to her latest performance.
The best Jennifer Lawrence movies ranked
We love pretty much any movie that Jennifer Lawrence puts out—but if we have to choose, there are some clear favorites among the award-winning bunch. So here are My Imperfect Life's top Jennifer Lawrence movies ranked, starting with our number one pick...
7. 'Passengers' (2016)
Another blockbuster for Jennifer Lawrence came in 2016, as did another role alongside a Hollywood heavy-hitter—this time, in the form of Chris Pratt. This sci-fi romance sees Chris and Jennifer's characters in a ship traveling through space to the planet Homestead, after the ecological collapse of Earth.
All 5,000 humans traveling on the ship have been put into a 120-year hibernation, allowing them to wake up at the same age once they reach the new planet—but Chris' character is awoken 90 years too early.
After struggling with the loneliness and isolation of his situation, he eventually decides to awaken Jennifer's character, forcing her to miss out on a life on the new planet.
Despite performing well in theaters and winning multiple Oscar nominations, it was sadly panned by some critics—though movie fans largely loved it. And we did too!
6. 'X Men: First Class' (2011)
J-Law starred as the blue mutant Mystique in the 2011 film X-Men: First Class, her very first high-action blockbuster. And the then-lesser known actress shared the screen with a host of incredible talent, including Michael Fassbender, James McAvoy, January Jones and Rose Byrne. Talk about co-stars!
But it wasn't her first and final foray into the supernatural X-Men world. Jennifer reprised her role as Mystique twice more after this film, in X-Men: Days of Future Past (2014), with Hugh Jackman, and X-Men: Dark Phoenix (2019), before admitting that having to douse herself in blue paint every day on set eventually took its toll!
5. 'Don't Look Up' (2021)
This 2021 disaster/comedy/satire is arguably one of the Jennifer Lawrence movies that proved to be the most controversial. That said, it was also hugely popular, logging more than 152 million viewing hours in its first week on Netflix, which is why it's one of MIL's favorite picks.
The star-studded cast is one thing (Leonardo DiCaprio, Meryl Streep, Jonah Hill, Timothee Chalamet, to name but a few), but the near-the-knuckle plot was another, as Jennifer Lawrence's character Kate teams up with Leo's to warn the world of impending doom—a revelation that the public largely doesn't take all that seriously. Remind you of anything? We'll leave that one there...
4. 'No Hard Feelings' (2023)
Jennifer's most recent film is the 2023 comedy No Hard Feelings, which sees her and young actor Andrew Barth Feldman take the lead. A departure from her more serious roles, this film (which Jen also produced), is a hilarious and heartwarming watch, which has gone down a storm in theaters so far.
Her character, Maddie, is on the brink of losing her childhood home when she is presented with an opportunity to make some extra cash. The opportunity? To date awkward and lonely 19-year-old Percy in order to give him a bit of *ahem*, life experience, at the request of his ultra-wealthy parents.
Though the movie has so far gone down a storm at the box office, some critics have questioned the morality of Jennifer's 30-something character 'dating' a 19-year-old.
However, as you'd expect from J-Law, she has so far laughed off any criticism. She told Sky News, "I think it's time for just a good old-fashioned laugh. And it really is hard to make a comedy where you're not offending people.
"Everybody in some sense will be offended by this film—you're welcome."
3. 'Winter's Bone' (2010)
Jen started her career back in 2006, with a series of TV show stints, and a series regular role on The Bill Engvall Show. However, it wasn't until 2010 that she got her big break in the independent film, Winter's Bone.
Winter's Bone wasn't Lawrence's first movie, but it was the one that lead to her initial breakthrough in the famously tough-to-crack industry. The 2010 indie flick was set in the Missouri Ozarks, and saw Jen play a character called Ree Dolly. Ree's entire family live in poverty, and after the disappearance of her father, they all face eviction from their home—so Ree sets out on a mission to find him, with terrifying consequences.
The film itself won numerous awards, including one at the Sundance Film Festival, while Jennifer herself was nominated in the Best Actress categories at the Golden Globes and the SAG Awards. Not a bad start to her impressive film career!
2. 'Silver Linings Playbook' (2012)
Jennifer teamed up with fellow A-lister Bradley Cooper for the 2012 comedy-drama Silver Linings Playbook, which charts the complex relationship between her character Tiffany Maxwell and Bradley's character Pat Solitano Jr.
Both of their characters are dealing with different mental illnesses, but this light-hearted, honest and important film is an overall positive reflection on Pat and Tiffany—showing them as much more than just their struggles.
The flick turned out to be one of Jennifer's most critically acclaimed roles so far, winning her the Best Actress Golden Globe, SAG Award, and Academy Award, making her the second-youngest Oscar winner in the Best Actress category. And we couldn't agree more—Jen absolutely killed it.
1. 'The Hunger Games' trilogy (2012-2015)
When you think of Jennifer Lawrence movies, it's likely that this smash hit is your first thought—so it absolutely had to take our number one spot.
The Hunger Games trilogy is, without a doubt, the film series that catapulted Jennifer Lawrence into the big time, and into global fame. Based on a series of books of the same name by Suzanne Collins, The Hunger Games (if you're not familiar) is set in a dystopian future, where the remaining population of the world are sorted into 'Districts', within the nation of Panem.
In the first film, it is revealed that 12 children each year are chosen to participate in the deathly (and televised) Hunger Games, in which there is only one winner/survivor. Jen plays Katniss Everdeen, the unlikely heroine of the trilogy, alongside Liam Hemsworth as Gale Hawthorne, and Josh Hutcherson as Peeta Mellark.
Jennifer Lawrence starred in three other films in The Hunger Games series, the second, Catching Fire, and Mockingjay, which was split into two films.
In fact, Jennifer recently confessed that she'd love to play Katniss again one day. When asked if she'd revisit the role, she exclaimed, "Oh my god, totally! If Katniss could ever come back into my life, 100%"
Amy Hunt is a lifestyle writer and editor, and was previously Lifestyle Channel Editor at womanandhome.com, having been with the brand since 2015. She is passionate about everything from entertainment to books, to homes, food and wellness. When she isn't editing, researching or writing articles, he's busy burying her nose in a gripping thriller, practising yoga, or buying new homeware.