Kamala Harris wearing Pyer Moss sent a powerful message about her values. Here's why
The Vice President's wardrobe choice meant a lot more than meets the eye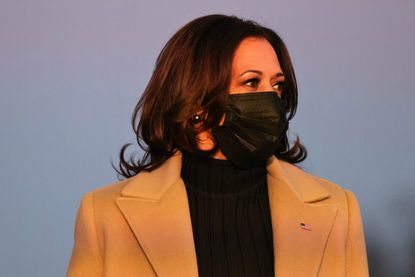 (Image credit: Photo by Michael M. Santiago/Getty Images)
On the eve of the Inauguration, then-Vice President-Elect Kamala Harris stepped out with husband Doug Emhoff alongside then-President-Elect Joe Biden and his wife Dr Jill Biden at the National Mall in Washington DC, attending a memorial to honour the 400,000 Americans who have lost their lives due to Covid so far.
The event marked the first appearance ahead of the Inauguration ceremony and while the focus was on paying respects to the tragedies of the global virus, Kamala sent another powerful message that outlined her values through a tasteful wardrobe choice.
There's been an age-old debate centering female political figures and the mainstream media's tendency to divert from their achievements by focusing on their style, especially following some reactions to Harris' controversial Vogue cover. And while the argument does hold weight, it's no secret that fashion and politics can go hand in hand when done right.
Style can be used as a form of expression, creating an outlet for individuals - public figures or not - to make statements about their beliefs and values, and the now Vice President did just that.
Harris wore a classic camel coat by fashion label Pyer Moss, a decision that spoke volumes to those who are familiar with the brand's background. Pyer Moss is founded by Kerby Jean-Raymond, a black Haitian-American designer and activist. During the pandemic, Jean-Raymond transformed his New York studio into a donation centre and gave $5,000 towards PPE. Additionally, he raised $50,000 in grants for minority and women-owned independent businesses that were hit hard by Covid.
Most notably, Jean-Raymond is known for his integrity. The designer, whose brand is worn by some of the biggest names in the world including Michelle Obama and Tracee Ellis Ross, is vocal about social issues and racial injustices, specifically in the fashion industry. In 2019, he called out Business of Fashion's (BoF) "exploitative practices" and rejected his place on the prestigious BoF 500 list, detailing his reasons via a statement he shared on Instagram.
At the time, Jean-Raymond explained specific incidents in which he had felt exploited by BoF, stating that he felt "gaslighted," "used", "monetised " and "disrespected", whilst pointing out that Black culture is not just a trend. "By replicating [black culture] and excluding us - you prove to us that you see us as a trend," he wrote.
Jean-Raymond has since been praised for taking a stand against the mighty world of fashion publishing and the toxic traits of appropriating, discrediting and undervaluing Black culture. Kamala Harris' choice to wear his design not only shows her support for a Black-owned business that has given back to America during a global pandemic but also indicates that her values align with those of Jean-Raymond. In the words of New York Times' fashion editor Vanessa Friedman, who tweeted following the memorial service: "It's not about fashion. It's about values."
Seeing the soon-to-be Vice President in Pyer Moss, not only put a Black-owned business in the limelight but acts as a symbol of her pledge to support the ongoing fight against systemic racism in the fashion industry and beyond. But this isn't the first time Harris has used fashion to express beliefs. On 7 November, the night she made history as the first Black and South Asian woman to become Vice President-elect, she wore a white Carolina Herrera suit in honour of the Suffragettes and Geraldine Ferraro - the first woman to run for Vice President in 1984, who also wore a white suit when she accepted the Democratic party's nomination.
Harris is also known for wearing pearls, a nod to the sisterhood of her college sorority Alpha Kappa Alpha, and something tells us we've got plenty more statement looks to come.
Sagal is a journalist, specialising in lifestyle, pop culture, fashion and beauty. She has written for a number of publications including Vogue, Glamour, Stylist, Evening Standard, Bustle, You Magazine, Dazed and Wonderland to name a few.