Why women are wearing Kamala Harris' signature pearls on Inauguration Day
Thousands of women are wearing "Kamala Harris pearls" to celebrate Inauguration Day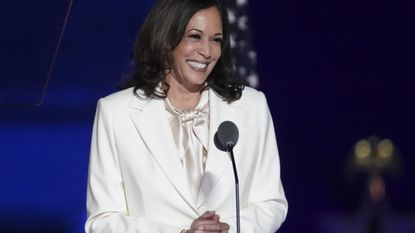 (Image credit: Photographer Sarah Silbiger/Bloomberg/Getty Images)
Have you got your Kamala Harris pearls ready? The wait is finally over, Inauguration Day is here and to celebrate, women around the world have organised a special symbol of honour for soon-to-be Vice President Kamala Harris.
Harris will be sworn in as the first woman and person of colour to become Vice President of the United States today, in a history-making inauguration ceremony. To mark the occasion, a 46-year-old woman named Hope Aloaye started a Facebook group encouraging others to wear pearls to celebrate Harris' appointment. But little did she know that pearls are actually Harris' favourite accessory.
Kamala Harris and pearls: what is the significance?
"This group was created by Hope Aloaye on December 5th, 2020. It is about Empowered Women Empowering Women Supporting a Woman," read the Facebook group. "We want as many women and young ladies to wear their pearls on the Inauguration Day of the first WOMAN VP in the history of these United States. It is open to ALL Women."
Speaking to TODAY, Aloaye, who is a veteran based in Florida, introduced her initiative, explaining that she picked pearls because she feels that they are a representation of female strength – a perspective coincidentally shared by Harris' college sorority, Alpha Kappa Alpha. In fact, the founders of Alpha Kappa Alpha are referred to as the "Twenty Pearls", while its members (made up of 290,000 women worldwide) are known as "pearls".
Plus, Kamala Harris' pearls have become somewhat of a signature look for the Vice President-elect. Just like the famous Kamala Harris chucks she's always got on her feet (she definitely brought back Chuck Taylors), the Kamala Harris pearl necklace has become a staple. She wears them all the time, from special occasions like the election results night to daily engagements like her visit to MC United Medical Center and TV interviews.
"I equated the pearls to women (because) we go through a lot of things, but we still come out shining," Aloaye told the news outlet. "Pearls are every color, shape, size. It doesn't matter. ... I just thought that was a beautiful thing."
She initially started the Facebook group in early December to champion Harris and create a space for women to empower one another in the lead up to the milestone moment in history we've all been waiting for. Titled "Wear Pearls on Jan 20th, 2021", the group now has 462.8K members and has become a platform for women of different ages, races, cultural backgrounds, and countries to provide daily support for each other. Many members have even offered to donate pearls to those who don't have any so they can be apart of the movement.
"I wanted a group that was inclusive because we already have so many other things that are so divisive in this country, especially right now," Aloaye explained.
Well, today is the day so get your finest pearls out... and maybe some champagne too!
Sagal is a journalist, specialising in lifestyle, pop culture, fashion and beauty. She has written for a number of publications including Vogue, Glamour, Stylist, Evening Standard, Bustle, You Magazine, Dazed and Wonderland to name a few.