Is Lily-Rose Depp singing in 'The Idol'?
Does playing pop star Jocelyn have Lily-Rose Depp singing for real in the hotly anticipated HBO series?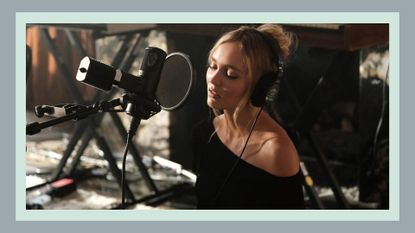 (Image credit: Eddy Chen/HBO)
For Lily-Rose Depp, singing was paramount to playing Jocelyn, the pop star at the center of the HBO miniseries The Idol. But did the actress do all of that crooning herself, or was it a lip-sync situation?
The controversial drama follows Jocelyn, who is coming out of a nervous breakdown as she gets swept up by a self-help guru and contemporary cult leader, Tedros, played by Abel "The Weeknd" Tesfaye.
The five-part series debuted on Sunday, June 4—here's how to watch The Idol from anywhere in the world, so you don't miss it—and we've definitely been checking in every week, not just to see what all of that controversy surrounding The Idol is about, but also to see if Lily-Rose Depp can pull off those pop-icon moves and hold those notes. Can the actress add "singer" to her resume? Here's what we know.
Is Lily-Rose Depp singing in 'The Idol'?
Yes, The Idol leading lady Lily-Rose Depp is actually the singer behind Jocelyn's pop hits. The actress was required to sing live during her audition for the part, and she reportedly performed an a cappella rendition of Peggy Lee's "Fever."
"I never thought I would get the part," Depp told W Magazine. "I knew there would be many lovely ladies who are more musical than me, but I thought, I'll give it a go."
Depp may downplay her singing bonafides but she does come from musical stock: her father, of course, is actor-musician Johnny Depp, who has been in the rock supergroup Hollywood Vampires with Alice Cooper and Joe Perry since 2012, and her mother is French singer Vanessa Paradis, who became famous at age 14 from the 1987 hit song "Joe le taxi."
Clearly, Lily-Rose Depp's singing skills were good enough to get her the role of Jocelyn, but that doesn't mean that performing like a pop star didn't make the actress anxious. "I was a nervous wreck," she said to the outlet about filming scenes for the show in front of a crowd of 70,000 concertgoers at Los Angeles' SoFi Stadium, during a real-life The Weeknd gig. "I was praying to all my guardian angels. I knew we only had two takes at SoFi. I felt like I was going to my wedding—I was so dolled up and in white!"
"I was so nervous about the musical aspect," the actress told The New York Times in June. "It's not what I do and this character has been doing this her entire life. I remember the first time that I had to sing in front of Abel, I was, like, I'm going to blow my brains out. Little by little, we got to know each other more and got comfortable with each other."
However, she quickly got used to the stage, telling W Magazine: "It was quite addicting. I didn't want to leave."
As for which pop icon Depp emulated her singing after, she revealed to W: "Of course I'm a Britney fan!...Who doesn't love Britney? But I was also thinking about Beyoncé, Mariah, and every huge pop star of our time. I wanted Jocelyn to be the kind of woman who can dominate a room, someone who doesn't ever shy away from their sparkle."
Does The Weeknd sing in 'The Idol'?
Ironically, though the cast boasts one of the biggest musical stars in the world as its lead actor, the Weeknd leaves the singing to Depp throughout The Idol.
During that SoFi Stadium concert filming for the series, the performer reportedly lost his voice while having to go back and forth between himself and his character Tedros: "I had to take off the Weeknd outfit, put on Tedros's wig, shoot with Jocelyn, then go back to being the Weeknd," the singer told W Magazine. "It was tough to go from one head to another. Then, after the concert, I lost my voice. No voice came out at all. That's never happened before."
"My theory is that I forgot how to sing because I was playing Tedros, a character who doesn't know how to sing," he added. "I may be looking too deeply into this, but it was terrifying. As the Weeknd, I've never skipped a concert. I've performed with the flu. I'll die on that stage. But there was something very complicated going on with my mind at that moment."
Catch Lily-Rose Depp as Jocelyn in The Idol on Sundays at 9pm Eastern on HBO and Max, with the finale airing on July 2.
Christina Izzo is the Deputy Editor of My Imperfect Life.
More generally, she is a writer-editor covering food and drink, travel, lifestyle and culture in New York City. She was previously the Features Editor at Rachael Ray In Season and Reveal, as well as the Food & Drink Editor and chief restaurant critic at Time Out New York.
When she's not doing all that, she can probably be found eating cheese somewhere.