Is Maya Jama single? Here's everything we know about the 'Love Island' host's romantic sitch
Is Maya Jama single? What we know about the star's current dating life as she make her return to the Love Island villa...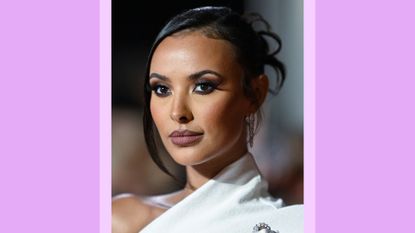 (Image credit: Getty Images/ Gareth Cattermole)
Is Maya Jama single? Now that she's the new Love Island host, fans are desperate to know everything about her—from who is Maya Jama to where to shop Maya's Love Island outfits and, of course, if she's dating anyone. So, here's everything we know about her love life—from her engagement to Ben Simmons and where she stands with ex-Stormzy after *that* album...
For those who don't know, the Love Island host, 27, rose to fame as much for being the girlfriend of rapper Stormzy as her burgeoning presenting career. However, she has very much gone on to solidify her status in the spotlight—appearing on MTV and hosting radio shows on 4Music, as well as fronting BBC Three's program Glow Up and Simon Cowell's new ITV show Walk The Line.
But lately, her romantic history with Stormzy has been back in the headlines after his new album—which many think is heavily influenced by the TV presenter—sparked reconciliation rumors.
Not to mention all the speculation surrounding her former engagement to NBA star Ben Simmons. So, what do we really know about Maya's current relationship status? Allow us to cut through all the swirling rumors to fill you in on everything Maya has said about her dating life...
Is Maya Jama Single?
Despite all the Stormzy speculation, Maya Jama has officially confirmed that she is infact single.
Following her split from her fiancé Ben, Maya clarified to The Sunday Times (opens in new tab): "I'm really, really single right now. Newly single. It's only been a month, but it's nice."
She also gave a hard 'No' when asked if she had her eye on anybody new—so, that's that! Instead, she'll be guiding the new Love Island 2023 cast through their winter of love and we can't wait!
Maya Jama and Stormzy 2022
Are Maya Jama and Stormzy back together?
Despite what Twitter would have you believe, apparently not. Maya has recently confirmed that she is single—so how did all this speculation get stirred up?
WELL, romance rumors initially began to swirl around the famous exes after Stormzy appeared to reference his relationship with Maya in his latest song 'Firebabe.'
More speculation was then fuelled after the pair were spotted 'hugging' in early November, at Kendrick Lamar's O2 show, according to the Daily Mail (opens in new tab). Twitter then went wild at the sight of both Stormzy and Maya at the GQ Men Of The Year 2022 Awards, with a source telling the Sun (opens in new tab) that they were infact, back on.
They said: "Stormzy and Maya are together again, they're taking it slow but are very much back in each other's lives after a long time when they didn't speak or see each other."
Another then claimed: "They spent loads of time together at the afterparty and were chatting in a corner for ages. It seemed as though they went somewhere else together afterwards because she walked out and then he followed her out five minutes later."
Alas though, it seems we do not have a reconciliation story on our hands, as Maya's reps have now denied the claims to The Mirror (opens in new tab). They also confirmed the reports were 'false' to Digital Spy (opens in new tab) but reassured fans that, "Maya and Stormzy remain great friends."
That being said, Stormzy has been very vocal lately about his feelings toward his ex, and their breakup. In a recent interview with GQ (opens in new tab), Stormzy said: "I think my break up with Maya was still really heavy on my heart. I'd never experienced a breakup and the feelings that come with a breakup.
"And I never wanted to ever be in a position again where I felt what I was feeling. Because it showed me that I was a boy. And I do not want to go any further as a boy. I've seen how that manifests in other people. And I don't want to be like that."
He then went on to say: "So what is the necessary work I have to do to make sure I'm not in this position again? That means growth, accountability, changing my character, changing my routines, my habits, my tradition, my values, my morals. Because how I feel right now and how I've made someone else feel and how I've devastated a world that I was living in—I just never want to be in this position again."
And not to mention his new album, which dropped on Friday, November 25th, which fans think is basically a love letter to the TV presenter. With, at least four songs seemingly dedicated to her and their relationship...
Maya Jama and Stormzy relationship
For anyone who needs a debrief on their relationship and split—before dating and getting engaged to basketball player Ben Simmons, Maya famously dated Stormzy. They began dating in 2016, when she was 20 years old, and split in 2019.
In 2017, the musician told the Sunday Mirror (opens in new tab) that he wanted to make their relationship official. "I'm still so young but I want to propose, it's going to happen and I will do it right," he said. "She is so sick, she is the best."
When they went their separate ways both insisted that it had been amicable. However, Maya was noted to have unfollowed Stormzy on Instagram, and in a track 'Lessons' from his subsequent album 'Heavy Is The Head', he appeared to admit that he had cheated and "done the dirt".
Now though, they seem to be on good terms, with fans now desperate for them to rekindle their relationship—especially after Stormzy described their split as the 'biggest loss a man can have' in his interview with Louis Theroux.

He added: "My break-up, that was probably the biggest catalyst for growth as a man. It was like, OK, you made a mistake and you lose someone you loved, someone you cared for, someone who is special to you."
What do we know about Maya Jama and Ben Simmons' split?
When did Maya and Ben get engaged?
Maya got engaged to NBA basketball player Ben Simmons, on December 18th, 2021. However, after a few months of newly-engaged bliss, it was reported by The Sun (opens in new tab) in July 2022 that the pair had called off their engagement. A source said: "It's heartbreaking for both of them, especially as they were so committed to each other."
They suggested that the split was due to them each wanting to focus on their own careers, with Maya having to divide her time between the UK and the US where her 26-year-old fiancé lives. The insider added: "Maya has a bright future ahead of her with job offers coming in all over the world and is feeling positive. She has been hitting the gym a lot and spending time with her good friends."
The time frame for their split is a little hazy however as the presenter appeared to deny the suggestions in a post on August 7th, 2022—a day after the allegations had been published. She wrote: "Stop believing 'sources' in papers plz."
Similarly, her other half Ben shared on August 8th a sweet black and white selfie of the pair together. The sportsman shared the picture on his Instagram (opens in new tab) with a red love heart emoji and the caption: "Almost a year older." This referenced her upcoming 28th birthday.
Their split was then seemingly confirmed again, despite neither party addressing the news. The New York Post (opens in new tab) reported their split at the end of August, with a source tellings the publication: ''It's been a difficult time for them. While they both care for each other so much, they truly gave it their all and realize that they just come from two different worlds."
It's also worth noting that in her recent interview with The Sunday Times in January 2023, she also confirmed that she was 'recently single,' citing that it had been a month since her last relationship—which we would assume refers to her relationship with Ben. But regardless, they are definitely no longer together.
Lauren is a freelance writer and editor with more than six years of digital and magazine experience. Most recently, she has been the Acting Commissioning Editor of Women's Health—where she co-produced the Going For Goal podcast—and has previously also written news and features for titles including The Telegraph, Grazia, Stylist, Dazed, The Sun's Fabulous, Yahoo Style UK and Get The Gloss. She covers all aspects of lifestyle, specializing in health, beauty, and travel. Can't live without: oat milk lattes, new podcast episodes, long walks, and great skincare.