Is Maya Jama single? The latest update on her dating sitch—amidst *those* Stormzy rumors
Wondering about Maya Jama's boyfriend sitch? Here's everything we know about the 'Love Island' host's romantic life, following the very exciting Stormzy speculation...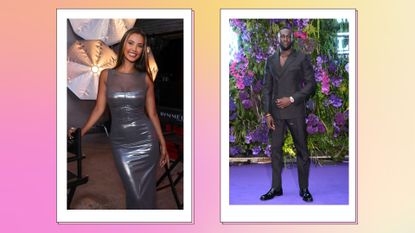 (Image credit: Getty Images/Karwai Tang/WireImageDave Benett/Getty Images for Rimmel London)
Want all the latest intel on the Maya Jama boyfriend front? Well, we don't blame you there, as seeing Love Island's host own romantic life has been front and center recently—especially after her recent interview with British Vogue, amid rumors of a reconciliation with a certain famous ex!
For those who don't know (in which case, where have you been?), the TV presenter, 29, has quite the professional resume behind her—from fronting BBC Three's Glow Up to hosting her very own show on Radio One. And of course, she's just finished up the most recent season of her most prolific gig to date, as host of Love Island UK (and yes, we can confirm Maya's Love Island outfits were better than ever). But because of her impressive career, Maya's fame is soaring to new heights with each passing week—meaning her romantic life has also been getting more and more attention as of late...
From her breakup with basketball pro fiancé, Ben Simmons, to those wild Leonardo DiCaprio rumors, Maya's relationship status has been a hot topic. And that's before we even get to her relationship with Stormzy, which has been hitting the headlines recently. So is she actually dating anyone right now, or is Maya Jama single? Here's what we know...
Maya Jama boyfriend: is she seeing anyone right now?
Exciting news! It looks as though Maya Jama does indeed have a boyfriend; and it's none other than her ultra-famous ex, Stormzy!
Rumors that the pair had reunited four years after breaking up came in August 2023, when both the rapper and the TV presenter posted pictures and videos to their respective social media which seemed to suggest that they were both at the same holiday location in Greece.
While Stormzy shared a cute video of himself in an infinity pool, Maya shared a sexy selfie in what appeared to be a very similar spot, prompting fans to speculate that they were in fact vacationing together.
After returning from the trip (which was reportedly to celebrate Maya's 29th birthday), the Love Island host was also spotted at the All Points East festival—where Stormzy happened to be headlining. Interesting!
We don't yet have any official confirmation from either Maya or Stormzy that the pair are back together, but all signs are pointing to a reunion between the pair, and we couldn't be happier for them!
If Maya and Stormzy are in fact back together, it appears the couple are still in the early stages of their rebooted relationship. In early 2023, following her split from her fiancé Ben Simmons in 2022, Maya told The Sunday Times: "I'm really, really single right now. Newly single. It's only been a month, but it's nice." She then also gave a hard 'No' when asked if she had her eye on anybody new.
Alas, her comments definitely didn't stop the incessant discussion around her love life throughout the rest of this year.
In April 2023 alone, the presenter was linked to actor Leonardo DiCaprio, after the pair were allegedly spotted leaving two parties on consecutive days in London, around the time of the BAFTAs.
Maya swiftly debunked these rumors though, especially after the Daily Mail shared a story speculating that she was wearing a 'Leo' necklace inspired by her new 'beau.' She fired back on her Twitter, explaining in a now-deleted post, that the 'Leo' necklace was a reference to her own star sign.
"I've been minding my business on holiday & said I wouldn't respond/pay attention to any of the silly stories anymore but you need to stop now, that is literally my star sign. We are not dating. Move on please", she wrote.
Following this rumor, yet another frenzy was stirred up when there was a recent sighting of Maya with a new man; Michele Morrone—you know, from the saucy Netflix film, 365 Days.
Fans were on the cusp of freaking out about the hot new pairing after seeing them holding hands during a break from Love Island filming—but alas, Maya and Michele were simply featuring in an advert together. We know, we're heartbroken too.
On July 12, 2023, Maya gave us a clue into what she is looking for out of her next relationship though, in an interview with British Vogue. When asked if the Love Island host wants love, she quipped: "Yeah. Actual love. That's all I ever want. Just real love. I want a best friend that I'm in love with. And I have had that before." Could she be referring to Stormzy?
So while the Leo and Michele rumors proved to be way off base, it seems the rumors about Maya and her famous ex Stormzy appear to be true! But when does this speculation first come to the surface?
Maya Jama and Stormzy 2023
Are Maya Jama and Stormzy back together?
Reunion rumors first started swirling around the pair (who dated for four years between 2015-2019) in 2022. However, Maya's reps shut them down at the time, confirming the reports were 'false' to Digital Spy but reassured fans that, "Maya and Stormzy remain great friends."
As of May 2023 though, a source told The Sun that they were getting close again. "The truth is she's actually back in regular contact with Stormzy and has been heading to his house to meet up away from the spotlight."
The source also added: "The connection never went away. They're both keen to tiptoe around it a bit rather than throw themselves into anything public, but they're enjoying being close again."
Neither Maya nor Stormzy addressed the reports at the time, though Maya's made a comment on Love Island: Aftersun in July which suggest the pair may not have been back 'on' at the time.
On July 30's installment whilst discussing Ty and Ella, and how she might have to 'teach' him to be a good boyfriend—as this is his first relationship—Maya said: "Ah god, the teacher vibe is hard isn't it girlies? We've all done it, haven't we—taught someone to be a boyfriend? And then you're like 'Don't let me down' and most of the time they do."
Of course, there's nothing to say that she was actually talking about Stormzy here; but if she was, it's likely she's changed her mind on her ex beau.
When did the Maya Jama and Stormzy reunion rumors start?
If you want details on when exactly these reconciliation rumors first sparked up, allow us to take you back to the release of the rapper's 2022 album—which many think is heavily influenced by the TV presenter, with at least four songs seemingly dedicated to her and their relationship...
Romance rumors initially began to swirl around the famous exes after Stormzy appeared to reference his relationship with Maya in his song 'Firebabe.'
More speculation was then fuelled after the pair were supposedly spotted 'hugging' in early November 2022, at Kendrick Lamar's O2 show, according to the Daily Mail. Twitter then went wild at the sight of both Stormzy and Maya at the GQ Men Of The Year 2022 Awards, with a source telling the Sun that they were infact, back on.
They said: "Stormzy and Maya are together again, they're taking it slow but are very much back in each other's lives after a long time when they didn't speak or see each other."
Alas though, we did not have a reconciliation on our hands (at that time, anyway!), as Maya's reps denied the claims to The Mirror. Phew! That's a lot of speculation.
Among all the gossip and rumors though, Stormzy also made his feelings very clear during a 2022 interview with GQ, where he said: "I think my break up with Maya was still really heavy on my heart. I'd never experienced a breakup and the feelings that come with a breakup.
"And I never wanted to ever be in a position again where I felt what I was feeling. Because it showed me that I was a boy. And I do not want to go any further as a boy. I've seen how that manifests in other people. And I don't want to be like that."
He then went on to say: "So what is the necessary work I have to do to make sure I'm not in this position again? That means growth, accountability, changing my character, changing my routines, my habits, my tradition, my values, my morals. Because how I feel right now and how I've made someone else feel and how I've devastated a world that I was living in—I just never want to be in this position again."
In her recent interview with British Vogue, Maya also sweetly reflected on their relationship, sharing that she recognizes the level of interest in their pairing at the time.
"None of us really knew the level of importance it held to a certain group of people, us being together. We were both super ambitious. We were both from similar upbringings and we were both just little grafters that have made something good of ourselves."
A timeline of Maya Jama and Stormzy's relationship
For anyone who needs a debrief on their relationship and split—before Maya got engaged to basketball player Ben Simmons—this is Maya and Stormzy's entire relationship timeline.
The couple first began dating in 2016, when Maya was 20 years old. In 2017, at the age of 23, Stormzy told the Sunday Mirror that he had plans to make their relationship official. "I'm still so young but I want to propose, it's going to happen and I will do it right," he said. "She is so sick, she is the best."
However, when they went their separate ways in 2019, both insisted that it had been amicable. However, Maya was noted to have unfollowed Stormzy on Instagram, and in a track 'Lessons' from his subsequent album 'Heavy Is The Head', he appeared to admit that he had cheated and "done the dirt".
As mentioned, Stormzy described their split as the 'biggest loss a man can have' in his interview with Louis Theroux.

"My break-up, that was probably the biggest catalyst for growth as a man. It was like, OK, you made a mistake and you lose someone you loved, someone you cared for, someone who is special to you," he said.
What do we know about Maya Jama and Ben Simmons' split?
When did Maya Jama and Ben Simmons get engaged?
A little while after her relationship with Stormzy ended, Maya got engaged to NBA basketball player Ben Simmons. Ben proposed on December 18th, 2021, reportedly after just a couple of months of dating.
Sadly, after another few months, it was reported by The Sun in July 2022 that the pair had called off their engagement. A source said: "It's heartbreaking for both of them, especially as they were so committed to each other."
They suggested that the split was due to them each wanting to focus on their own careers, with Maya having to divide her time between the UK and the US, where her 26-year-old fiancé lived. The insider added: "Maya has a bright future ahead of her with job offers coming in all over the world and is feeling positive. She has been hitting the gym a lot and spending time with her good friends."
The time frame for their split is a little hazy however as the presenter appeared to deny the suggestions in a post on August 7th, 2022—a day after the allegations had been published. She wrote: "Stop believing 'sources' in papers plz."
Similarly, her other half Ben shared on August 8th a sweet black and white selfie of the pair together. The sportsman shared the picture on his Instagram with a red love heart emoji and the caption: "Almost a year older." This referenced her then-upcoming 28th birthday.
Their split was then seemingly confirmed again, despite neither party addressing the news. The New York Post reported their break-up at the end of August, with a source telling the publication: ''It's been a difficult time for them. While they both care for each other so much, they truly gave it their all and realize that they just come from two different worlds."
It's also worth noting that in her interview with The Sunday Times in January 2023, she hinted that it had only been a short time since her last relationship—which we would assume refers to her engagement to Ben. Regardless, they are definitely no longer together.
Maya Jama engagement ring—what happened?
In early 2023, news reports swirled that Maya has been hit with a legal letter from her ex-beau Ben, demanding his (reportedly) £800,000 engagement ring back. Eek!
A year after the former couple called it quits, it seems that the revelation that he wanted the ring back was news to Maya. A source reportedly told The Sun, "Given Ben has never, until now, asked for the ring back, you can appreciate the letter came somewhat as a surprise to Maya.
"Ben was really shocked when she left and didn't give him the ring back. It cost around $1million and they were engaged less than a year." Awkward!
Chunkz and Maya Jama—were the pair ever together?
Back in 2020, rumors circled around Maya Jama and YouTuber Chunkz (Amin Mohamed), after the two were seen spending some quality time together.
The pair first bonded at a Soccer Aid charity match, after which Chunkz posted a picture of himself and the presenter with the caption 'Good day out w/ my babes, 2 weeks strong xx', prompting fans to speculate whether they were an item.
Later, Chunkz also joked, 'Missed a pen but i bagged Maya Jama, so who really won?'. Despite this, it seems the pair were never anything more than friends, with Maya sharing a pretty clear response to her pal.
She replied, 'We're def prob related but we can be BFFs for life chunkell.'
Since this adorable interaction, we have been treated to a few more BFF moments from Maya Jama and Chunkz, especially after the YouTuber featured on Love Island 2023: Aftersun as one of the guest panelists.
Lauren is a freelance writer and editor with more than six years of digital and magazine experience. Most recently, she has been the Acting Commissioning Editor of Women's Health—where she co-produced the Going For Goal podcast—and has previously also written news and features for titles including The Telegraph, Grazia, Stylist, Dazed, The Sun's Fabulous, Yahoo Style UK and Get The Gloss. She covers all aspects of lifestyle, specializing in health, beauty, and travel. Can't live without: oat milk lattes, new podcast episodes, long walks, and great skincare.