Molly-Mae Hague has "five friends" and "focuses on being successful"—but is that a bad thing?
Her confession stirred up a hot debate, but is there anything wrong with having a small circle?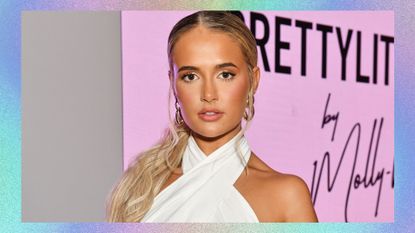 (Image credit: Photo by David M. Benett/Dave Benett/Getty Images for Pretty Little Thing)
Is it OK to prioritise your career over your social life? That's currently a subject of hot debate, sparked by a viral video of Love Island alumnus Molly-Mae appearing on the Diary of a CEO podcast.
"My circle is minuscule. I have literally about five people in my circle and that includes friends, and I like it that way," the reality TV star and Pretty Little Thing creative director tells host Steven Bartlett, adding later: "I'm not bothered about having a social life, I don't really drink, I don't really party… I'd rather focus on making money, being successful and being happy."
The clip has attracted a significant amount of controversy on social media, with responses on Twitter such as, "I can't think of anything worse than being really rich but having absolutely no solid friends", while others have accused Molly-Mae of having no "moral compass" or "good, genuine friends".
molly-mae advocating for always yearning for more and that she has no time for friends is so sad when u deep it. glad my moral compass is switched on and i know that good, genuine friends are the real source of happiness - something not all young ppl watching tht might know :(December 15, 2021
See more
that Molly-Mae interview is so morbid? I can't think of anything worse than being really rich but having absolutely no solid friends omgDecember 16, 2021
See more
Personally, I think the criticism is misguided. For a start, it seems like a lot of people have conflated a "minuscule" friendship circle with a non-existent one—and that's not the guess. As many of us know, quality can often trump quantity with friendships: especially when it's raining, you're locked out of your flat and you need that one person you can call to pick up the spare key.
Molly-Mae doesn't go into detail about the nature of her friendships, but it's entirely possible she relies heavily on a select few. And that's the other thing: having a "social life" (which Molly-Mae defines as "drinking" and "partying") isn't the same thing as spending meaningful time with friends. I don't know about you, but I wouldn't describe having a cup of tea or going for a walk with my best friend a.k.a my chosen family as my "social life" – it's something much deeper, and more fulfilling, than that. "Not to be the Molly-Mae defense [sic] league but saying you keep your friendship circle small isn't the same as having no friends," offered one person on Twitter.
Not to be the Molly-Mae defence league but saying you keep your friendship circle small isn't the same as having no friends lol 😭December 16, 2021
See more
All of this is speculation, of course. But it shows how quick we are to judge someone who opts out of the cultural pressure to go out out, or to keep up with a huge social circle. To a degree, I empathise with Molly-Mae. Although an extrovert at heart, I've never craved being part of a 'squad', preferring to lean on a handful of close friendships. Doing so—and learning to take a step back from the draining status quo and drama associated with group-based socialising—has been a source of stability and support, while allowing me to grow as an individual. That freedom of not having compulsory group plans 24/7 has also let me focus on my freelance writing career. If anything, I hold my hands up to Molly-Mae for "owning" life on her own terms at the tender age of 22.
Incidentally, her choice to have five close friends is a smart one; it chimes with the research of Oxford University anthropologist Robin Dunbar, who suggests humans can typically foster only five "inner circle" friendships—with whom they spend 40% of their social time (and emotional capital). We then devote 20% of the rest to an "outer core" of 10 other people. So maybe Molly-Mae's got the right idea, in focusing on her nearest and dearest, whom she spends the majority of her time with.
Putting success over friendships
What is perhaps more open to question—and where a lot of the criticism has come from—is the suggestion Molly-Mae prioritises her success and financial gain over friendships of all kinds. "I've never needed lots of friends," she adds in the podcast episode, calling herself a bit of a "loner". But, even if friendship really isn't a big deal for Molly-Mae, is she missing out by limiting herself in this way? I ask psychologist Dr Marianne Trent, who takes a "you do you" approach.
"I'm really pleased Molly-Mae has found a balance that works for her," she says. "I don't see that as a problem—if that's where her drive and focus is then that's absolutely OK. We can make decisions for right now, they don't necessarily need to be forever—but they might be and that's OK too. It sounds like she's totally having her needs met with what she has in her life right now. That's all we can want for our mental health: to be content."
She stresses this approach might not work for everyone, however: "We're all on a different scale of introvert to extrovert. Many people come to me for therapy saying they want more friends." People's friendship needs may well change at different times of their lives, she says—so even if Molly-Mae doesn't feel the need for a wider network now, she may do if, hypothetically, she and Tommy went on to start a family and needed parent friends to navigate that experience with.
Molly-Mae's claim that she's a "loner" is also worth a mention. "Again, it's a spectrum of introversion to extroversion—and we saw that during lockdown. Some people are happy staying at home, and feel like they can meet their own needs," says Marianne. But would some of us benefit from leaning into our introversion, as Molly-Mae has done? As an extrovert, I once pursued all and any social contact as a means of avoiding time alone—and it led to me neglecting my self-care and career goals. Ironically, I would never have committed to publishing my book Alonement: How To Be Alone & Absolutely Own It if I hadn't learnt, as a one-time extreme extrovert, to cultivate some quality alone time for myself. So maybe eschewing those distant friendships can go hand in hand with focusing on yourself pursuing your ambitions.
That said, not everyone agrees that a small circle of friends—or even being a proud "loner"—goes hand in hand with thriving professionally. Angelica Malin, editor-in-chief of About Time magazine and author of entrepreneurship bible, She Made It: Female Founders in the Digital Age, considers her broader social circle essential to her career success. On an emotional level, making close friends in your industry "who are on a similar trajectory, and have the same pain points and struggles" is key to alleviating professional loneliness.
And while many of us hate the word networking—fostering friendships can be a great way to find career opportunities. Angelica says: "Broadening your horizons socially can have a great impact on your networks professionally. I've definitely made friends with people who ended up being beneficial in a work capacity, like being commissioned by freelance editor friends, or being asked to moderate panels by people I've met at networking events. You never know when you'll be useful to one another."
There's research to back this, too: a 1973 study from sociologist Mark Granovetter found that having "weak-tie relationships", i.e. acquaintances, can reap serious career benefits, after interviewing a group of Boston-based employees who had got jobs through someone they knew. He observed 84% of people interviewed found jobs through a casual contact they saw only occasionally, compared to a small minority who got their jobs through close friends. He found this was because the casual contacts had access to a different network and knowledge base to the one people might already be familiar with through their close friends who they see everyday. Basically, there's opportunity in checking in with those you only see occasionally.
But—at the end of the day—this is about the individual. As a general rule, friendship is a positive thing, adding more to our health and happiness throughout our lives than even our family relationships, according to research. But how you approach friendship is up to you. Many people, particularly those towards the more extroverted end of the spectrum, might thrive professionally and personally from maintaining a combination of close friends and "weak-tie" relationships, or from having a fully booked-out social calendar. Others, like Molly-Mae (at least, at this stage of her life), might prefer to stick to seeing their best friends, or even no one at all. After all, it's not just success and "making money" she's focusing on, it's also "being happy". And if a circle of five is what makes her happy, then so be it.
Francesca Specter is a freelance journalist and the author of Alonement: How to be alone and absolutely own it. Based in north London, she's previously worked for Yahoo Lifestyle, Express.co.uk and Healthy magazine, and has written for the Telegraph, Red and Huffington Post.