Does the portrayal of Princess Diana's bulimia in The Crown show that TV is finally taking eating disorders seriously?
Princess Diana struggled with bulimia and the disorder is shown on The Crown's season four - but did they get it right?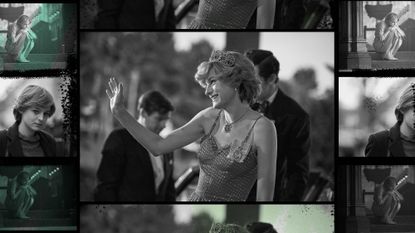 (Image credit: Netflix)
Episode three of the new series of The Crown is called 'Fairytale', and we all know how it starts: a soon-to-be princess living a life of luxury in a palace with her fiancé, the future King of Great Britain.
But the story is punctured by a trigger warning on the screen before the action begins. "The following episode includes scenes of an eating disorder which some viewers might find troubling," the sign reads. "Viewer discretion is advised", and then information and contacts for "those struggling" are offered.
It's at this point in the series that 19-year-old Diana Spencer's life moves from fairytale to nightmare; separated from her friends, locked up in Buckingham Palace alone, the realisation that Prince Charles is in fact in love with Camilla Parker-Bowles, and the beginning of her struggles with bulimia.
In the very-well documented life of Diana, she described what it was like living with an eating disorder. "I had bulimia for a number of years. And that's like a secret disease," she told Martin Bashir in that memorable interview in 1995. "You inflict it upon yourself because your self-esteem is at a low ebb, and you don't think you're worthy or valuable…it's a repetitive pattern which is very destructive to yourself."
It's estimated that there are 1.25 million people living with an eating disorder in the UK, and 19 percent of those are dealing with bulimia. With a show as big as The Crown - 73 million of us have watched it since 2016 - there has to be a duty of care for viewers at home, as what's reflected back from the screen to those in recovery can have a negative impact. But for a semi-fictionalised series that often thrives with sensationalising a storyline, can the subject ever be covered both accurately and carefully?
Can an eating disorder ever be covered both accurately and carefully on screen?
Director of The Crown, Ben Caron, said it was "a real challenge to make sure we dealt with it truthfully", but he understood that it would need to be a production-wide effort to do so. And it was the star of the new series, 24-year-old Emma Corrin, who plays Diana, who led this charge.
For Corrin, beginning to understand the roots of Diana's illness was a start in understanding her character. She told Radio Times that she asked the writers to include Diana's bulimia: "We put together a document that we sent to the script team and said: 'Can you include some of this in the writing because we'd love to really flesh out those scenes?'".
She added: "I felt that if we were trying to depict bulimia in an honest way, we had to actually show it – otherwise it's a disservice to anyone who has been through that."
Over the past few years, there's been a shift in the television and film industry to make sets safe spaces for the actors, but also to strive for accurate representations of issues for the audience as well. So while series like Normal People and I May Destroy You both enlisted the services of an intimacy co-ordinator for filming sex and sexual assault scenes, The Crown and its actors worked with a movement coach, Polly Bennett, to flesh out the experiences of the characters they were going to embody.
Bennett said: "As soon as we read that Diana's eating disorder was in the script we worked hard to research, understand and therefore represent the nuances and complications of this illness physically. For example, we discovered that routine is really important to people with bulimia so we worked on a series of gestures and responses that Emma could use in her preparation for scenes and perform on screen."
Alongside these physicalities, Bennett, Corrin and the producers also worked on the emotional impact alongside BEAT, the UK's eating disorder charity, from an early stage.
"We were not involved on set," Rebecca Willgress, Head of Communications at BEAT, tells My Imperfect Life. "But we advised on how to portray eating disorders sensitively, including signposting to appropriate sources of help and providing trigger warnings where needed." The charity also fed back on early previews of the scenes, once filmed.
The secrecy of the disease can be a killer
It's the secrecy of the disease that can literally be a killer - and something that Diana realised when she went public with her experiences in the 90s. At the time, eating disorders were a taboo subject, especially for a member of the Royal Family to be so open about it. This, in part, led to the explicit scenes in The Crown of Diana binging on food, then throwing it back up in the toilet.
Despite some viewers stating on Twitter they found the scenes of Diana vomiting and purging "grotesque", Corrin stands by her rounded portrayal. She told The Hollywood Reporter: "If we just alluded to it, you saw her flushing a toilet or you saw her wiping her mouth and it was like, 'is she suffering from bulimia?' I think that people who have suffered from it would probably think, 'come on, are they just not going to show it?'"
Willgress agrees: "Eating disorders are often misunderstood mental illnesses and thrive on secrecy. We believe that accurate and non-glamourising portrayals of eating disorders in the media can be a helpful way to educate the wider public about the reality of them, as well as encourage anyone affected to seek help."
How not to portray an eating disorder on TV
The charity adds that on-screen portrayals of people with eating disorders should not show emaciated parts of the body, nor should they focus on specific weights of characters, or mention amounts eaten. The often competitive nature of the disease means that it could trigger restrictions or purging or act as "thinspiration" to those dealing with the illness.
Hopefully, in 2020, it's something that TV productions are beginning to adhere to. In the past, it's something that certain series have often fallen foul of; from Cassie Ainsworth in E4's Skins in 2007 - who in a scene with another character, shows him exactly how to get away with not eating - to the 2017 Netflix Lily Collins film To The Bone, which was called "dangerous" and "harmful" for its depiction and the effect it may have on viewers.
However, in 2017, a BBC3 mini-series Overshadowed managed to portray the illness in a far more effective manner, without ever being sensationalist. Told in short, 10-minute Youtuber-style videos, Imogene is literally gripped by the illness, which is characterised by a dark, controlling woman called Anna who hounds her into not eating.
While To The Bone made a worrying feature of the increasingly shrinking body of Ellen, Overshadowed sidesteps any of this explicit and triggering content and shows it more as what it is - a parasitic disease linked to mental health that makes life a daily struggle for those suffering from it. BEAT also commends other recent portrayals of eating disorders on televisions as Jason Roscoe in Hollyoaks and Teresa in the Sky drama, Delicious.
With The Crown series four, this is also the first time that Netflix have prefaced one of their programmes with a full warning that someone living with an eating disorder may find triggering. The streaming site has come under fire in the past for glamorising self-harm and suicide in 13 Reasons Why - which led them to re-edit scenes and place support contacts at the beginning of the episode.
The company also launched a website this summer - wannatalkaboutit.com - as they acknowledged "entertainment can have a profound impact on people, sparking conversations that are sometimes tough". The site contains information, videos, downloadable guides and nonprofit helplines for issues ranging from mental health to sexual assault. As of the launch of The Crown series four, there's now an eating disorders section.
While we all know there's no happily ever after for Diana, at the end of this recent series, she is shown stopping purging. And at the end of Overshadowed, its creator, Eva O'Connor, writes on screen: "I struggled with anorexia for many years, it was one of the darkest times of my life...I am now fully recovered and I believe recovery is possible for everyone." This is also a vital part of how eating disorders should be portrayed on television: that there is hope, and that just like the characters, viewers can get better, too.
If you have been affected by issues in this story, visit Beat or call their helpline on 0808 801 0677.
Laura is a freelance entertainment and lifestyle journalist who writes for The Guardian, The i newspaper, Metro, BBC Culture and Grazia. She's happiest travelling the world and discovering new trends and, within reason, is willing to give most things a try. From feasting on rancid camel milk cheese in Morocco to jumping into the shimmering aquamarine cenotes of the Yucatan; it's all out there to be explored, then written about. A firm believer of Nora Ephron's mantra: "everything is copy".