Why the 'Gilmore Girls' became my home away from home
The Gilmore Girls' men are often the focus but for this editor, the show is about something bigger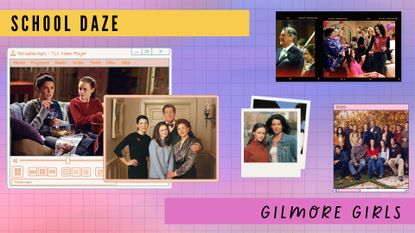 (Image credit: Alamy)
With all of the non-stop, world-shifting change of the past few years—you know, global pandemics, climate change, political strife, the usual—it's no shock that we've all been seeking solace in nostalgia lately, looking back to those simple days of the nineties and noughties when the biggest drama in your life was you not being placed in the same homeroom as your crush, or your BFF loving the same member of NSYNC as you. And it's not just millennials who seek nostalgia because they want to re-live the simpler times, but research shows that Gen-Z does it, too, because they wish they'd lived through those simpler times. Our School Daze series is doing just that: each day, an editor will wax nostalgic about the one high school show that shaped their teenagehood then and acts as a televisual comfort food now.
---
Team Dean, Jess, or Logan? That's probably the first thing that comes to mind when Gilmore Girls is mentioned. The show premiered over twenty years ago, in 2000, and followed mother and daughter duo Lorelai and Rory Gilmore as they tried to get to Harvard University while navigating complicated family situations, romantic dilemmas, and life in general.
But while the romance part of GG was one of the reasons I fell in love with the show (former #TeamLogan here, now converted to #TeamJess—mostly because I want to marry This is Us' Jack), to me it means something bigger than romantic love: community.
I left home at the tender age of 17 to attend university in Manchester, UK, 1,243 miles away from where I was born and had lived all my life (a tiny village in the north of Portugal). Like Rory, my dad wasn't around much growing up, and moving so far away from my mom wasn't easy. I could relate to Rory and Lorelai's close relationship, and the two graduation episodes (Chilton and Yale) still make me sob like a baby to this day, no matter how many times I rewatch the show.
The way Rory is there for Lorelai and vice-versa served as a reminder during my time away from home that I have a safe space to return to if the world gets too much. That I have someone in my corner, no matter what life throws at me. When Lorelai decided to end her engagement with Max, Rory didn't need to ask questions before hitting the road with her mom on an impromptu road trip. The destination? In the words of Lorelai, "We're almost there and nowhere near it; what matters is that we're going."
Beyond the Lorelais (if you haven't watched the show, Lorelai named her baby after herself—"if men can do it… so can I!"), the dynamic between them and Richard and Emily (the parents/grandparents) helped me realize that familial relationships are often complicated and rarely (dare I say, never) black and white. No one is all right or all wrong. The more I rewatch the show (and trust me, I do, a lot), the more I see clearly how they struggle to understand each other but yet they keep trying—which is all you can ask for.
And then there's the lovely community of Stars Hollow, the town where a 16-year-old Lorelai moved to shortly after having Rory. When Luke was planning his uncle Louie's funeral, a guy who wasn't exactly the town's favorite, Taylor and co still came through for him, and the town gathered at the wake—all for Luke. When Rory got a job covering Barack Obama's campaign, her first real job as a reporter, everyone came together to throw her a last-minute going away party, even during an epic downpour.
While there's never been any sort of town celebration in my honor, my hometown still feels a bit like Stars Hollow—everyone knows each other and is there for one another. When I left that behind and moved to a big city in a different country, it took me some time before I could call it home. Being transported to Stars Hollow helped me relax into the notion that I belonged, even when it felt like I didn't.
Of course, it's not all rainbows, butterflies and let's all hold hands and sing around the town's gazebo. The show has received plenty of criticism as millennials who watched it as teenagers now rewatch it through adult eyes. Rory is a privileged brat for the most part, Lorelai is unfair towards her parents, and their mother-daughter relationship was probably too co-dependent to be healthy. Emily can be incredibly snobby and stubborn. Not to mention Paris' supposedly Brazilian nanny speaking Spanish in some episodes. But that's the point: they're all flawed but they stand by each other.
I started watching the show years before I flew the nest but the Gilmores and their community became my safety blanket when I was far away from my own. Every time homesickness hits, it's the Gilmores who make me feel at home, no matter where I am. So thank you, Gilmore Girls—you've given me everything I need.
Mariana is Editor of My Imperfect Life. She has previously worked for titles including woman&home and Goodto, covering all aspects of women's lifestyle — from beauty and fashion to wellness and travel. She was nominated for AOP Digital Journalist of the Year in 2020, and for New Digital Talent of the Year at the 2016 PPA Digital Awards. She's mildly obsessed with reality TV (Love Island memes included) and spends far too much time checking her horoscope and figuring out the perfect curly hair routine.