TikTok's horrific April 24 trend, explained
TikTok's April 24 trend surfaced two years ago, but has the frightening fad returned?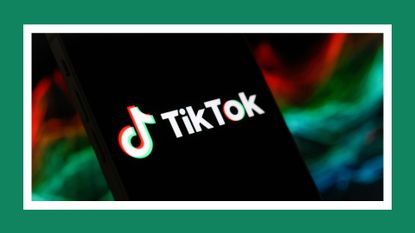 (Image credit: Jaap Arriens/NurPhoto via Getty Images)
TikTok's April 24 trend is not what you'd expect from the video-sharing app.
While we love uncovering TikTok beauty hacks and feeling empowered by pick-me-mantras like Main Character Energy and Lucky Girl Syndrome, this viral fad is dangerous and ultimately makes people question their safety. It truly exposes the dark side of social media—and humanity.
What is TikTok's April 24 trend?
Ahead of April 24, 2021, a group of male users declared it "National Rape Day," and provided tips about how to sexually assault women. This was all to combat Sexual Assault Awareness Month in the US, which intends to help raise awareness about violence. According to USA Today, the hashtag #april24 garnered over three million views and left women wondering whether or not to even venture out of the house.
"So I literally just saw a video on TikTok, and I had to make a video myself because most of my followers are women," one user warned in a now-deleted video. "And I need to make sure you guys are aware that there is a video going around on TikTok of disgusting men—rapists, child molesters, predators, just disgusting human beings—and they literally came up with a date to go around and rape women and children. You literally heard me right: women and children."
Other users suggested that the trend was not serious, but still warned followers to be cautious nonetheless, especially if they are traveling alone. A spokesperson for TikTok revealed to Newsweek in 2021 that the company did not find evidence of these videos, but took the threat seriously.
"Keeping our community safe is our priority, and we do not tolerate content that promotes or glorifies non-consensual sexual acts including rape and sexual assault," the spokesperson said. "While we have not found evidence on our platform of any videos related to this subject, our safety team is remaining vigilant and we will remove content that violates our policies."
Now that we are approaching the two-year anniversary of this controversial fad's birth, some are beginning to wonder if it will resurface. A new viral video that has raked in millions of views in 2023 fears that the trend will never disappear, regardless of the year.
Was the April 24 TikTok trend ever serious?
There haven't been any reported incidents, though come late winter/early spring, users who are active on the platform wonder if the threat will resurface.
According to TikTok's Community Guidelines, the app will remove inappropriate content and ban accounts and users who've repeatedly violated the rules. Should a threat escalate, it will be taken seriously.
"Circumstances that involve any instance of a threat of real-world harm to human life that is specific, credible, and imminent may be reported to law enforcement authorities," part of the guidelines read.
The effects of the April 24 trend
In response to the terrible trend, some TikTok users are fighting back. Men are claiming that they'll fight others who threaten to attack women. While the men in these videos are attempting to be chivalrous, this mindset opens up the door for more physical violence.
Additionally, memes have surfaced about the trend. You'll see a shadowed man asking to hang out on April 24, followed by a photo of a TikTok user saying he'll be around protecting women. While the intentions behind the meme might be to protect, the fact that this has resulted in a meme in the first place is definitely cause for concern.
How to block dangerous videos and stay safe
Blocking the videos may seem like a small act, but it has a great impact. By reporting any hashtags, videos and users that promote this behavior, you're helping to stop spread of the harmful message it is sending to TikTok users. If you happen to see a video advertising this awful event while you're scrolling through the app, TikTok users have explained how you can block any videos that seem to be promoting it.
Simply click the arrow located at the bottom of the screen (right next to the comment button) and then click the flag marked as "report." From there, you'll receive a list of reasons for blocking the video. Just choose one of the options that best fit and it will help block the video.
Visit the TikTok Safety Center if there is anything you'd like addressed or reported. Should you feel as though a social media connection has led to a threat in real life, contact your local authorities.
Rylee is a U.S. news writer for woman&home and My Imperfect Life who primarily covers lifestyle, celebrity, and fashion news. At times, she also reports on beauty, royals, entertainment, health, and travel. The latest fashion and beauty trends, along with any quirky travel destinations are her favorite topics to write about.
Before coming to woman&home and My Imperfect Life, Rylee originally studied journalism at Hofstra University where she explored her interests in world politics and magazine writing. From there, she dabbled in freelance writing covering fashion and beauty e-commerce for outlets such as the TODAY show, American Spa Magazine, First for Women, and Woman's World.
When she's not writing articles, you can find her testing out one of the many restaurants New York City has to offer and planning her next travel destination. Her other hobbies also include hiking, ballet, yoga, and reading practically any book TikTok recommends.