What is 'A Friend of the Family' based on? All about the chilling true story
The new Peacock true-crime series tells a shocking tale, but exactly what is 'A Friend of the Family' based on?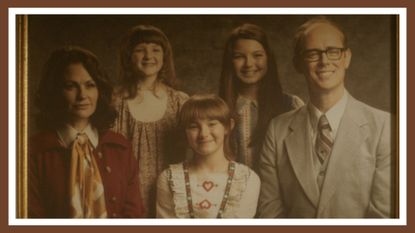 (Image credit: Peacock)
There are some true crime stories that are hard to believe, but the terrifying tale that inspired the new Peacock miniseries A Friend of the Family seems damn near impossible. After all, how could it be that a child gets abducted not once but twice in as many years and by the same man, someone the family not only knew but loved?
Such is the harrowing true story of Jan Broberg and her kidnapper Robert Berchtold (played by The Handmaid's Tale actress Mckenna Grace and The White Lotus star Jake Lacy, respectively.) But it's not the first time that Broberg's story has been told. Exactly what is A Friend of the Family based on and how does the real-life Jan Broberg factor into the new series? Here's what we know.
*Warning: spoilers ahead!*
What is 'A Friend of the Family' based on?
In October 1974, when she was only 12 years old, Idaho youth Jan Broberg was kidnapped by Robert "B" Berchtold, a neighbor, fellow churchgoer and close friend of the Broberg family. Berchtold told Jan's parents, Robert Broberg and Mary Ann Broberg, that he was taking Jan to a horseback-riding lesson—but really he took the tween to Mexico, married her and brainwashed her into thinking that she had to have a child with him or else aliens were going to harm her family. After five weeks of Jan missing, the Brobergs and the FBI eventually tracked them down in Mexico and Berchtold was arrested and charged with kidnapping.
However, secret sexual relationships between Berchtold and both of Jan's parents were used as blackmail against the Brobergs and, as a result, they claimed that the kidnapping was a misunderstanding and Berchtold avoided serious kidnapping charges, having only to serve a mere 10 days in jail. Having been deeply groomed and manipulated by Berchtold, the Brobergs continued contact with him even after the kidnapping.
Two years later, Berchtold would abduct Jan yet again, this time taking the 14-year-old to California, where he enrolled her in an all-girls Catholic school under a fake name, pretended to be her father and impersonated a CIA agent. After four months, the FBI discovered their whereabouts and returned Jan to her family. Berchtold was tried for first-degree kidnapping but, citing mental illness, he was acquitted of the charges by reason of insanity and sentenced to six months in a maximum-security mental facility.
Following his release, Berchtold stayed away from the Brobergs until 2004, when Jan Broberg and her mother Mary Ann released a memoir, Stolen Innocence: The Jan Broberg Story, which detailed the kidnappings. Berchtold frequently showed up during their book tour and assaulted security at one of Jan's speaking engagements in Utah, resulting in a lifetime restraining order against Berchtold and charges of aggravated assault and possession of a firearm. He died by suicide in 2005 while awaiting sentencing.
Along with Stolen Innocence: The Jan Broberg Story, Peacock's A Friend of the Family series also sources details from Abducted in Plain Sight, a 2017 Netflix documentary on the Broberg kidnapping cases directed by Skye Borgman (behind fellow crime docs including Girl in the Picture, I Just Killed My Dad and Sins of Our Mother).
Is Jan Broberg involved in 'A Friend of the Family'?
Yes, the real-life, grown-up Jan Broberg is involved with the Peacock series, serving as an executive producer.
Broberg herself intros the show in its first episode: "This series is based on my story. I know it may seem unbelievable, but we lived in a different world back then. I want to tell my family's story today because so many seem to think something like this could never happen to them, especially at the hands of someone they know and trust. But it did happen. It happened to my family. It happened to me. Thank you for watching."
Now 60 years old, Broberg told Variety about her involvement in the series: "I want the end of my life to be about that advocacy: that there's hope that you can heal. Trauma is a scratch on your record that's going to be there forever, but you get to choose how to lift the needle, you get to find the therapist, you get to find the medications, the storytelling—whatever you need to heal and to have a happy life. It's possible."
"I felt nervous, because I didn't know in the beginning when we were talking and I wanted to believe that they would care about my story and my family members but you don't know for sure. It's Hollywood. You hear the horror stories. I have been so cared for and our story is so well done," she added.
Where to watch 'A Friend of the Family':
A Friend of the Family is streaming exclusively on Peacock. There are two subscription plans available: the commercials-included Premium for $4.99 per month or the ad-free Premium Plus for $9.99 monthly.
How many 'A Friend of the Family' episodes are there?
The limited series A Friend of the Family has nine hour-long episodes in total. The first four episodes premiered on Thursday, October 6, with the remaining five episodes airing once a week through Thursday, November 10.
Christina Izzo is the Deputy Editor of My Imperfect Life.
More generally, she is a writer-editor covering food and drink, travel, lifestyle and culture in New York City. She was previously the Features Editor at Rachael Ray In Season and Reveal, as well as the Food & Drink Editor and chief restaurant critic at Time Out New York.
When she's not doing all that, she can probably be found eating cheese somewhere.