Where to watch 'The Bear,' the streaming hit of summer
The sizzling chef drama just got picked up for season two—here's where to watch 'The Bear'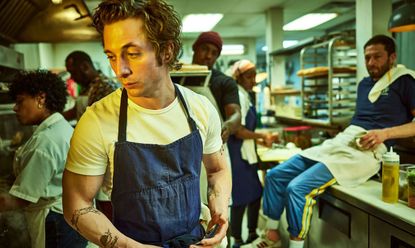 (Image credit: FX/Hulu)
Move aside Stranger Things season 4: there's another streaming hit that's got everybody talking on social media. The Bear debuted on June 23 and in the weeks since, it's garnered leagues of fans quick to shout "Yes, chef!" and "Corner!" and "Braciole!"
Less than a month after its premiere, the hit food drama was picked up for a second season. But if you're behind, we've got all the intel on where to watch The Bear's first season.
Where to watch 'The Bear' TV show:
How to watch 'The Bear' in the US
Because The Bear is an FX on Hulu original series, it is streaming exclusively on Hulu. You'll need a Hulu subscription to watch the show's first season, which dropped on Thursday, June 23, with all episodes in one fell swoop.
Hulu currently offers two subscription models: an ad-supported version for $6.99 per month and an ad-free experience for $12.99 a month. There are also two Hulu + Live TV monthly plans: a $69.99 ad-supported option and a $75.99 ad-free model.
How to watch 'The Bear' from anywhere
For those located outside of the United States, you can still access Hulu and shows like The Bear by using a VPN connection. A VPN is a handy piece of software that allows you to browse anonymously and change your IP address so your mobile, desktop or laptop thinks it's in another location. Our favorite pick is ExpressVPN (opens in new tab), which our colleagues over at TechRadar consider the best VPN (opens in new tab) in the world.
What is 'The Bear' about?
Shameless alum Jeremy Allen White stars as Carmen "Carmy" Berzatto, a James Beard Award-winning chef who has worked in the top restaurants in the world, who is tasked with running his family's rundown sandwich shop, The Original Beef of Chicagoland, after the death of its former owner, his brother Michael.
"A world away from what he's used to, Carmy must balance the soul-crushing realities of small business ownership, his strong-willed and recalcitrant kitchen staff and his strained familial relationships, all while grappling with the impact of his brother's suicide," reads the official Hulu synopsis.
The synopsis continues: "The Bear is about food, family, the insanity of the grind, the beauty of Sense of Urgency and the steep slippery downsides. As Carmy fights to transform both The Original Beef of Chicagoland and himself, he works alongside a rough-around-the-edges kitchen crew that ultimately reveal themselves as his chosen family."
Watch 'The Bear' trailer:
'The Bear' cast: who's who?
Alongside series star Jeremy Allen White, the main cast of The Bear includes:
Ebon Moss-Bachrach as Richard "Richie" Jerimovich
Ayo Edebiri as Sydney Adamu
Lionel Boyce as Marcus
Liza Colón-Zayas as Tina
Abby Elliott as Natalie "Sugar" Berzatto
The series also features some surprising guest stars, including '80s queen Molly Ringwald as an Al-Anon meeting moderator and actor-comedian Joel McHale as a truly terrifying executive chef.
How many episodes of 'The Bear' are there?
There are eight episodes in total in The Bear season one, with most editions of the drama series clocking in at around thirty minutes in length, save for its seventh episode. (More on that one in a minute.)
Which episode of 'The Bear' is one take?
The 20-minute seventh episode of season one was filmed as a "one shot," when a scene or entire work is recorded in one single continuous take.
The episode, titled "Review," follows the kitchen gang of The Original Beef of Chicagoland after they receive a surprising newspaper critique and roll out a brand-new to-go system, both of which lead to a serious flare-up of tension and drama. The single-take format allows the pressure to simmer until it fully bubbles over, something actor Jeremy Allen White appreciated.
"I'll say from my perspective in film and television, oftentimes, I don't know how much a single shot actually lends itself to the story. It's kind of like: We've got a lot of money, we've got a lot of time, we can do this, it will be really impressive. And it is impressive," White told IndieWire (opens in new tab). "But I think in our case, it really lends itself to the story and where the characters are at because the tension is building so quickly we don't give the audience a break from it. There's no reprieve—it's consistent."
'The Bear' season 2: what we know so far
On Thursday, July 14, the Hulu powers that be announced that The Bear was renewed for a second season.
"'The Bear' has exceeded our wildest creative, critical and commercial expectations," said FX Entertainment president Eric Schrier in a statement, per The Hollywood Reporter. "We deeply appreciate the brilliant work led by creator and co-showrunner Christopher Storer and co-showrunner Joanna Calo. Jeremy Allen White's lead performance is spectacular, as are those of his co-stars Ebon Moss-Bachrach, Ayo Edebiri, Abby Elliott, Lionel Boyce and Liza Colón-Zayas. We can't wait to get to work on season two."
When can we expect the sophomore season? Sometime in 2023, per a joint statement from co-showrunners Storer and Calo: "We are so grateful to FX, our insanely talented cast, our crew who worked hard, fast, and in the dead of winter, not to mention everyone who watched. And we can't wait to bring you all back to The Bear in 2023."
Jeremy Allen White must be relieved, having recently told GQ (opens in new tab): "To me, the whole first season feels almost like a prelude to what the show actually is."
Christina Izzo is the Deputy Editor of My Imperfect Life.
More generally, she is a writer-editor covering food and drink, travel, lifestyle and culture in New York City. She was previously the Features Editor at Rachael Ray In Season and Reveal, as well as the Food & Drink Editor and chief restaurant critic at Time Out New York.
When she's not doing all that, she can probably be found eating cheese somewhere.