Who is Kaz Kamwi? Meet the new Love Island 2021 contestant
Now that we've got the first set of 2021 Love Islanders, it's time to know: who is Kaz Kamwi?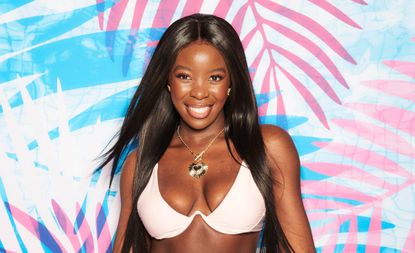 (Image credit: ITV)
We've all got one question on our lips: who is Kaz Kamwi? The new contestant is one of the initial standouts from the Love Island 2021 line-up, alongside other leading ladies like Shannon Singh, a 22-year-old glamour model-turned-influencer from Fife, and Faye Winter.
But as well as being on the lookout for love, what else do we know about the islander? Here's everything we know about Kaz Kamwi so far...
Who is Kaz Kwami?
Essex beauty Kaz is set to break hearts in the villa based on her looks alone but she's not just a pretty face. She is a Birmingham University graduate who describes herself as fun, dramatic and spontaneous.
How old is Kaz?
Kaz is 26-years-old.
What is Kaz's job?
Kaz is a fashion influencer who already has quite the following on social media—71.4k and counting on Instagram and 10k on TikTok to be exact.
She once went viral when one of her fashion uploads—a guide on creating Scooby Doo-style outfits racked up an impressive 400k views on TikTok. She's always posting clothes and beauty tips and has even worked with major retailers such as Primark and Iconic London on brand partnerships and sponsorship deals. She has her own range with Skinny Dip as well as being an ambassador for lingerie brand Boux Avenue. Imagine her brand deals post-Love Island!
What is Kaz looking for on Love Island?
Kaz has said that she is keen to start a family by 30 and is "praying for a good man" in the villa. "Why not be in a place where people are looking for the same things as me?" she said about going into the villa.
But she's also up for having some fun at the villa. "Life is a party—I'm not the mum in the group, my friends are not looking at me to look after them!"
Fingers crossed Kaz finds what she's looking for!
Sagal is a journalist, specialising in lifestyle, pop culture, fashion and beauty. She has written for a number of publications including Vogue, Glamour, Stylist, Evening Standard, Bustle, You Magazine, Dazed and Wonderland to name a few.