Amazing things women are doing to fight for Ukraine
From parliamentarians to POC activists, these women for Ukraine are showing up in a big way during the Russo-Ukrainian War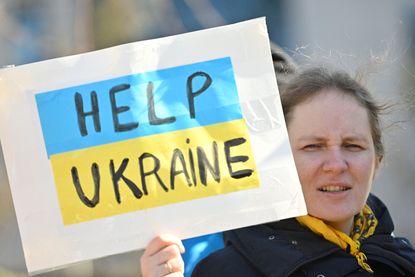 (Image credit: ERIC LALMAND / GETTY)
It's been just weeks since Russian president Vladimir Putin ordered his military to invade Ukraine on February 24, and in that time over two million Ukrainians have fled the country, millions more are internally displaced, and the civilians left behind face shelling, hunger and cold in the heart of Europe.
But this humanitarian nightmare is bringing out the absolute best in ordinary women. Women in Ukraine and around the world are proving that we are a force to be reckoned with and giving everyday examples of how to help Ukraine amid the Russian invasion.
Women make up at least 15% of Ukraine's armed forces, but tons of civilian women have joined the fight. Within the country, women are learning to fire weapons and make Molotov cocktails. Around the world, they are using their professional positions and social networks to advocate, lobby, raise money, spread awareness, and help refugees. Here are some examples of the numerous ways women around the world are helping Ukraine.
---
---
How women for Ukraine are stepping up:
1. Ukraine's Female Parliamentarians
Many of Ukraine's female parliamentarians are proving the power of women's leadership. They've refused to leave their country or their people, they keep citizens informed and updated, and pressure the international community.
Kira Rudik, a 36-year-old member of parliament, went viral after tweeting a photo of herself on February 25 holding a Kalashnikov rifle in preparation to bear arms. Before she started training, Rudik had never even held a gun before.
Other female parliamentarians, including Inna Sovsun and Lesia Vasylenko, remain in Ukraine, continuing to do their jobs as elected officials and vowing to join in combat if it becomes necessary.
I learn to use #Kalashnikov and prepare to bear arms. It sounds surreal as just a few days ago it would never come to my mind. Our #women will protect our soil the same way as our #men. Go #Ukraine! 🇺🇦 pic.twitter.com/UbF4JRGlcyFebruary 25, 2022
See more
My dad is signing up for a territorial defence squad. My boyfriend is with the Army. I'm working as hard as I can to give information to the world about what is happening here.But if need be – I'm ready to fight🇺🇦 pic.twitter.com/8OlWOyvlnEFebruary 26, 2022
See more
2. Vlada Yaremenko
Vlada Yaremenko is a 26-year-old business development manager in Salt Lake City who immigrated to the U.S. from Ukraine in 2010. Since the invasion began, Yaremenko has helped raise thousands of dollars to send to volunteers in Ukraine who purchase and hand-deliver supplies.
It started when she saw that back in Ukraine, her best friend's brother Alex was trying to raise money to buy supplies for the people working at checkpoints. Yaremenko started asking for donations in the U.S., and the two did an Instagram Live together, raising over $3,000 in just over three hours.
The donations kept coming in, allowing them to expand beyond checkpoints to help hospitals and orphanages as well. They keep donors up-to-date with photos on their Utah Relief for Ukraine fundraising page.
3. Yulia Mishkina
Yulia Mishkina is a 24-year-old student in Poitiers, France. Originally from Russia, she was devastated when she learned about the war: "These were 'normal' people with normal problems, like broken hearts and being bored at work, and from one day to the next they found themselves in the basements of their buildings with a dozen other people whose lives have been completely turned upside down."
Mishkina and another Russian friend in Poitiers organized a collection of items to donate to Ukrainian civilians. They filled two cars in a single day, so Mishkina contacted the University of Poitiers to see if they could use space to host another collection, this time gathering medicine, medical supplies, and hygiene products.
4. Black Women for Black Lives
As people flee Ukraine, many of the country's 80,000 international students have been trapped, and people of color have reported facing discrimination at the border as they attempt to escape.
Korrine Sky, a British medical student, was one of them. She shared on Instagram her experience fleeing from Dnipro, which caught the attention of fellow Brits Patricia Daley and Tokunbo Koiki. The three women got together and founded Black Women for Black Lives to help raise money to help students of color escape Ukraine. They tweeted that as of March 8, they had raised over £144,000 and dispersed £53,000.
The @GoFundMeUK team donated to our GoFundMe 😢🥺 you guys are awesome. https://t.co/dksrdjX8AGMarch 7, 2022
See more
5. Olesia Mykhailenko
While many women are taking individual actions to collect money and supplies, women around the world are adapting their professional skills to help Ukrainians.
Olesia Mykhailenko is a 27-year-old Ukrainian lawyer who left Kiyv after the war started and moved to the western part of the country. She set up a website with information to help foreigners, particularly international students, get out of Ukraine. According to Ukraine's Ministry of Education and Science, over 80,000 foreign students study in Ukraine, many of them from non-European countries such as India and Nigeria.
6. I Support the Girls
The women-led non-profit I Support the Girls typically provides menstrual hygiene products, underwear, and bras to homeless or otherwise vulnerable women. They posted on social media that they've so far donated more than 75,000 products to Ukrainian refugees, with a goal of shipping 100,000 menstrual pads to women and girls fleeing Ukraine.
7. Anonymous Women
Some of the most extraordinary women helping Ukrainians are anonymous. They're not tweeting or speaking to the news. Instead, they are engaged in quiet acts of solidarity.
Because men between 18 and 60 cannot leave Ukraine, many refugees are women and children traveling without their male family members, taking only what they can carry. Journalist Francesco Malavolta posted a photo of strollers lined up on an empty train platform in Poland. The strollers were filled with baby supplies, left by Polish mothers for Ukrainian refugees with young children.
Women in neighboring countries of Poland, Hungary, Slovakia, Romania and Moldova have offered food, clothing and a place to stay. Others have driven across the continent to volunteer and bring donations, or to offer a ride or a room in their homes.
In a time of darkness for so many, women-led efforts like these—both big and small—are offering some much-needed light.
Karen Petree is a writer who covers feminism, mindfulness, creativity, travel, and culture. When she's not working, she's usually making art, wandering around a bookstore, or documenting the daily life of the world's cutest dog. If you can't find her online, check the nearest taco truck.