JLo Beauty: The secret to JLo's glow is in your kitchen cupboard
Jennifer Lopez launches JLo Beauty with a surprise beauty hack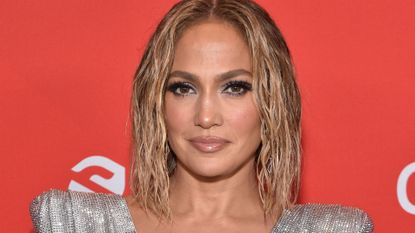 (Image credit: THE 2020 AMERICAN MUSIC AWARDS - The 2020 American Music Awards, hosted by Taraji P. Henson aired from the Microsoft Theater in Los Angeles, SUNDAY, NOV. 22 (8:00-11:00 p.m. EST), on ABC. (ABC via Getty Images) JENNIFER LOPEZ)
Yesterday, after weeks of speculation, Jennifer Lopez has launched JLo Beauty.
Considering Lopez's luxurious lifestyle you'd be forgiven for thinking the hero active in her new skincare line would be some rare ingredient, hand-harvested by virgins, but only by night and when there's a full moon. When in fact, it's good old-fashioned olive oil.
Lopez has effortlessly undergone several professional transformations over the years - from actress in movie blockbusters such as Out of Sight and the TV series Shades of Blue; to fashion designer and multi award-winning singer with hit records like Love Don't Cost A Thing.
Seemingly just as effortless has been the transition from her 30s to her 50s. Hell, most of us didn't even notice. Why? Because the wattage of that famous JLo glow is still as mega as it was when she was a Fly Girl on In Living Color back in 1991 or playing the icon Selena Perez in 1997.
Now she's finally ready to reveal the secret behind those age-defying looks with the launch of JLO Beauty on New Year's Day.
Ever since the announcement, beauty editors around the world have been feverishly waiting for some sort of teaser. And yesterday Lopez delivered.
"The hero ingredient is a secret from my mom and aunt: olive oil. It's nature's secret ingredient we don't use enough of, but you also don't want to smell like a salad. So [the JLo Beauty Olive Complex] is a modernized version [with] olive-derived squalane, fermented oil, olive leaf extract, and extra-virgin olive oil," Lopez told Allure.
Not to be sniffed at, this is one potent, science-led cocktail.
One study published in the International Journal of Molecular Sciences revealed that olive oil has antioxidant properties higher than vitamin E. It was also found to be rich in oleic acid, a fatty acid that protects these antioxidants from light and air degradation.
Squalane adds to this skin-loving role call. "It is an incredible moisturizing ingredient and also helps to repair the barrier of our skin, protecting it against external environmental aggressors," says aesthetic doctor Dr Jane Leonard.
You'll find it in all eight JLo Beauty products:
That Hit Single Gel Cream Cleanser - the olive complex ensures skin isn't stripped of moisture after cleansing
That JLo Glow Serum - contains Japanese rice ferment sake to brighten
That Limitless Glow Sheet Mask - is soaked in once ounce of the Glow Serum
That Blockbuster Wonder Cream - rich in hyaluronic acid and collagen-building peptides
That Big Screen Broad Spectrum SPF30 Moisturizer - features marine bamboo to protect against the ageing effects of blue light
That Fresh Take Eye Cream - peptides improve the look of fine lines
That Star Filter Complexion Booster - wear alone or under make-up as the mineral pigments add an extra sheen to tired skin
That Inner Love Dietary Supplement - proving that beauty comes from the inside out, it contains olive leaf extract and copper to bolster skin
Fiona Embleton is a multi-award-winning beauty editor who has tested over 10,000 products in her 10 years + of writing and shooting beauty stories. For the past four years, she was the Senior Beauty Editor at Marie Claire, having previously worked in the role of Beauty Editor at both Stylist and Cosmopolitan. She has recently gone freelance and alongside My Imperfect Life, she has written for titles including ELLE UK, ELLE Canada, Buro 247, Harper's Bazaar Arabia, Vogue Scandinavia, and ES Magazine. Beauty journalism allowed her to marry up her first-class degree in English Literature and Language (she's a stickler for grammar and a self-confessed ingredients geek) with a passion for make-up and skincare, photography, and catwalk trends. She loves jumping on the latest internet-breaking beauty news, dissecting the best red carpet looks, and having the crème de la crème of dermatologists, make-up artists, and hairstylists on speed dial so she can tap them for the best advice. She's a discerning beauty shopper and knows it can be confusing trying to navigate what's hype and what really works. So if she really likes something, you can trust that she has reached that opinion by vetting it against everything else she's ever tried. Her career highs? Interviewing Cate Blanchett and winning a Jasmine Award for the deeply personal feature Cancer Stole My Mother's Scent.