Adele Saturday Night Live 2020: All the hilarious moments from Adele's SNL episode
Adele's Saturday Night Live 2020 episode was the highlight of the weekend - from her Bachelor parody to her performances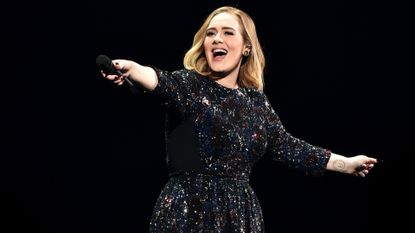 (Image credit: Getty Images:Photo by Gareth Cattermole/Getty Images)
Adele made her debut on Saturday Night Live this weekend, hosting the popular show for the first time and quite frankly, we haven't been able to think about anything else since.
The singer, who is not only known for her incredible vocals and song writing skills but her witty personality, put on an episode to remember, with fans in stitches over everything from her opening monologue to her hilarious parody of The Bachelor.
Here are some of the best bits from the night...
Adele Saturday Night Live 2020: the best bits
The opening monologue
Starting the show as she meant to go on, Adele kicked off with an opening monologue, addressing rumours about her performing new music and joked about her recent weight loss, which has been another big topic of conversation online over the past few months.
"My album is not finished and I'm also too scared to do both," she said. "I would rather just put on some wigs – and this is all mine by the way – have a glass of wine or six and just see what happens."
In the most Adele way ever, she then added: "I know I look really, really different since you last saw me but actually, because of all the Covid restrictions and the travel bans, I had to travel light and only bring half of me – and this is the half I chose."
The Bachelor Parody
Arguably the highlight of the night, Adele acted out an episode of The Bachelor, where she was a contestant competing for the love of bachelor Ben K, played by Beck Bennett. And if you ask us, we'd trade it in for the real version of the show any day.
"Hi I'm Adele Adkins, I'm 32. You may know me as the singer Adele. I'm here because I've had a lot of heartbreak in my life. First at 19, and then sort of famously at 21. And then even more famously at 25," she said, referring to her chart-topping albums.
"But I have a really good feeling about Ben K. It's only night one but I could already tell he's the love of my life," she added. However, after losing out on the first impression rose on the first night, Adele was devastated and naturally, belted out her heartbreak hit Someone Like You.
Adele's classics became the theme of the parody, as later on during a one-to-one with 'Ben K', her nerves led her to lyrics of her 2015 song When We Were Young in the conversation. Later on, when another woman asked if she could "steal" the bachelor for a chat, Adele furiously broke into Rolling In The Deep. It was hilarious.
Pre-pandemic psychic reading
A photo posted by @nbcsnl on Oct 24, 2020 at 10:13pm PDT
In another funny skit, Adele paid a pre-pandemic visit to a psychic, played by Kate McKinnon, for a reading on what the future had in store for her.
After asking about a big promotion in spring, Adele was told that only tears and home deliveries await in her future. The psychic also mentioned all the JK Rowling controversy there was to come, saying: "If any of you see JK Rowling, please tell her, stick to the books."
The visit to the nursing home
Referencing the pandemic once again, Adele paid a visit to a nursing home in another popular skit on the episode. Joined by Pete Davidson, who played her boyfriend, Adele went to visit her grandmother but due to social distancing rules, she has to shout up at her to talk.
She then gets into it with her boyfriend after discovering he no longer has a job. "I am dating a man with no job," she shouts. As money becomes a talking point, the skit ends with the revelation that Adele's grandmother has spent her grandchildren's inheritance.
Sagal is a journalist, specialising in lifestyle, pop culture, fashion and beauty. She has written for a number of publications including Vogue, Glamour, Stylist, Evening Standard, Bustle, You Magazine, Dazed and Wonderland to name a few.