Alexandria Ocasio-Cortez reveals the simple secret to boosting her mood during tough times
So clever!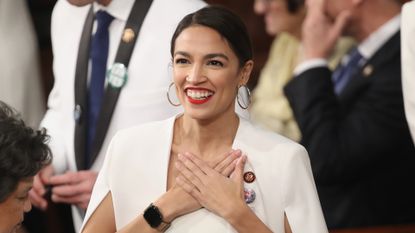 (Image credit: Win McNamee/Getty Images)
Congresswoman Alexandria Ocasio-Cortez has become known for making statements with her style choices - from wearing white to honour the Suffragettes and other women that made her election possible, to her signature red lipstick.
She often brings a twist to masculine power suiting, adding touches like big gold hoops or trainers. But this time, AOC has revealed her recent outfit choices have been in an effort to boost her mood.
Lip+hoops were inspired by Sonia Sotomayor, who was advised to wear neutral-colored nail polish to her confirmation hearings to avoid scrutiny. She kept her red.Next time someone tells Bronx girls to take off their hoops, they can just say they're dressing like a Congresswoman. https://t.co/eYN5xYFcTEJanuary 4, 2019
See more
On an Instagram post this week, AOC was pictured wearing a mint blue two-piece suit and trainers. She captioned it with: "Times have been intense lately. I've been cheering myself up by wearing colors that make me happy."
We're with you, AOC.
And it turns out there's actual science behind it.
"Warmer colours, brighter colours, we always talk about them being happier. That's because they make us feel happy when we look at them," Leslie Harrington, executive director of the Color Association of the United States, said in an interview with HuffPost.
"When you see certain colours, they have associations to them and those associations are linked to how they make us feel and behave."
Alongside fashion, AOC is also a passionate advocate for a solid skincare routine (including double cleansing), and has previously shared her whole regime on social media.
"Skin care is a straight up hobby of mine. I'm a science nerd, and I truly enjoy the science of it, reading about compounds and studies etc," she wrote last year.
If you're struggling, then it's always best to consult your doctor. But for a quick pick-me-up, we're definitely going to be bringing brighter colours (and hoop earrings!) to our Zoom calls.
Beth Gault is a freelance journalist and editor. She is the former news editor at fashion magazine Drapers and has written for multiple titles across lifestyle and business media, including GoodtoKnow and Woman's Own. She loves chatting about ending period poverty, is a self-confessed coffee snob, and is never one to turn down a good book.