Amazon's Christmas advert is really making people feel all the feels
Have you seen the Amazon Christmas advert 2020 yet?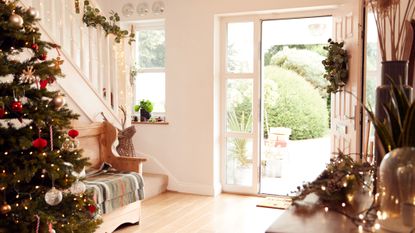 (Image credit: Getty Images)
The Amazon Christmas advert 2020 has finally been unveiled, receiving a warm reception from viewers around the world for its thoughtful storyline and reflection of what life has been like this year.
Aptly titled 'The Show Must Go On', it follows the story of a young ballet dancer whose dreams of performing in a lead role are ruined by the coronavirus pandemic.
Yeah Amazon did VERY well for their Christmas advert 🙌🏾👏🏾 pic.twitter.com/jC38IP4luyNovember 3, 2020
See more
In the two minute long ad, we see the teenage girl, played by French ballet dancer Taïs Vinolo, train tirelessly as she finds out she has landed the lead in the dance academy's winter show. Adhering to social distancing, she practises her moves wherever possible - be it via a Zoom class, on the roof of her building and in the living room while her parents watch TV.
However, as government restrictions and the show gets cancelled, she's left distraught. The touching moment is one many of us can resonate with as we've had to endure one cancelation after the other this year. Whether you've had to postpone your wedding day, cancel a holiday or host a viral funeral as many have had to do and is shown on new Netflix drama Social Distance, the scene really pulls at your heart strings. Especially as the girl's little sister very sweetly attempt to cheer her up by making her a homemade poster (with items bought on Amazon, of course) that reads " "The Show Must Go On – outside, Sunday 7pm."
She then rallies around all the neighbours who watch from their doorsteps and windows as the ballerina puts on a DIY performance on the street outside her house. The scene resembles the solidarity and sense of community that was built throughout lockdown, as neighbours and family members supported one another through the turbulent times of the pandemic, one of many reasons why the advert has been praised.
People have also been loving the nod to the struggling arts and culture industry, who has been devastatingly impacted by lockdown. The e-tail giant also selected an all Black cast for the advert, celebrating and encouraging Black talent in the overwhelmingly white Ballet world.
"The Amazon Christmas advert made me cry and was unutterably beautiful," one person wrote on Twitter. "It was a moving film with a lovely message and a reminder of the beauty of the arts."
Similarly, another tweeted: "The Amazon advert totally sucked me in. I wish it hadn't but it did – normally zone out during ad breaks. This however, in a few minutes, encapsulates 2020 especially for the Arts Industry. Beautiful, chilling and moving."
Meanwhile a third Twitter user said: "The Amazon Christmas advert has arrived just in the nick of time, because my heart was about to freeze over. This year is taking its toll but my goodness this is amazing!" of the moving advert, which premiered during a break in The Great British Bake Off on Tuesday night.
She's right, this year has definitely taken a toll and it's comforting to see that reflected in all that we consume.
Sagal is a journalist, specialising in lifestyle, pop culture, fashion and beauty. She has written for a number of publications including Vogue, Glamour, Stylist, Evening Standard, Bustle, You Magazine, Dazed and Wonderland to name a few.