Ariana Grande shows off her 'non-traditional' pearl and diamond engagement ring
The bling ring could be worth up to $50,000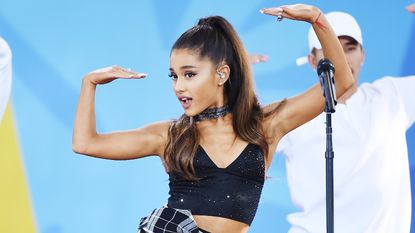 (Image credit: Nicholas Hunt/Getty Images)
Ariana Grande has shared a picture of her very bling engagement ring - and we love how her fiance has gone for a non-traditional style.
The singer, who revealed her engagement to her LA-based estate agent boyfriend Dalton Gomez in a series of Instagram snaps yesterday, also showcased her gorgeous ring.
The ring not only has a whopper of a diamond, but also a stunning pearl next to it, set on a platinum band - and according to experts, it could be worth up to $50,000.
The singer titled the series of images "forever n then some". They showed the happy couple cuddling, while the third picture showed an up-close picture of her new ring.
Olivia Landau, the founder of jewelry brand The Clear Cut told Refinery 29 that the non-traditional ring could is a "spin on the popular Toi et Moi two-stone style of engagement ring."
While she also went on to say that because of the 'non-traditional' design the ring is estimated to be worth between £30,000 and £50,000.
Celebrity friends such as Kim Kardashian, Hailey Bieber and Milly Bobby Brown were quick to congratulate the singer and her new fiance.
Over 13 million fans have also liked her post, leaving comments about how happy they were for her. While her mother even posted: "Sooo sooo sooo happy!!!! Love you two!!!"
The couple has been together since January. It's not known how they met, but Dalton works for a luxury LA-based real estate company called the Aaron Kirman Group. The singer was previously engaged to comedian Pete Davidson - who proposed in 2018.
Freelance lifestyle journalist for @BBCBusiness @Womanandhome @ESlifeandStyle @TheIndyBest / co-host of @getajobpodcast and founder of PR secrets. I specialise in health and wellbeing, travel, business, human interest, beauty, and in-depth features.