Benefit's 'Magnet' mascara has landed - I tried it and it makes lashes twice as long
A magnetic mascara? This is no gimmick.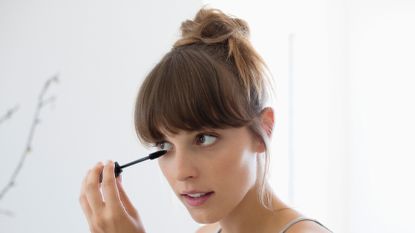 (Image credit: Letizia Le Fur/Getty Images)
Benefit is synonymous with two things: killer mascara and brows. So it was with bated breath that we waited for Benefit's They're Real! Magnet Extreme Lengthening Mascara to drop. And we weren't disappointed.
You'd think there wasn't much more a brand could do to reinvent the mascara wheel, but this is one product that proves all the cynics wrong. Benefit's They're Real! Magnet Extreme Lengthening Mascara is the new-gen version of the original They're Real! Mascara, which remains a bestseller. Its genius lies not in a simply inkier formula, but new-fangled magnet technology to stretch and lengthen lashes by a massive 40%.
Here comes the science bit. The core of the brush is actually magnetic, and the formula is enriched with magnetic minerals. What this means IRL, is that the brush is able to pull the formula up the length of each hair and then extend it past your natural lash to make it look longer.
Another geeky fact: Benefit used 3D printing technology to custom-make the brush so that it grabs hold of every lash at the roots, as well as attracting the perfect amount of formula, thereby preventing your lashes from getting weighed down.
I'll be honest, after 12 years as a beauty editor, I didn't think a mascara had the power to really surprise me any more. But this really is hang-on-by-the-seat-of-your-pants frikking amazing technology.
My lashes definitely look longer - in fact, they flutter suggestively in my peripheral vision. But unlike other mascaras that contain tiny fibres to create extension, the added bonus of magnetic technology is that no bits of fluff travel into your eye or onto your cheekbones. So you won't ever have to Google 'how to stop your mascara from flaking'.
Also satisfying is the long wear claim, which didn't make my lashes feel crispy like dry ramen noodles.
We're just talking long, luscious lashes and science that you don't have to understand - you just have to see it and revel in the results.
Fiona Embleton is a multi-award-winning beauty editor who has tested over 10,000 products in her 10 years + of writing and shooting beauty stories. For the past four years, she was the Senior Beauty Editor at Marie Claire, having previously worked in the role of Beauty Editor at both Stylist and Cosmopolitan. She has recently gone freelance and alongside My Imperfect Life, she has written for titles including ELLE UK, ELLE Canada, Buro 247, Harper's Bazaar Arabia, Vogue Scandinavia, and ES Magazine. Beauty journalism allowed her to marry up her first-class degree in English Literature and Language (she's a stickler for grammar and a self-confessed ingredients geek) with a passion for make-up and skincare, photography, and catwalk trends. She loves jumping on the latest internet-breaking beauty news, dissecting the best red carpet looks, and having the crème de la crème of dermatologists, make-up artists, and hairstylists on speed dial so she can tap them for the best advice. She's a discerning beauty shopper and knows it can be confusing trying to navigate what's hype and what really works. So if she really likes something, you can trust that she has reached that opinion by vetting it against everything else she's ever tried. Her career highs? Interviewing Cate Blanchett and winning a Jasmine Award for the deeply personal feature Cancer Stole My Mother's Scent.