Study reveals this is the best place in the house to have sex and we're actually surprised
This study proves that the best place to have sex at home is...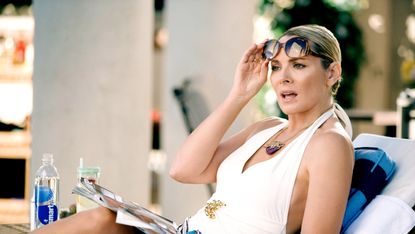 (Image credit: NEW LINE CINEMA/AA Film Archive / Alamy Stock Photo)
Let's face it, love in lockdown isn't exactly stimulating. At this stage, we're sick of seeing each other, and it's time to shake things up. Sure, we all thought we'd be going at it like rabbits at the onset of this, but things haven't really gone as planned.
Actually, we've discovered that sex confined only to our usual places has kept our love lives fairly stagnant. Working from home in our beds and attempting to get it on in the same room isn't necessarily a recipe for romance.
But thanks to the lingering effects of the pandemic, more people have been searching for ways to spice up their love lives, using swanky app-controlled vibrators to reset their sex life.
OnBuy has revealed a new study which investigated whether the location in your house affects how good your orgasms are and it turns out... it does.
WHICH ROOM IN THE HOUSE IS BEST FOR HAVING SEX?
You'll be shocked to hear that the bathroom happens to be the best spot to have sex! Heart rates rose by up to 73% in couples who experimented there, with a wild 121 BPM. When asked to describe their experience, having sex in the bathroom scored the highest ranking with participants giving bathroom sex an outstanding 8.5 out of 10.
You might think that's gross, since bathrooms are not exactly the sexiest of places, but the participants claimed that the steamy room and standing sex added to the much-needed heat.
WHAT ARE THE OTHER BEST PLACES IN THE HOUSE TO HAVE SEX?
The bathroom may have taken first place, but a balcony was a near second. Not much passion was lost, as the average heart rate of the participants using a balcony was 116 beats per minute. Couples revealed it was the visibility and public nature of a balcony that turns them on. Might make for an awkward run-in with the neighbors but maybe it's worth the embarrassment.
Joining the top three spot was a wardrobe or utility room, where the participants' BPMs increased by 64% and they gave it a still-impressive 7.3 out of 10. Some even suggested that a washing machine added positive vibrations!
WHAT ARE THE WORST PLACES IN THE HOUSE FOR SEX?
While the top three undoubtedly had the hearts racing, there were a few areas in the house that fell short. According to the couples, bedroom sex is a little too standard, with the security of a bed seeming to restrict ultimate pleasure, while in the study heart rates only rose to 108BPM.
Although sex in the bedroom didn't give that sexy vibe the couples were looking for, it was still a lot better than having sex on the landing or stairs, which turned out to be the least pleasurable place to have sex.
WHAT SHOULD WE BE CONSIDERING WHEN SELECTING THE BEST PLACES FOR SEX?
So when it comes to picking where the best place for both you and your partner to have sex, what should you be considering?
"When choosing where to have sex, it's important to think about what turns you on as a couple – being intimate on the balcony brings with it the possibility of being seen by others for instance," says Daniel Sher, clinical psychologist and sex counseling specialist at Between Us Clinic, a men's online sexual dysfunction clinic.
Daniel adds: "Having sex in the kitchen can be new and exciting and can also add an added layer of intimate knowledge between you and your partner, which can be subtly tapped into the next time that you're hosting guests."
But you don't want to throw the guests off their meal, so a subtle look would suffice. Not to mention that the kitchen makes things like fruit and whipped cream readily available. Using these items during sex are bound to increase your appetite!
Since December 2020, Kudzai has worked as a trainee journalist at FUTURE, writing about fashion, entertainment and beauty content for My Imperfect Life.

Kudzai previously worked as a freelance fashion wardrobe stylist, directing magazine photoshoots and coordinating the fashion direction of recording artists.

A fully qualified Journalism and Media graduate from De Mont Fort University, Kudzai graduated in the summer of 2020.