This 'blighlighter' hack makes French-girl contouring a cinch
Oh là là!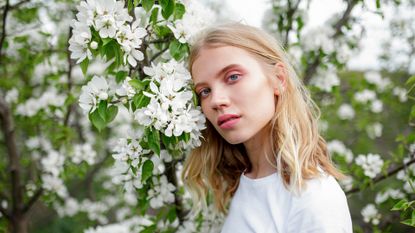 (Image credit: Vyacheslav Chistyakov/Getty Images)
Applying makeup right now is a win, but the viral 'blighlighter' trend makes a two-minute zhuzh pre Zoom meeting look effortless. Better yet, it channels that French-girl 'I-threw-on-a-bit-of-make-up-and-look-this-sexy' vibe.
As the moniker suggests, 'blighlighter' is a blush-highlighter hybrid. It was first coined by celebrity makeup artist, Jamie Greenberg, who works with the likes of Jessica Alba and who created three shades of Blighlighter under her brand, Jamie Makeup.
Earlier iterations that fall into the same blush-highlighter space include the cult NARS The Multiple in Orgasm, a peachy-pink shade that meshes seamlessly to deeper skin tones, and Charlotte Tilbury's Beauty Light Wand in Pinkgasm.
Speed aside, the appeal of blighlighter is that you can smoosh on a subtle flush of colour and a glass-like sheen with a single product. Or as Gucci Westman says of her Westman Atelier Super Loaded Tinted Highlight in Peau de Pêche: "One swipe over your cheekbones gives you instant definition, radiance, and warmth."
Fingers are your best tool for cream versions while a blending makeup brush makes light work of pushing a whipped up gel-powder like Westman's into the skin for a bona fide glow. Use on top of the best non comedogenic foundations or bare skin.
Where you instinctively apply blighlighter also makes a difference and actually falls in step with what royal make-up artist Mary Greenwell recommends is the ideal blush placement:
"I like blush to be quite high on the cheeks. It gives your cheekbones lift – which is another reason I wouldn't put blush on the apples of your cheeks as it draws the cheekbones down,' she says.
See what we mean about that effortless French-girl contour?
Fiona Embleton is a multi-award-winning beauty editor who has tested over 10,000 products in her 10 years + of writing and shooting beauty stories. For the past four years, she was the Senior Beauty Editor at Marie Claire, having previously worked in the role of Beauty Editor at both Stylist and Cosmopolitan. She has recently gone freelance and alongside My Imperfect Life, she has written for titles including ELLE UK, ELLE Canada, Buro 247, Harper's Bazaar Arabia, Vogue Scandinavia, and ES Magazine. Beauty journalism allowed her to marry up her first-class degree in English Literature and Language (she's a stickler for grammar and a self-confessed ingredients geek) with a passion for make-up and skincare, photography, and catwalk trends. She loves jumping on the latest internet-breaking beauty news, dissecting the best red carpet looks, and having the crème de la crème of dermatologists, make-up artists, and hairstylists on speed dial so she can tap them for the best advice. She's a discerning beauty shopper and knows it can be confusing trying to navigate what's hype and what really works. So if she really likes something, you can trust that she has reached that opinion by vetting it against everything else she's ever tried. Her career highs? Interviewing Cate Blanchett and winning a Jasmine Award for the deeply personal feature Cancer Stole My Mother's Scent.