Texas-born Selena Gomez, Matthew McConaughey and more demand gun control after school shooting in Uvalde, TX
The horrific school shooting in Uvalde, TX has celebrities and activists publicly pleading for gun law reform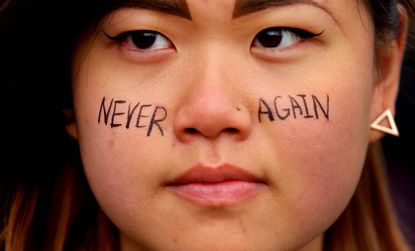 (Image credit: John Tlumacki/Getty)
Columbine. Parkland. Santa Fe. Sandy Hook. Uvalde.
The horrifying news of the May 24 school shooting in Uvalde, TX—a small, rural city 85 miles west of San Antonio—has wracked the world, which is now contending with the deadliest American school shooting since the massacre at Sandy Hook Elementary in Newtown, Connecticut, nearly a decade ago. Nineteen school children—aged seven through ten—and two teachers were killed by an armed assailant at Uvalde's Robb Elementary School on Tuesday.
What occurred at Uvalde is a tragedy of unspeakable horror, but it is a devastatingly frequent occurrence in this country: Tuesday's incident marks at least the 30th shooting at a K-12 (a school operating from kindergarten to 12th grade) in 2022 alone, reports CNN. There have been at least 39 shootings in K-12 schools, colleges and universities this year, the outlet reports, resulting in at least 10 deaths and 51 injuries. The Uvalde massacre will up that toll.
These school names and small towns just keep getting added to an ever-lengthening list of senseless, and seemingly avoidable, loss. "Turn this pain into action," President Joe Biden implored lawmakers during a White House address on Tuesday evening. And it's a sentiment echoed by many entertainers, creatives and activists, who are publicly and passionately using their platforms to call for gun control legislation.
Celebrities speak out after school shooting in Uvalde, TX
1. Matthew McConaughey
A native of Uvalde, Texas, Matthew McConaughey was one of the first celebrities to publicly comment on the devastation that had hit his hometown.
"The true call to action is for every American to take a longer and deeper look in the mirror and ask ourselves, "What is it that we truly value? How do we repair the problem? What small sacrifices can we individually take today, to preserve a healthier and safer nation, state, and neighborhood tomorrow?' We cannot exhale once again, make excuses, and accept these tragic realities as the status quo," the actor posted.
He continued: "This is an epidemic we can control, and whichever side of the aisle we may stand on, we all know we can do better. We must do better. Action must be taken so that no parent has to experience what the parents in Uvalde and the others before them have endured."
2. Selena Gomez
Another Texas native, Selena Gomez—who hails from Grand Prairie—took to Instagram Stories with her own plea following the tragedy.
"Today in my home state of Texas 18 innocent students were killed while simply trying to get an education. A teacher killed during her job; an invaluable yet sadly underappreciated job," the star wrote. "Those in power need to stop giving lip service and actually change the laws to prevent those shootings in the future."
Gomez also linked to Everytown, an American nonprofit that advocates for gun control.
3. Kourtney Kardashian
The reality star and recent newlywed also took to social media to call out US lawmakers on their negligence in tightening gun control laws. The mother of three wrote: "How have we gotten to the point where it is acceptable for our children to be murdered in their schools? They deserve a safe place. They deserve protection. They deserve a FUTURE!"
"I plead to laws makers to take accountability. We need a plan to protect our babies."
4. Khloé Kardashian
Kourtney's younger sister also publicly spoke out on the issue, writing in an Instagram Story: "I pray, I hope, I beg, I plead...please, law makers, government officials, leaders of our country, do something to protect our children."
"It was 'enough' ten shootings ago. It was 'enough' after Sandy Hook. What good is protecting our freedoms when there is no protection of our lives?"
5. Amanda Gorman
National Youth Poet Laureate Amanda Gorman, who memorably spoke at the presidential inauguration of Joe Biden in January 2020, movingly wrote on Twitter: "It takes a monster to kill children. But to watch monsters kill children again and again and do nothing isn't just insanity—it's inhumanity."
6. George Takei
Star Trek star and vocal "resistance fighter" George Takei—who was also one of the celebrities who spoke out recently regarding the SCOTUS Roe v. Wade leak—offered legislators an easy three-point plan to follow when making laws for American citizens: "Ban assault rifles, not books. Regulate firearms, not women's bodies. Protect kids, not lobbyists."
7. Sophia Bush
The actress and activist took to Twitter to voice her anger and dismay over the ineffectiveness of our government leaders, retweeting a post from Mitt Romney, U.S. Senator from Utah, and pointedly responding with: "Does this mean you will vote to ban assault weapons and pass universal background checks??" She also linked to Moms Demand Action, a grassroots movement of Americans demanding actionable solutions to the country's culture of gun violence.
Though they didn't specifically mention gun law reform, many other celebrities including Taylor Swift, Chris Evans, Missy Elliott and Kerry Washington shared their condolences and heartbreak on social media platforms, with Swift writing: "Filled with rage and grief, and so broken by the murders in Uvalde. By Buffalo, Laguna Woods and so many others. By the ways in which we, as a nation, have become conditioned to unfathomable and unbearable heartbreak."
Christina Izzo is the Deputy Editor of My Imperfect Life.
More generally, she is a writer-editor covering food and drink, travel, lifestyle and culture in New York City. She was previously the Features Editor at Rachael Ray In Season and Reveal, as well as the Food & Drink Editor and chief restaurant critic at Time Out New York.
When she's not doing all that, she can probably be found eating cheese somewhere.