Celebrity election tweets: All the reactions from the stars after Biden and Harris' win
Celebrity election tweets have flooded social media, with stars reacting to the tight race all night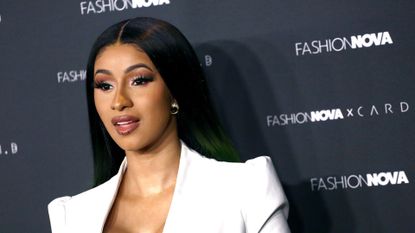 (Image credit: Getty Images:Photo by Tommaso Boddi)
It's been one hell of an election week but now we finally know the outcome, and celebrity election tweets have started to flock in as they react to results.
Kamala Harris will make history as the first woman of color elected US vice-president and Joe Biden will be the next US President, so it's no surprise that the rich and famous are using their platforms to celebrate this new era in American politics.
Celebrity reactions to election: all the best tweets and posts after Joe Biden and Kamala Harris win
From Kim Kardashian to Cardi B and beyond, many of our favourite stars have reacted to the nail-biting face-off among the rest of us who've been sharing hilarious memes of election fatigue to keep spirits up during the anxiety-inducing time.
And now we know officially now the Biden and Harris camp has won the White House race, all our favourite stars have been celebrating on social media.
Lizzo
Lizzo marked the win on Instagram with an emotional video, where she explained what the new administration means for her.
Speaking on the video, she said: "There are a few times in this country, where I'm hopeful. Like every time I'm hopeful it gets taken away from me. And this time I was hopeful, and I was scared.
"And I'm so excited to see a black woman in the White House, a brown woman in the White House, and be an American woman in the White House. And I'm so ready to see if America can hold itself accountable. If we can go into a new era where people are listened to, and fundamental changes can happen so that we can all live here, equally."
Cardi B
Of course, one of our favourite reactions came from Cardi B who posted a series of videos, writing: "I knew it !!!! I'm so happy ! Great way to start my day !!Congrats BIDENXKamala!"
Earlier in the week, she had shared a relatable video of herself feeling disheartened as she watched voting results come in on Tuesday night. "How these elections got me watching these states turn red 😒😒😒😒," she wrote in the caption of a short clip showing her smoke three cigarettes at once whilst shaking her head.
Kim Kardashian and Kanye West
Meanwhile Kim Kardashian, who hasn't directly announced who she voted for, gave us a strong indicator that she was on Team Biden/Harris as she liked rapper Kid Cudi's tweet endorsing the Democratic candidate. His tweet read: "Vote for Biden if you a real one."
Unlike Kim, her husband Kanye West did share his vote, revealing that it was his first time exercising his right to do so and that in true Kanye form, his vote went to himself.
"The first vote of my life We are here to serve We pray for every servant leader in the world," he tweeted, alongside a video of himself at the polling station.
The reality TV star celebrated the win with a picture of Biden and Harris.
Kourtney Kardashian
Kim's big sister Kourtney also celebrated the Biden/Harris win by retweeting a video of Kamala hearing the news that she is now America's new Vice President.
Chrissy Teigen
Always one to lift our spirits, Chrissy made election night a little more bearable for us by tweeting throughout the night. "It's insane what *our* fears are if we lose, compared to their fears if Biden wins. like we will prob all die or be handmaids and they're worried about bathroom safety," she tweeted.
She even started "stress cooking" some guacamole at one point which she shared a video of.
As the wait for election results continued, Chrissy expressed her exhaustion with a hilarious picture of herself and her dog watching live coverage at midnight on Thursday. "I honestly dunno how steve (her dog) is still going im bout to die," she tweeted alongside it.
She was finally able to celebrate alongside her husband, John Legend.
Beyonce
Lili Reinhart
Riverdale star Lili Reinhart celebrated by celebrating Harris appointment as VP. Earlier in the week she had turned to food for comfort during the stressful election night. "Just ordered an incredible amount of food because I'm an emotional eater and I'm scared," she joked on Twitter.
After watching the initial results come in, she then voiced her frustrations, following up with a second tweet that read: "I just don't understand how all of the racist, homophobic, immoral, transphobic, misogynistic things Trump has said and stood for wasn't a deal breaker for this many Americans."
Ariana Grande
It's a big emotional day for everyone, with Ariana writing: "CRYING @JoeBiden @KamalaHarris THANK GOD".
Earlier this week, and amid the conversations about election fraud and manipulation, Ariana Grande simply shared information of voters protection hotlines for every State with her fans. The image she shared read: "Call if you witness or experience voter intimidation or harassment happening at your polling station." While the second slide simply read: "count every mf vote."
Rihanna
Like Ariana Grande, Rihanna made it clear how she felt about the importance of counting every single vote as she dedicated six posts on her Instagram page to make the statement "Count every vote, we'll wait."
Her post came shortly after Trump sued the state of Pennsylvania to halt their vote counting. She's yet to post about the results.
Demi Lovato
Demi Lovato celebrated the win on Twitter, by writing: "Also - stop worrying what I tweet, BIDEN WON YALL".
Earlier in the week, the singer had expressed her disappointment at how close the numbers between Trump and Biden were earlier this week, tweeting: "Kind of terribly sad how close this election was. After this year and especially this summer it should've been a landslide. I don't get it. Truly."
However, she kept spirits up by saying she's "not losing hope" and that her "faith is strong."
Lady Gaga
LeBron James
Mindy Kaling
Kerry Washington
Keke Palmer
Antoni Porowski
Megan Thee Stallion
Sagal is a journalist, specialising in lifestyle, pop culture, fashion and beauty. She has written for a number of publications including Vogue, Glamour, Stylist, Evening Standard, Bustle, You Magazine, Dazed and Wonderland to name a few.