What happened with Will Smith at the Oscars?
An insane moment between Chris Rock and Will Smith at the Oscars tonight has everyone talking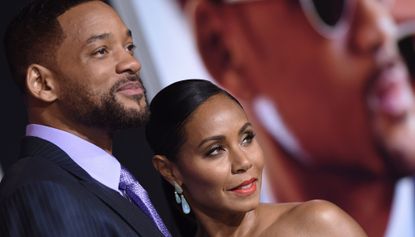 (Image credit: Axelle/Bauer-Griffin/Getty)
The 94th Academy Awards had memorable moments, including that historic Ariana DeBose Oscars win, but a physical altercation with Will Smith at the Oscars has everyone wondering, "What the hell just happened?!"
The incident occurred when Chris Rock was presenting the Best Documentary Feature category, an award that went to Ahmir "Questlove" Thompson for Summer of Soul. Before announcing the nominees and eventual winner, Rock made some banter about the show and people in the audience, including Smith's wife, actress Jada Pinkett Smith.
What happened with Will Smith at the Oscars?
When Rock joked, "Jada, love you, G.I. Jane 2, can't wait to see it," about the actress's shaved head, Pinkett Smith rolled her eyes, but her husband had a bigger reaction. Will Smith—who later won the Best Actor award for his performance in the Best Picture nominee, King Richard—took to the stage and struck a shocked Chris Rock in the face. The audio feed cut out from the telecast, but Smith could then be seen walking back to his seat, from which he shouted: "Keep my wife's name out of your f*cking mouth."
Viewers watching were understandably confused as to what just happened, with many wondering on social media if it was a planned bit that didn't land. But given the extremely long audio cut from the show's producers, it seems like the uncomfortable moment was very much real.
Footage of Will Smith punching Chris Rock after he made a joke about his wife at the #Oscars pic.twitter.com/Hp3k0Do9QkMarch 28, 2022
See more
Everyone in that audience looks stunned out of their minds right now.March 28, 2022
See more
The entire Dolby theater was DEAD SILENT after Will Smith did thatMarch 28, 2022
See more
Not a bit at all. When Rock hosted the #Oscars years ago, he told a particularly tough joke making fun of Jada boycotting the awards ceremony. So this incident has a long history. https://t.co/UiuWKBsNK0March 28, 2022
See more
During the commercial break, Will Smith is pulled aside and comforted by Denzel Washington and Tyler Perry, who motion for him to brush it off. Will appears to wipe tears from his eyes as he sits back down with Jada, with Denzel comforting Jada and Will's rep by his side. pic.twitter.com/uDGVnWrSS2March 28, 2022
See more
Folks inside the ceremony at Los Angeles' Dolby Theater noted how stunned and silent everyone in the audience was after the altercation, with entertainment journalist Scott Feinberg reporting that Smith had to be calmed down by Denzel Washington and Tyler Perry.
While official details have yet to be released on what caused the altercation, viewers on social media are surmising that Smith took the comment as a slight on Pinkett Smith's public battle with the autoimmune disorder alopecia, which can cause hair loss and balding. Others thought it was retaliation for jokes that Rock made regarding Pinkett Smith's Oscar boycott during his opening monologue at the 88th Academy Awards back in 2016.
The show oddly continued without a hitch following the smackdown, though Sean "Diddy" Combs did bring it up while introducing the 50th-anniversary presentation of The Godfather: "Will and Chris, we're going to solve that like family. Right now we're moving on with love."
However, when Smith won for Best Actor, he pointedly began his acceptance speech: "Richard Williams was a fierce defender of his family."
"I'm being called on in my life to love people and to protect people and to be a river to my people," Smith tearfully continued. "I know, to do what we do, we got to be able to take abuse. You gotta be able to have people talk crazy about you. In this business, you gotta be able to have people disrespecting you and you gotta smile and pretend like that's okay...I want to be a vessel for love."
"I want to apologize to the Academy, I want to apologize to all my fellow nominees," Smith said, seemingly referencing the assault. At the time, Rock was not included in that apology, but Will Smith publicly apologized to the comedian the day after the event.
"This is a beautiful moment and I'm not crying for winning an award, it's not about winning an award for me, it's about being able to shine a light on all of the people...the entire cast and crew of King Richard, Venus and Serena, the entire Williams family."
"Art imitates life: I look like the crazy father, just like they said. But love will make you do crazy things," Smith said. "I hope the Academy invites me back."
Shortly after the award ceremony ended, Will and Jada's son Jaden Smith tweeted: "And That's How We Do It."
The Academy itself tweeted: "The Academy does not condone violence of any form."
All we know is we never thought we'd see an Oscar moment more bonkers than that La La Land mix-up!
Christina Izzo is the Deputy Editor of My Imperfect Life.
More generally, she is a writer-editor covering food and drink, travel, lifestyle and culture in New York City. She was previously the Features Editor at Rachael Ray In Season and Reveal, as well as the Food & Drink Editor and chief restaurant critic at Time Out New York.
When she's not doing all that, she can probably be found eating cheese somewhere.