Courtney Cox recreates iconic Friends Thanksgiving scene and we can't handle it
Yes, it's *that* turkey scene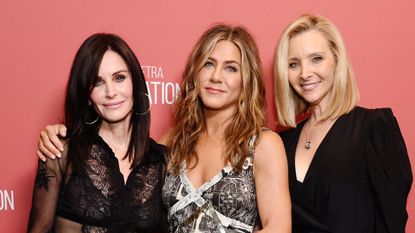 (Image credit: Gregg DeGuire / Stringer)
It's all happening in the world of the Friends cast. Mathew Perry revealed he's engaged to marry his girlfriend Molly Hurwitz, Jennifer Aniston hit 35 million followers on her Instagram account and Courtney Cox is up to her old lol-a-minute tricks over on Instagram.
If you're a fan of the hit TV show (and let's be honest, who isn't?), then you'll surely remember that Thanksgiving episode when Monica Geller, played by Courtney Cox, puts a raw turkey on her head, complete with Fez hat and yellow heart-shaped sunglasses in a bid to make Chandler Bing (Mathew Perry) laugh. The scene ends as Chandler inadvertently tells Monica he loves her for the first time - awwwww!
So to celebrate Thanksgiving this year, Courtney Cox took to Instagram to recreate the iconic scene, and yes, she does actually put her head inside a turkey, again...
"Happy Thanksgiving everyone. I hope you're having a great day," she begins her video.
"Since I'm the symbol of Thanksgiving, here you go, hope it makes you happy."
It seems the video of Courtney wearing a real turkey over her head, shimmying along to the Friends soundtrack did make a lot of people happy, including her old cast mate Lisa Kudrow, who commented: "You DID THAT!!"
Reece Witherspoon was quick to add: "Love you sister ! ❤️"
And it turns out David Beckham is also a big fan of the show, and Courtney's Thanksgiving video, as he couldn't help but comment too, adding, "OMG this just made my day @courteneycoxofficial @friends ♥️".
Here's hoping more iconic Friends scene recreations will be hitting our phone screens soon!
Lydia is a freelance travel writer, and Lifestyle News Editor at My Imperfect Life
Her travel writing has been published in BBC Good Food, Oh magazine, Harper's Bazaar UK, Town&Country, ELLE UK, MailOnline, Woman, and woman&home
She began her career compiling fashion and beauty pages for teen magazines at the BBC where she interviewed and styled some of the world's biggest pop acts—from Taylor Swift and Demi Lovato to One Direction—before joining celebrity magazine Now, as Fashion and Beauty Director, and later Woman magazine as Lifestyle Director.
Travel has been a constant passion over the course of Lydia's 14-year career. At 19, she took her first solo trip to Guatemala, Belize, and Mexico and has gone on to explore parts of 53 countries, returning to many often.
At 23, she quit her job and traveled out of a backpack for a year, living on just $26 (£20) a day. Of the 15 countries she visited, 13 were explored by land in a bid to cut her carbon footprint. Some highlights from the trip include a teaching by the Dalai Lama in the foothills of the Himalayas, sleeping on the world's largest salt flat, Salar de Uyuni in Bolivia, and being completely overwhelmed by the magnificent Iguazu Falls on the Argentina-Brazil border.
In 2015 Lydia traveled solo through India and Nepal for three months, visiting some of the most spiritual places in the world, and completing Nepal's Annapurna Base Camp trek over the course of nine days.
In 2021 she spent three months traveling solo through Portugal and Spain where she was on a mission to hunt out the best restaurants, find one-off boutique hotels and visit incredible art exhibitions.
Day-to-day she manages a global team of nine news writers and oversees news content on My Imperfect Life
Follow Lydia on Instagram @lydiaswinscoe