Selling Sunset's Davina Potratz has left the Oppenheim Group
Well, this is awkward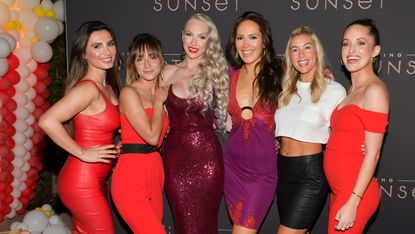 (Image credit: Getty/Rodin Eckenroth)
The Oppenheim Group shot to fame in 2019 thanks to the popular Netflix reality series Selling Sunset, which follows the lives of the group's glamorous estate agents in Los Angeles.
Davina Potratz was one of the more controversial agents in the group, after earning a reputation for being divisive.
In season two, she had serious issues with fellow cast members Mary Fitzgerald and her husband Romain Bonnet, which led to her being uninvited from their wedding.
In season three, she lost even more brownie points when she was unsupportive of Chrishell Stause amid her divorce from This is Us actor Justin Hartley - which solidified Potratz's reputation as a villain.
In an interview with People, Potratz revealed she had left the group and was now working with the Douglas Elliman agency, which has offices across the US.
She said: "I'm really excited to be a part of Douglas Elliman and their very sophisticated and global new development division."
"My background is in new development sales and marketing, so this is just a wonderful opportunity for me. It's just very in tune with my skills."
However, we she might not be completely done with the Netflix hit show and could return for a fourth season.
"It's not that I wanted to leave, but I had a great opportunity. It was a purely business decision," she said. "I certainly hope that I'm still part of the cast."
In the most recent series of Selling Sunset, Davina had threatened to leave the group and set up her own brokerage, after owners Jason and Brett Oppenheim did not fully get on board with her pricing of a $75m listing. Who can forget those very awkward meetings with Adnan?!
But, she's not the only cast member to talk of leaving - Maya Vander has also talked on the show about relocating to Miami to open a local branch of the agency and be closer to her family, while group co-founder Brett recently left to set up his own brokerage.
With all this relocating and moving firms, we certainly think there's enough drama for a fourth season - and we can't wait to watch it unfold.
Beth Gault is a freelance journalist and editor. She is the former news editor at fashion magazine Drapers and has written for multiple titles across lifestyle and business media, including GoodtoKnow and Woman's Own. She loves chatting about ending period poverty, is a self-confessed coffee snob, and is never one to turn down a good book.