Sex therapist reveals everything wrong with these iconic sex scenes
How realistic are they actually?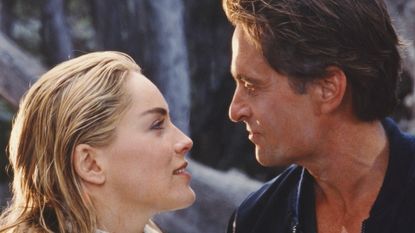 (Image credit: ScreenProd / Photononstop / Alamy Stock Photo)
The most iconic sex scenes that have graced our screens over the years are sure to stay with you long after the movie ends. Good, bad, or even just plain toe-curling, we all have our favorites and our own reasons for loving them. Whether you're looking for the best app-controlled vibrators or to see the latest dating apps reviewed, everyone has their own individual interest in a romance.
But when it comes to on-screen iconic sex scenes, whilst they may be famous and often firm fan-favorites, some viewers may end up wondering how realistic they really are.
Now we might just have the answer as sex therapy app Blueheart has rounded up 7 of the most iconic sex scenes and here, world-renowned couples therapist and sexuality expert Dr Katherine Hertlein shares her thoughts on them.
Is your favorite on the list?
1. Titanic
Dr. Katherine Hertlein says: "In this classic film, Jack and Rose experience what's almost certainly her first sexual encounter in the back of a steamed-up car. Despite the sex being consensual, and both parties enthusiastic, the film depicts an overly romanticized experience of first-time sex, with no signs of pain or nervousness."
She continues: "Having sex for the first time should be a process of taking it slow, checking in on your partner, and making sure the person losing their virginity (via penetrative sex) is comfortable."
"It's rarely the steamy scenes of passions that Jack and Rose demonstrate. As first times go, this is markedly unrealistic and there is usually some awkwardness, due to lack of experience which is normal."
2. Basic Instinct
"Basic instinct is known for its steamy sex scenes as well as Sharon Stone's infamous chair scene. Whilst not exactly damaging, the number of times Nick Curran and his sexual partners manage to climax at the same time is a little unrealistic. Although it is possible to orgasm at the same time, it's not very common, so don't feel bad if this doesn't happen between you and your partner," Dr. Hertlein says.
"Climaxing at different times is very common and has nothing to do with the quality of sex, it's just how our bodies work!"
Dr. Hertlein adds: "The sex scenes also make it very obvious that the characters in the shot are enjoying being intimate, but it's important to remember that not every person is highly vocal when they have sex and not every person looks flawless when they climax."
She explains: "it's all about enjoyment. Sometimes, you might not be able to tell if or when your partner has climaxed, which is why being confident to communicate is so vital."
3. Blue Is The Warmest Color
Dr. Hertlein says: "Adele and Emma's sex scene in Blue is the Warmest Color, provides an explicit, erotic depiction of same-sex intimacy. Adele's sex scene with Emma for the first-time shows long sessions of passionate, erotic sex that seem to be for dramatic effect as opposed to a realistic depiction of two people having sex with each other for the first time."
"There is no right way to enjoy sex, but considering this is Adele's first time with a woman, it can be considered a little unrealistic," she continues.
"The scene comes across as melodramatic, rather than accurately representing what would happen between two female lovers when they are exploring sex for the first time," she reveals.
4. 50 Shades of Grey
When it comes to the adaptation of E.L. James' 50 Shades of Grey book, Dr. Hertlein has noticed some points for concern.
She says: "50 Shades of Grey is famous for its sex scenes focusing on BDSM which is a term for bondage and discipline, dominance and submission, and sadism and masochism. This film trilogy's main character, Christian, seems to regularly neglect the rules and boundaries when it comes to sex and enthusiastic consent. There are healthy ways to conduct consensual BDSM, if that's what you enjoy, but these are not portrayed in the film."
"It's very apparent that Ana often says yes to Christian because she is too shy to speak her mind or she is afraid that saying no will hinder their relationship," Dr. Hertlein discloses. "Which is a form of emotional abuse. This is a dangerous narrative to be pushing".
"In real-life scenarios involving BDSM there need to be clearly defined boundaries, safe words and regularly enthusiastic consent from both parties about what's happening. BDSM also requires a certain level of emotional maturity which is not displayed within these sex scenes."
5. Moonlight
"Chiron and Kevin have sex for the first time on a quiet beach after talking about their true feelings for the first time," Dr. Hertlein says of Moonlight. "The conversation is a sentimental one and emphasizes Kevin's insecurities with opening up due to his shame of his sexuality and his emotional immaturity."
"The scene shows how sex requires trust, vulnerability, and how both our upbringing and culture can result in sexual shame", she shares.
"The scene itself is a true depiction of how sexual encounters follow on from moments when we are allowed to open up and be vulnerable, as opposed to the grand gestures of romance commonly shown in films. Additionally, it shows how fulfilling romantic relationships are not always a meet-cute - they can be unconventional and unexpected."
6. When Harry Met Sally
It may be a classic film, but Dr. Hertlein has noted some communication issues between Harry and Sally.
"Sex is one of the most intimate things you can do with someone, but we're terrible at talking about it," Dr. Hertlein shares. "When Harry Met Sally offers a classic example of why getting over your awkwardness and communicating properly is so important."
"After a build-up of tension, Harry and Sally finally have sex, but their lack of communication afterwards results in both of them feeling confused, deflated and unsure of where they stand with each other. Instead of discussing how they're feeling with each other, they turn to friends," she reveals.
"Having those conversations about sex and your feelings can sometimes be daunting," she acknowledges, "but need to be had so that both you and your partner know where you stand and what you both expect."
7. Normal People - Season 1, Episode 2
The majority of these iconic sex scenes might come from films, but they're not the only ones being scrutinized as Dr. Hertlein analyzes the adaptation of Sally Rooney's bestselling novel, Normal People.
"The sexual tension has clearly been building between Marianne and Connell, in spite of a little teenage awkwardness. This episode portrays their first sex scene together and it ticks a lot of boxes," she declares.
"This sex scene doesn't over-romanticize or downplay the build-up to sex or the awkwardness that can come with having sex with someone new. There are displays of consent, we see them using contraception, and they regularly check-in on the other."
"It's a much more accurate description of someone losing their virginity than our friends on the Titanic gave us."
Will you ever watch these iconic sex scenes the same way again?
Emma is a Senior Lifestyle Writer with five years experience working in digital publishing, ranging from book publishing to magazines. She currently looks after all things Lifestyle for Woman&Home, GoodToKnow and My Imperfect Life.
Before she joined Future Publishing, Emma graduated from the University of Warwick with a Bachelor of Arts degree in English and Comparative Literary Studies. After leaving education, she started out her publishing career in the world of books, working as a Publisher for an independent digital publisher specializing in back-list and debut commercial fiction novels. With a huge book list and a passion for bringing the best stories to the broadest audience possible, Emma filled her spare time with reading the latest best-sellers and catching up on hit adaptations.
In 2017 she joined TI Media as a fiction writing coordinator on Woman's Weekly and Woman's Weekly Fiction as part of the features team. From here, she used her love of books, working to bring short stories to our dedicated readers and began writing for the books pages of Woman, Woman's Own and Woman&Home, as well as online features ranging from genre round-ups to travel pieces for womanandhome.com.
After honing her skills, Emma branched out online in 2020 when Future gave her the opportunity to focus on digital-first. When she's not writing about the next big lifestyle trend, she enjoys cooking, long walks and watching as many crime dramas as she can!