Best dating apps, reviewed: swipe right on these digital matchmakers
This tried-and-tested guide to the best dating apps will be your one-stop-shop on how to pick the top romance app for you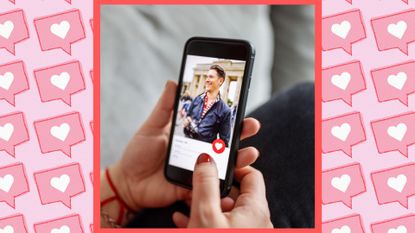 (Image credit: Getty)
Finding the best dating apps, reviewed and verified, is harder than ever, what with the oversaturation of options on the market. Long gone are the days when you were still telling friends over cocktails about this new platform called Tinder. Now, it feels like the ultimate trump card to finally be off the apps for good.
That said, the only way to finally delete those pesky romance apps is by making the perfect match on one, and then pursuing the relationship of your dreams IRL. With the dating app reviews below, you'll be able to save yourself the slog of manually swiping through each app yourself in search of your potential significant other. Instead, trust in our takes on these platforms and work out which is the best for you—Hinge vs. Bumble and more—from the best-reviewed dating apps and websites below.
For its algorithm-based matching, as well as not withholding matches from users over time, eHarmony stands out as a clear winner for daters looking for something long-term, but let's delve into all of our potential app suitors.
Best dating apps, reviewed: What's right for you?
1. eHarmony
Best dating app for finding a serious relationship
Specifications
Price: Costs minimum £11.95 per month
Available: On desktop and app
Launched: 2000
Reasons to buy
+
Highly reviewed in the app store
+
Personality focused
+
Get all of your matches immediately
Reasons to avoid
-
More expensive than other apps
Nearly 6,000 users gave a positive eHarmony dating review, rating the app a total of four out of five stars in the app store, and we have to say we agree—one of the longest-standing dating services on the internet is still one of the best.
Instead of swiping through potential partners you might have nothing in common with, eHarmony requires users to fill in a comprehensive compatibility quiz and then, most importantly, gives you all your matches on the first day of having the app.
This personality-based app feels automatically like a winner in a sea of dating services due to its reliance on personality over profile pictures, but if you're after quick hook ups, continue down this list to find another option because this is the app that will find you a partner for life (or at least someone to snuggle through cuffing season).
2. Hinge
Best dating app for finding better matches online
Specifications
Price: Free, but with additional search and swipe options at cost
Available: Only as an app
Launched: 2013
Reasons to buy
+
More specific matching options
+
Personality driven
Reasons to avoid
-
Requires full profile completion before use
Hinge has led the way in revolutionizing new dating apps by eradicating the swipe system introduced by Tinder and used by most traditional dating apps. Instead, users must like—with the option to comment as well—on a fellow user's photos or their best Hinge answers. This method, the app promises, causes more engagement in each other's profiles than a simple swipe.
For Rachel, a fashion designer based in London, these extra details initially make finding someone a bit harder but ensures a better match long term. "Hinge is my favorite, even though it does leave room for a lot of repetitive 'banter', like 'let's debate this topic: pineapple on pizza' or 'I'm overly competitive about: everything'." She explains: "But it is actually very helpful in weeding out boring personalities instead of me guessing from their photos!"
3. Bumble
Best dating app for higher quantity of matches
Specifications
Price: Free option, but add-ons for swipe backs and more available
Available: Only as an app
Launched: 2012
Reasons to buy
+
Woman focused
+
Can also use app to find new friends/business associates
Reasons to avoid
-
Time limit on matches
-
No turn off option for talking first
Bumble is a bit more than just a dating app, as it offers the ability to match with possible friends and business associates, too. For this app, the platform proudly proclaims it was made "by women, for everyone."
Bumble gives women all the power in their app—women speak first within the first 24 hours or the match disappears, and men must reply in the following 24 hours or the match is gone forever. And the app combines the swipe technique of Tinder with question-and-answer options borrowed from Hinge. This makes Bumble an almost middle ground between the two apps.
By making the first move mandatory for women, the app gets mixed reviews from women who are looking for men to put themselves out there. Camilla, who met both her current boyfriend and her ex on Bumble, says that she prefers to swipe, and that messaging first makes it "less likely to get a misogynistic message in my experience."
4. Match.com
Best dating app for getting help with online matches
Specifications
Price: Free but with paid add-ons like dating coaches
Available: App and desktop
Launched: Created in 1995, giving them more than 25 years worth of online dating experience
Reasons to buy
+
Extremely established dating service
+
Profile help from experts
Reasons to avoid
-
Slightly outdated interface
-
Works better on desktop
Match.com is another classic dating service that existed online well before anyone was using apps for matchmaking, but their platform promises to find you the one just as easily as any other service. The app makes matching simpler: swipe through matches, speak to the ones who swipe for you and eventually meet up.
What makes Match different, however, is the addition of a built-in dating coach for paying users. In his app store review, user Mike raves about this option: "[My dating coach] was very professional, but also relatable, and walked me through ways to craft better messages. I like how he not only told me what would work but why it works. He also walked through my profile and made some suggestions. It was very helpful and encouraging."
Gina Tonic is a creative freelance culture journalist based in Manchester, but originally from South Wales. She champions a feminist perspective in her work and has been writing professionally for over five years.