You don't want to miss this chance to get Fenty Beauty for half price
Yes, you heard that correctly. Half-price Fenty Beauty.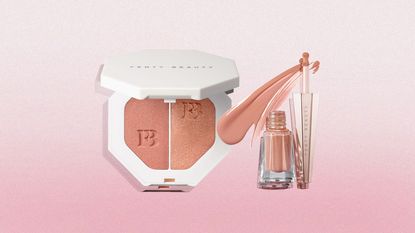 (Image credit: Fenty Beauty)
Having now perfected the art of self-gifting we know what we want and when we want it - there's absolutely no shame in that. Whether it's a new fragrance or pair of shoes there's no denying the feel-good-factor of unboxing your new purchase.
And, if there's anything to elicit much-needed distraction from pending (and rather confusing) Electoral results or the start of a lockdown, adding to your makeup bag can do the trick - especially when it's something Fenty. The cruelty-free brand, founded by Rihanna in 2017 has earned itself a place on many beauty editor must-have lists and continues to get better and better.
For a limited time only, you can save up to 50% on the best selling Fenty products. Yes, you heard that right. The 2-piece set featuring go-to makeup bag essentials Fenty Beauty Stunna Lips and Killawatt Cheeks is available to purchase from boots until the 17th November.
What's actually in the set:
What's great about the set is that it suits most skin tones and complexions. It contains both Stunna Lip Paint in Unbutton (a peachy nude colour) and the Killawatt Freestyle Highlighter duo in Ginger beige and Moscow Mule.
The best way to use:
Fenty Beauty Stunna Lips
The brush has been created specifically to help with application and the recommended how-to from Fenty is to 'Define lips with the precision wand facing upright. Then, fill in with the precision wand facing downward.'
Take full advantage of Stunna Lip Paint's extreme coverage by shaking before use to activate the pigment.
Fenty Beauty Killawatt Cheeks
Each duo features a colour perfect for the day and one supercharged with shimmer perfect for evenings.
Sunil Makan is the digital editor of Marie Claire UK. With over 12 years of publishing experience, working on print publications and their digital counterparts, national newspapers, and digital pure plays he is an Editor, Strategist, Content Producer, and Creative Director. In his most recent role, Sunil was deputy editor of My Imperfect Life and before that, he was the Associate Editor of British Marie Claire. Prior to that he worked at ELLE, InStyle, Shortlist Media and freelanced at titles such as Mr Porter, Saks Fifth Avenue, Floral Street fragrance, and The Times.
Sunil's specialisms include Fashion, Beauty and Grooming, Lifestyle, and Culture. He has reported and covered fashion trends at International fashion weeks in London, Milan, and Paris, smelled and tested countless fragrances, beauty treatments, slathered on more serums, moisturizers, and masks than he cares to mention plus reviewed some of the best hotels in the world—and the worst.
Sunil has appeared on and led workshops and panels like the All-Party Parliamentary Group (APPG) for Creative Diversity roundtable, the British Fashion Council's Diversity and Inclusion Board, and Fujifilm reader events. A lover of—in no particular order—fragrance, fine wine, champagne, Dior, food, and chicken wings.