Florence Pugh received the cutest birthday shoutout from boyfriend Zach Braff
Star of Little Woman, Florence Pugh, got the best 25th birthday compliment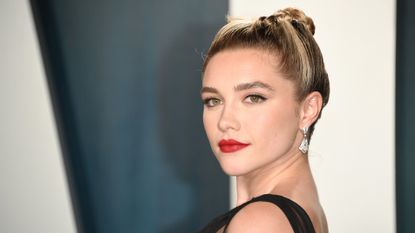 (Image credit: Daniele Venturelli / Getty Images)
Most of us are content with a cute gift from our significant other on our birthday that lets us know they care, but Florence's Pugh's boyfriend Zach Braff has proved that he's completely smitten with her in a heartfelt birthday message.
Florence Pugh, star of Little Women, turned 25 today and her boyfriend Zach Braff has proclaimed that she is 'the most fun person' he has ever met.
Braff, who has been dating Pugh since 2018, took to Instagram to state his adoration for the actress.
Braff wrote: "Happy Birthday to the most fun person I've ever met. I would have felt blessed to have smiled with your for one night. I can't believe I get to giggle with you everyday. What a pleasure it is to know you. What a gift to the world it was that you were born."
The couple's relationship has been subjected to speculation due to their twenty-year age gap.
Pugh took to Instagram in April 2020 to defend her relationship with Braff as she received hate from fans who disapproved of their relationship.
The celebratory birthday post from Zach also had the comments turned off. This could have been due to the large number of negative comments that Pugh received in April 2020 when she wished Braff a happy birthday on her page.
Despite the negative comments, Braff and Pugh appeared to be immensely happy on Braff's page as he shared pictures of them hiking and travelling together.
His Instagram story also featured images of Pugh with a bare-face and a big smile. While Pugh danced and ran around on her own Instagram story as she celebrated her big day.
It is unclear if the couple are celebrating together today as Pugh was spotted only a few week ago in LA filming her upcoming movie titled: Don't Worry Darlings.
This film hosts an all-star cast as Pugh (Midsommer) works alongside Harry Styles (Dunkirk), Kiki Layne (The Old Guard), Chris Pine (Wonder Woman), Nick Kroll (Big Mouth) and Gemma Chan (Crazy Rich Asians).
The film will also be directed by Olivia Wilde who gained fame as an actress but has received recent critical acclaim as a director after she directed the teen comedy Booksmart.
Laura Harman is a journalist who has written for Woman & Home, Grazia and Good to Know and regularly contributes to My Imperfect Life.