Gigi Hadid just dropped her whole new mum skincare routine and it includes this cult Dr Jart cream
Supermodel skin just got easy.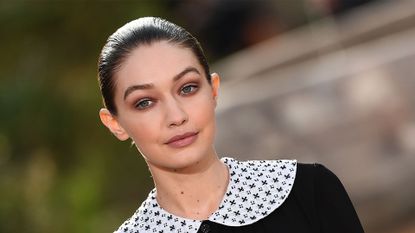 (Image credit: CHRISTOPHE ARCHAMBAULT / Getty Images)
In a new beauty tutorial with Vogue, Gigi Hadid's skincare routine is laid bare and new moms everywhere audibly exhaled.
Hormones do a merry jig when you're pregnant, which means ditching your usual must-haves in favour of less sensitising, natural products. Indeed, this was Gigi's approach when pregnant with her daughter Khai, as clean products, mostly made from olive-tree extract, such as Oliveda's olive leaf cleansers and oils, became the backbone of her routine.
Postpartum and Hadid has switched up her routine to make moisture the end goal when faced with the assault of wintery temperatures on her visage. She also revealed that a lot of the products she relies on are, whisper it, drugstore heroes.
Gigi said: "I've now moved into my winter routine, which for me, is about a thicker moisturiser." You can see her liberally applying the Dr. Jart+ Ceramidin Cream over her face before layering up with Odacité's moringa-oil concentrate, which is one of the best moisturisers for dry skin.
In the past, Hadid admits to occasionally over-exfoliating her skin, adding that she has now switched to Cetaphil as a gentler alternative.
She says: "I've always gone for drugstore skincare. Pregnancy is different — and I really wanted something clean for that — but before, I just wanted good products, and I don't think you have to pay a lot for that."
Lip balm is another essential for the star. At the start of her makeup routine, Hadid layers Lanolips's Strawberry 101 Ointment on her mouth and dryer patches throughout her face.
"I think all-purpose ointments are great," she said. "I dab it on where my skin feels dry, sometimes on the tip of my nose. I find that right where my eyebrows start gets really dry. I think that eyebrow product and pencil goes on better."
Makeup-wise Gigi keeps things pared back. She mixes Charlotte Tilbury's Wonderglow Face Primer and Maybelline's Poreless Liquid Foundation together (check out our pick of the best non-comedogenic foundations) and applies the concoction with her hands before covering up dark circles with a Maybelline concealer.
Despite how intricate this routine sounds, Gigi refreshingly points out that this isn't her daily routine: "I just want to remind those of you watching that this is not how I look every day. Sometimes I go a week without touching makeup or, you know, just putting on deodorant is like, we're doing great." Amen to that.
Fiona Embleton is a multi-award-winning beauty editor who has tested over 10,000 products in her 10 years + of writing and shooting beauty stories. For the past four years, she was the Senior Beauty Editor at Marie Claire, having previously worked in the role of Beauty Editor at both Stylist and Cosmopolitan. She has recently gone freelance and alongside My Imperfect Life, she has written for titles including ELLE UK, ELLE Canada, Buro 247, Harper's Bazaar Arabia, Vogue Scandinavia, and ES Magazine. Beauty journalism allowed her to marry up her first-class degree in English Literature and Language (she's a stickler for grammar and a self-confessed ingredients geek) with a passion for make-up and skincare, photography, and catwalk trends. She loves jumping on the latest internet-breaking beauty news, dissecting the best red carpet looks, and having the crème de la crème of dermatologists, make-up artists, and hairstylists on speed dial so she can tap them for the best advice. She's a discerning beauty shopper and knows it can be confusing trying to navigate what's hype and what really works. So if she really likes something, you can trust that she has reached that opinion by vetting it against everything else she's ever tried. Her career highs? Interviewing Cate Blanchett and winning a Jasmine Award for the deeply personal feature Cancer Stole My Mother's Scent.