This is why we need to stop listening to Gwyneth Paltrow's SPF advice
Gwyneth Paltrow's SPF routine is dangerous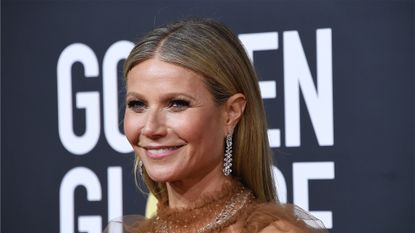 (Image credit: Steve Granitz/Getty Images)
Gwyneth Paltrow's SPF routine has come under fire from social media users. Add to that dermatologists, who are often the first port of call for diagnosing skin cancer, and oncologists who work tirelessly to treat the deadly disease.
On Tuesday, Paltrow gave fans a look at her "guide to everyday skin care and wellness" in a video for Vogue. In the most baffling application of SPF we've ever seen, the actress and businesswoman, 48, explains: "I'm not a head-to-toe slatherer of sunscreen, but I like to put some kind of on my nose and the area where the sun really hits."
In fact, the video shows her applying the tiniest amount in the same way one would apply highlighter: on her nose, cheeks, and a bit of her upper lip and chin.
Let's be frank. There's a lot to unpack here. Normally I take Goop and its vagina candles with a pinch of salt. But I do take issue when a celebrity peddles inaccurate claims in the health and wellbeing space that can actually put people's lives at risk.
Dr. Barry D. Goldman, a clinical instructor at Cornell New York-Presbyterian Hospital, told USA Today that neglecting certain spots is "almost looking for trouble."
"I do think it's a bad message: 80 to 90% of all skin cancers are on the face and neck," the dermatologist said. "I've seen many tumors on the eyelids or around the eyes, the forehead. Basically, the whole face should be covered... We think of the whole face as a high-risk area for skin cancer."
The facts speak for themselves: around 3.3 million Americans are diagnosed with skin cancer each year. There will be around 16,200 new skin cancer cases in the UK in 2021.
Am I trying to scare you? Yes, I am. Not just as a beauty editor who has to resort to "sexing" up the sunscreen story by appealing to people's vanity instead of their health. (FYI, when it comes to wrinkles and sagging, not wearing sunscreen is the equivalent to smoking for your skin, which certainly isn't very Goop.) But also because I've spent the pandemic nursing my mother, who was diagnosed with stage 4 melanoma last April.
I've seen firsthand how a simple mole on the shoulder can turn malignant; how large swathes of lymph nodes have to be cut away, leaving the area puckered and deformed; how a second tumor in the breast had to be cut away five years later; how a single malignant cell escaped, turned rogue and caused the melanoma to spread to my mom's brain, bones, lungs and stomach within a matter of weeks. She was given three weeks to live by the time we were able to find treatment (melanoma doesn't respond to radiotherapy or chemotherapy, so you need an oncologist who specializes in immunotherapy, a still burgeoning field).
How should you apply sunscreen?
The American Academy of Dermatology recommends applying one shot glass of sunscreen to cover the entire body, approximately 1/2 teaspoon of which will cover the face and neck. Your sunscreen should be at least an SPF 30, broad spectrum protecting against both UVA and UVB rays, and water resistant.
If you're spending the day outdoors or sunbathing, reapply every two hours (or more frequently if you're swimming or sweating a lot).
And don't be tempted to simply apply the best non-comedogenic foundations to your face on cloudy days—around 80-percent of UVA rays are still present when the sun's not shining, so SPF is still crucial if you want to avoid its aging effects.
Are traditional sunscreens full of "harsh chemicals"?
In the video of Gwyneth Paltrow's SPF routine, the actress explains that she uses a "clean mineral sunscreen" because "there are a lot of really harsh chemicals in conventional sunscreen, so that's a product that I really want to avoid."
Actually, natural sunscreens don't exist. There are two types of sunscreen—chemical or mineral (also known as physical), both of which are made in a lab.
"Physical sunscreens contain active mineral ingredients, such as titanium dioxide or zinc oxide, which sit on top of the skin and reflect the sun's rays from its surface," explains Dr. Stefanie Williams, medical director at European Dermatology London. They offer UVA and UVB protection as soon as they are applied.
Chemical sunscreen is absorbed into the skin much like the best moisturizers for dry skin. It contains organic compounds that convert UV rays into heat, before releasing that heat from the skin. Chemical sunscreens tend to be thinner and, therefore, spread more easily on the skin, but do remember that "a chemical sunscreen needs 20 minutes to fully sink in to be effective," says Dr. Williams.
Fiona Embleton is a multi-award-winning beauty editor who has tested over 10,000 products in her 10 years + of writing and shooting beauty stories. For the past four years, she was the Senior Beauty Editor at Marie Claire, having previously worked in the role of Beauty Editor at both Stylist and Cosmopolitan. She has recently gone freelance and alongside My Imperfect Life, she has written for titles including ELLE UK, ELLE Canada, Buro 247, Harper's Bazaar Arabia, Vogue Scandinavia, and ES Magazine. Beauty journalism allowed her to marry up her first-class degree in English Literature and Language (she's a stickler for grammar and a self-confessed ingredients geek) with a passion for make-up and skincare, photography, and catwalk trends. She loves jumping on the latest internet-breaking beauty news, dissecting the best red carpet looks, and having the crème de la crème of dermatologists, make-up artists, and hairstylists on speed dial so she can tap them for the best advice. She's a discerning beauty shopper and knows it can be confusing trying to navigate what's hype and what really works. So if she really likes something, you can trust that she has reached that opinion by vetting it against everything else she's ever tried. Her career highs? Interviewing Cate Blanchett and winning a Jasmine Award for the deeply personal feature Cancer Stole My Mother's Scent.