Harry Styles latest music video stars Fleabag's Phoebe Waller-Bridge
The new music video Treat People with Kindness shows Harry Styles acting alongside another famous face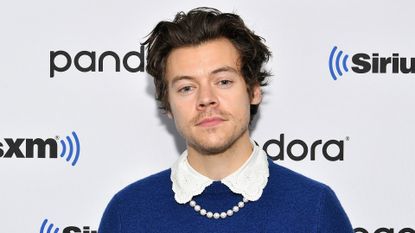 (Image credit: Dia Dipasupil / Getty Images)
This year might have not have been the best for many reasons (Covid 19, we're looking at you) but it looks like Harry Styles has just upped the excitement levels in time for Christmas.
A 15-second long clip of Harry Styles' new music video Treat People with Kindness (TPWK) has been released and it's already blown up as it reveals the fabulous Phoebe Waller-Bridge is part of the video.
The teaser shows both Waller-Bridge and Styles in matching white suits sipping champagne in a large ballroom where Styles stands on stage and asks a coy Waller-Bridge to dance. It's so visually appealing we're not quite sure who we want to be more, Styles or Waller-Bridge.
Harry dons an oversized bow tie and sequined white jacket, while Waller-Bridge's look is more demure as she sports a patterned knitted vest that is revealed as she runs away from her table with Styles and rips off her jacket.
Fans on Twitter are losing their minds, with one fan tweeting: "I'M NOT CRYING OVER THE FACT THAT THERE MIGHT BE A #TPWK MUSIC VIDEO, I'M CRYING BECAUSE PHOEBE WALLER BRIDGE GOT TO HOLD HIS HAND AND I DIDN'T".
We can all relate to that one!
It's unclear as to when the full music video will take place but there is already speculation - or perhaps wishful thinking - that the music video will be over 30 minutes long.
It is also possible that Waller-Bridge has not only starred in this video but has possibly directed it.
Waller-Bridge is famously known for creating, writing and acting as the lead character in the phenomenal TV show Fleabag. She also recently directed Phoebe Bridger's music video Saviour Complex - starring Normal People's Paul Mescal- which would suggest that she definitely has the experience for the job!
This teaser comes only months after Harry released his music video for Golden, which is like TPWK, another song from his Fine Line album which fans adored.
Fans of Harry Styles and One Direction continue to have cause for celebration today as alongside this music video, we realised it's also Louis Tomlinson's 29th Birthday.
Laura Harman is a journalist who has written for Woman & Home, Grazia and Good to Know and regularly contributes to My Imperfect Life.