Holidate: Emma Roberts' new Netflix movie is exactly what we need right now
Holidate is this year's Netflix Christmas romcom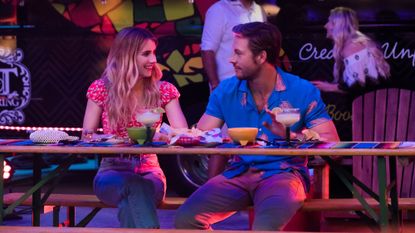 (Image credit: Netflix)
It's that time of the year again. Christmas is around the corner and Netflix is getting us all in the festive spirits with their annual release of a cheesy, feel-good Christmas romcom with a familiar face as the lead. This year, it's Emma Roberts.
The Scream Queens actress is the star of Holidate, the first of many festive films dropping on the streaming service in the lead up to Christmas. As the trailer shows, you can expect all the usual cliches but frankly, it's exactly the kind of comfort we need right now.
Here's everything you need to know about the film, which will already be available on Netflix from today (28 October).
Holidate cast: which familiar faces are in the new Netflix movie?
Emma Roberts takes centre stage as Sloane in Holidates, while Australian actor Luke Bracey plays her love interest, Jackson.
Also in the cast is Kristin Chenoweth as Aunt Susan, Jake Manley as York and Jessica Capshaw as Abby.
What is Holidate about?
Well, the film's tagline is "Find Your Perfect Plus-One" which kind of tells you what the plot will be.
It follows Sloane, a young woman who hates the festive season because she is always single. But it doesn't take long before she comes across Jackson, a man who is in a similar boat. The two make a pact to be each other's date for every festive occasion but, you guessed it, they then end up falling in love.
"Sloane and Jackson hate the holidays. They constantly find themselves single, sitting at the kids table, or stuck with awkward dates," reads the official Netflix synopsis. "But when these two strangers meet during one particularly bad Christmas, they make a pact to be each other's 'holidate' for every festive occasion throughout the next year. With a mutual disdain for the holidays, and assuring themselves that they have no romantic interest in the other, they become each other's perfect plus-one which leads to some hilarious and provocative hijinks.
"However, as a year of absurd celebrations come to an end, Sloane and Jackson find that sharing everything they hate may just prove to be something they unexpectedly love."
We know, it's a story we've watched endless times, but we can't wait to indulge in it!
Sagal is a journalist, specialising in lifestyle, pop culture, fashion and beauty. She has written for a number of publications including Vogue, Glamour, Stylist, Evening Standard, Bustle, You Magazine, Dazed and Wonderland to name a few.