Instagram has launched its first-ever 21 under 21 list celebrating young creatives
The special list champions young content creators on Instagram from five different subcultures including music, fashion and beauty...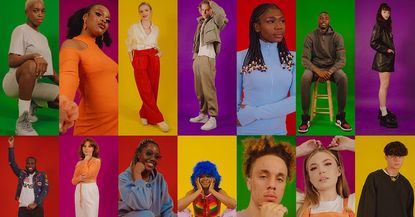 (Image credit: Instagram )
Instagram has launched its first-ever 21 under 21 list, recognizing young creators who have been thriving on the platform in their own unique ways. Each name on the list has been credited for driving culture forward in the UK across five different categories: music, sport, fashion, art, and makeup.
To help them select the honourees, Instagram enlisted five of the most talented British creators, who have all amassed huge followings and each specializes in one of the five subcultures. The panel includes host and YouTuberHarry Pinero for the sports category, DJ and presenter Henri for music, stylist and influencer Gully Guy Leo for fashion, James Lewis for art and make-up artist Cake Face RJ for the—you guessed it—makeup category.
The five have teamed up with Instagram to use their expertise to select the next wave of rising stars on the app, all of whom have been using Reels to showcase their talents and entertain followers. All of the 21 creators selected are celebrated individually and as a collective through a special feature in digital zine, GUAP, who have collaborated with the social media giant to introduce the new talents to the world and highlight their work.
"Creators are at the heart of culture on Instagram and the people on our first ever 21 under 21 list are such an exciting glimpse of the future," says Georgia Kelly, Strategic Partnerships Manager at Instagram. "We have loved working with our lead creators to explore their subcultures and celebrate the diverse talent out there on Reels. We hope that by shining a light on these 21 young creators, we inspire others to follow their passion, share it with others, and grow their brand on Instagram."
Meet Instagram's 21 under 21
Music
For music, Henri has selected the following four creators...

Jade Brown (@its_jadebrown)
DJ Kwamz (@kwamzoriginal_)
Jeanette (@jeanettend)
Kwamz (@unklekwamz)
Sport
For sport, Harry Pinero has selected the following four creators...
Eshé Bernard (@esheakili)
Tshawn (@bikestar_.tshawn)
Oko (@lukeokosieme)
Abraham Bunga (@abrahambunga)
Art
For the Arts category, James Lewis has selected the following four creators...
Freddie (@peacockfr_)
Zoom Rockman (@the_zoomcomic)
Emily Parker (@emilyparker.photography)
Tess Camilla Davenport (@tess_daveport)
Fashion
For fashion, Gully Guy Leo has selected the following five creators...
Tor Lambert (@torlambert)
Bebe (@being_a.blessin)
House of Hersey (@houseofhersey)
David (@davidmjwholzapfe)
Venus Anshu (@official_venusashu)
Makeup
For make up, Cake Face RJ has selected the following four creators...
Janelle Wayland (@jjennamakeup)
Ruby Mitchell (@rubymediamakeup)
Feebs (@makeupbyfeebs)
Chloe Pack (@chlopack)
Sagal is a journalist, specialising in lifestyle, pop culture, fashion and beauty. She has written for a number of publications including Vogue, Glamour, Stylist, Evening Standard, Bustle, You Magazine, Dazed and Wonderland to name a few.