Instagram is making a major change to its regulations on nudity
Instagram is introducing a more "fair" nudity policy after censoring plus-size model Nyome Nicholas-Williams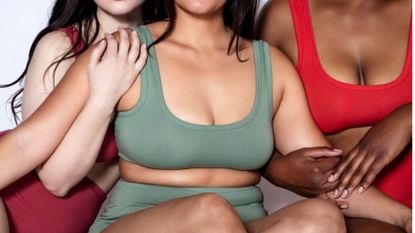 (Image credit: Getty Images)
Instagram has announced that it will introduce a new policy, changing its regulations around nudity for different body types.
The move comes after the social media platform received backlash for censoring images of plus-sized model Nyome Nicholas-Williams, which prompted her to launch a month-long campaign against the popular app.
According to a report by InStyle, a spokesperson for the tech giant revealed that as of tomorrow (October 28), both Instagram and Facebook will update their policies "to help ensure all body types are treated fairly".
The new rules will allow "content where someone is simply hugging, cupping, or holding their breasts," but will continue to ban photos in which "people squeeze their breasts in a grabbing motion with bent fingers".
The altered policy comes into place after Nicholas-Williams spoke to The Guardian's Observer about her experience on Instagram, explaining that pictures from her lingerie shoot with photographer Alexandra Cameron kept being deleted from her account.
"Millions of pictures of very naked, skinny white women can be found on Instagram every day," she told the publication. "But a fat black woman celebrating her body is banned? It was shocking to me. I feel like I'm being silenced."
After publicly calling out the platform, Nicholas-Williams' followers showed their support by launching the hashtag #IwanttoseeNyome, and the campaign quickly gained traction.
Announcing the new changes made by Instagram in a recent post, the model shared that she, alongside Cameron and campaign lead Gina Martin, have been working tirelessly to get the new policy in place.
"We worked very hard on this and managed to get Instagram and @mosseri attention and there's still a lot of work to be done, as black plus-sized women continue to be censored in many ways; and white women STILL tried to hijack and make it their campaign," she wrote.
"There is of course a huge racial imbalance in the algorithm that still exists as white bodies are promoted and don't have to worry about censorship of their posts but black bodies still have to justify presence on the platform, this has also been brought to Instagram's attention! But when we put our minds to it... we can achieve literally ANYTHING!!"
You, go girl!
Sagal is a journalist, specialising in lifestyle, pop culture, fashion and beauty. She has written for a number of publications including Vogue, Glamour, Stylist, Evening Standard, Bustle, You Magazine, Dazed and Wonderland to name a few.