Jennifer Lawrence finally sets the record straight on her infamous Oscar fall
J-Law addressed the ongoing myth that the Oscar fall was fake and called it a "horrific humiliation"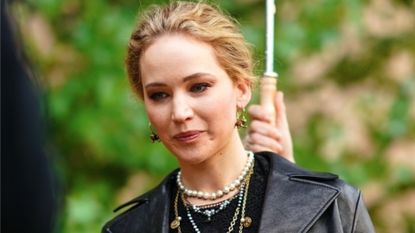 (Image credit: Getty ImagesPhoto by Edward Berthelot/Getty Images)
Cast your mind back to 2013. It's Oscar night and everyone's favourite new Hollywood star Jennifer Lawrence finally wins her first Best Actress award. The moment has gone down in history as one of the most iconic moments from the Academy Awards - not because of Lawrence's win or even her speech but because of her dramatic fall on her way up to accept the award.
For years, many - including fellow Hollywood stars Jared Leto and Anderson Cooper - were convinced that the fall was a staged stunt because of how hilarious it was. If you've seen it, which you'll definitely have considering how many memes and GIFs it has been made into, then you'll know it was TV gold.
But now, seven years later, the actress has finally set the record straight, claiming the fall was 100% genuine - and one she'd rather forget by the sounds of it.
Speaking on comedian Heather McMahan's 'Absolutely Not ' Dear Media podcast, the Oscar winner opened up about the famous moment, calling it a "horrific humiliation". She even admitted that she confronted Anderson Cooper after hearing he'd said the fall was fake.
"I was very nervous and also very superstitious, I didn't want to acknowledge the possibility that I would win," she recalled, talking about the night.
"I didn't want to write down a speech, so I have everything in my head and very, very nervous. They call my name, I'm elated and in shock. You kind of back out, I actually don't remember what that moment felt like when they said my name. And then I fell and it just erased everything from my mind and my whole brain went blank."
She continued: "I can look back on it now, I'm a little older now, but for a very long time the whole thing was very sensitive."
The now 30-year-old star then explained that the humiliation got even worse for her a few days later when she was watching CNN and heard that Cooper said that it was obvious that she had faked the fall.
"It was so devastating because it was this horrific humiliation to me," she added, "And I'll tell you what, I saw him at a Christmas party and I let him know. My friend told me I had a vein bulging out of my neck. But he apologized and I think we're good friends now."
Sagal is a journalist, specialising in lifestyle, pop culture, fashion and beauty. She has written for a number of publications including Vogue, Glamour, Stylist, Evening Standard, Bustle, You Magazine, Dazed and Wonderland to name a few.