Jennifer Lopez just revealed a pretty huge secret behind her Super Bowl half-time show
We had no idea...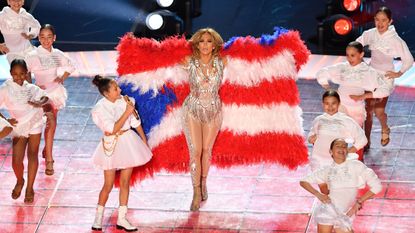 (Image credit: Angela Weiss/AFP (Photo by ANGELA WEISS/AFP via Getty Images))
Months after music icon Jennifer Lopez wowed fans at the Super Bowl half-time show on February 2, the singer has now dished the dirt on a secret from the Emmy-winning performance.
JLo revealed that the flag cape - which showed a US flag on one side and a Puerto Rican flag on the other - was kept a secret until the very last minute.
She told Apple Music's Somos Radio that she was afraid someone would stop her from doing the stunt and revealing the Puerto Rican flag, so it was kept under wraps until she was on stage.
"I just had the American flag on the outside and during rehearsals, I didn't really open it up until we were on stage and I was like 'Latino!'", Lopez said.
"It definitely was a moment that I felt was so necessary to be said and I wanted to take the chance. It was really important to take the risk. So it was a lot of fun."
The joint performance with Shakira included hits Whenever, Wherever and Jenny from the Block, and also featured JLo's daughter Emme who came on to sing Let's Get Loud.
"The whole idea of having my daughter come up in a cage and sing 'Let's Get Loud'... the whole idea was to raise our voices, to understand that your voice matters and to always use your voice," said JLo.
"That's why I filled the stage with little girls. And letting women and Latinos know that … we have an obligation, a responsibility, to speak out against injustices, to speak out against anybody who's not treating us in the way that we deserve to be treated.
"That was a huge statement that I hope I did in a musical way. And the great thing about being a musician and being creative is that you can do things in a way that people can receive them. And it was received in a beautiful way, thank god. But the message was there."
The empowering message was definitely loud and clear and we loved it.
Beth Gault is a freelance journalist and editor. She is the former news editor at fashion magazine Drapers and has written for multiple titles across lifestyle and business media, including GoodtoKnow and Woman's Own. She loves chatting about ending period poverty, is a self-confessed coffee snob, and is never one to turn down a good book.