Lizzo's new Netflix documentary with David Letterman is a must watch
We've all been waiting for a Lizzo Netflix movie and now we've got the closest thing to it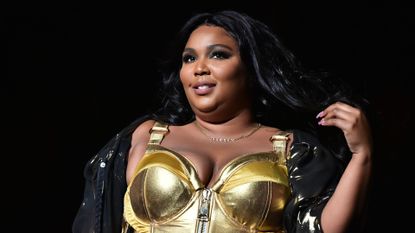 (Image credit: Getty Images:Photo by Theo Wargo/Getty Images)
While we do love her Instagram stories, a Lizzo Netflix movie is what we've really been yearning for and now, we're finally getting it...ish.
The popstar is among the latest special guests to feature in David Letterman's hit Netflix show, My Next Guest Needs No Introduction, a series in which he invites some of the most high profile celebrities in the world to open up about their lives in and outside the limelight in a candid interview.
Lizzo's Netflix movie: what can you expect from David Letterman's documentary?
Known and loved for wholeheartedly being herself and saying things like it is, Lizzo's sit down with Letterman is honest, heartfelt and entertaining at the same time. In fact, fans have not stopped talking about it since the interview dropped on Netflix earlier this week as an episode of the third season of the popular show.
For those who have yet to watch, there are plenty of things you can look forward to seeing, including Lizzo giving Letterman a hilarious tutorial on how to play the flute. However, in more poignant scenes, the singer talks about her experiences with fat-shaming, fame and her father's death.
A standout moment from the interview, which saw Letterman visiting the singer in her home studio, was when the 32-year-old explained that she was "sick of being an activist because I'm fat and Black."
Talking about body image, Lizzo said: "It bothered me for a long time that all people could talk about or think about was my size. I didn't like it when people condemned me for it and it kind of rubbed me the wrong way when I was praised. Like 'you're so brave!'
"They thought they were complimenting me by saying I was unapologetic. I was like 'what do I have to apologize for?'"
She continued: "In 2014 I was wearing a leotard onstage with two big girls also in leotards and saying I love myself, I think people were like 'how dare she, how dare she love herself, how could she?'"
The Truth Hurts singer, who recently walked Rihanna's Savage x Fenty lingerie fashion show, then explained that she wanted to be known as an activist but only for the right reasons.
"I want to be an activist because I'm intelligent, because I care about issues, because my music is good, because I want to help the world," she told Letterman.
At another point in the interview, Letterman gushes over Lizzo's collection of flutes and crystals, an she ends up giving him the nickname 'Day-Z' when he gives the flute a try.
When he asked why she and her family left her hometown, Detroit, Lizzo candidly said: "For a better life. To get out of Detroit."
She then elaborated, saying: "I love Detroit so much. My family still lives there. But you gotta leave when you say you're gonna leave. Because Detroit is one of those places that can keep you for a long time."
The new season of My Next Guest Needs No Introduction also sees letterman talking to Kim Kardashian, Dave Chappelle and Robert Downey Jr. That's our Netflix schedule sorted for the weekend!
Sagal is a journalist, specialising in lifestyle, pop culture, fashion and beauty. She has written for a number of publications including Vogue, Glamour, Stylist, Evening Standard, Bustle, You Magazine, Dazed and Wonderland to name a few.